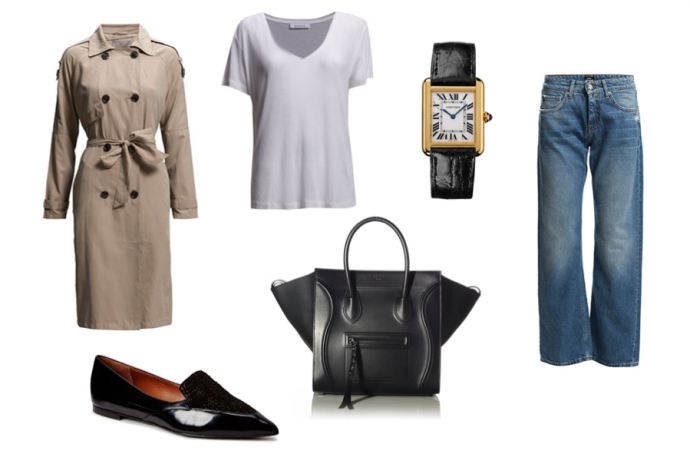 [spacer]
Trench coat / Vero Moda     T-shirt / Samsoe & Samsoe     Watch / Cartier Tank
Jeans / Mads Norgaard     Shoes / By Malene Birger     Bag / Céline
[spacer]
[dropcap custom_class="normal"]Nyt voisin vihdoinkin tehdä kollaaseja hellevaatteista ilmojen puolesta, mutta oma katseeni on jo visusti syksyssä. Alkusyksy on sitä lempiaikaani kun voi vielä kulkea nilkat paljaana, mutta silti pukea päälle paksun neuleen tai takin. Suomessa tämä aika on kyllä harmittavan lyhyt (ainakin Ranskan ilmastoon verrattuna ) ja tuntuu, että täällä hypätään t-paidasta untuvatakkiin kädenkäänteessä. Mutta ehkä tänä vuonna Suomessa koetaan intiaanikesä ja syyskuussa olisi vielä suhteellisen lämmintä? Toivotaan niin koska mielestäni suomalaiset ansaitsevat kaiken lämmön pitkän talven jälkeen.[/dropcap]
Kaapistani löytyy neljä Célinen laukkua (jos tätä pikkupussukkaa ei lasketa) ja voisin hyvin kuvitella seuraavan laukkuhankintani olevan kyseiseltä merkiltä. Olen ollut niin tyytyväinen jokaiseen laukkuuni (etenkin laatuun), että luotan tähän merkkiin täysin. Phantom jaksaa miellyttää silmääni ja jostain syystä tällainen yksinkertainen malli vain on se oma juttuni. Olen myös miettinyt, että pitäisikö joskus ostaa muitakin värejä kuin vain mustaa, mutta jos musta on lempivärini ja laukuissani se toimivin niin miksi? Taidan olla vähän tylsä, mutta mitä siitä heh.
Aurinkoista sunnuntaita!
[spacer]
My favorite "fashion time" of the year is September. That's when the evenings start getting cooler, but the days are still warm (but not too warm). I love heavy knits and this time is perfect for this favorite clothing of mine. A heavy knit combined with cropped jeans (showing the ankles), perfection! I love how in France fall comes gently and the weather can be quite warm still for a long time. In Finland this is not the case and you basically transition straight from a t-shirt into a winter coat. I honestly feel lucky to be living in milder climate. Now I'm just hoping my fellow Finns get a nice and warm August so that they can store some energy for the upcoming winter (Finns definitely deserve a bit of sun after the harsh long winter!).
And then let's talk about bags. My favorite accessory. I just realized I have four Céline bags in my closet (if I don't count this little pochette) and I could definitely see my next bag purchase being yet another Céline bag. Why? Just because I've been so satisfied with the quality and design of this brands bags. Why change it up when you've found a winner? Okay, that Chanel Timeless is still on my wish list, but in general, I'm all about Céline. And yes, I'm all about black as well. Call me boring, but I like my bags black. 
Enjoy your Sunday everyone!
[spacer]
*Commercial links/Mainoslinkkejä.