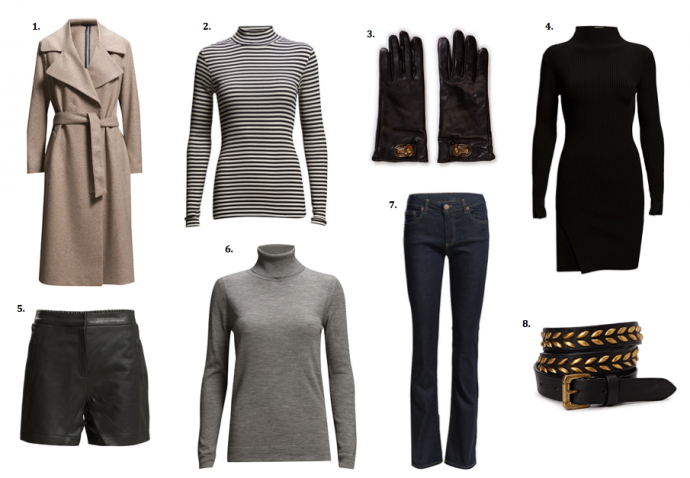 [spacer]
1. Filippa K     2. Mads Norgaard     3. Day Birger et Mikkelsen     4. By Malene Birger
5. Mango     6. Dagmar     7. Fiveunits     8. Day Birger et Mikkelsen
[spacer]
[dropcap custom_class="normal"]Viikon viimeistä päivää viedään ja tässä on tuttuun tapaan viikon valinnat. Tuntuu, että tähän aikaan vuodesta voisin tehdä tämän postauksen päivittäin, sillä bongaan jatkuvasti mitä ihanampia uutuuksia nettikaupoista. Tuntuu, että mallistoissa on nyt paljon vyöllisiä hieman pidempiä takkeja ja ne sattuu olemaan niitä suosikkejani. Niinkuin olen sanonut; itsehillintää täytyy harjoittaa oikein ahkerasti…[/dropcap]
Meidän viikonloppu on mennyt ihanissa merkeissä ja olemme nauttineet niin toistemme seurasta kuin kauniista Helsingistäkin. Stadi on ihan mieletön kapunki etenkin kesäisin ja siellä kyllä viihtyy. Me vietämme täällä vielä hetken ja sitten palaamme kotiin ja arkeen. On kiva palata Orléansiin ja itse odotan opiskeluideni alkamista innolla. Aloitan nimittäin ranskan kielen tehokurssin, jotta saisin kieleni edistyneemmälle tasolle. Uusia haasteita siis luvassaa. Ihanaa!
Rentouttavaa sunnuntaita kaikille!
[spacer]
It's the last day of the week so here are my picks of the week. I feel like I could do this post daily now as I find beautiful stuff in stores now everyday. Fall, how much I love you! I'm especially into long belted coats and this is prime time for this beautiful piece of clothing.
We've had a great weekend with my boyfriend as we have enjoyed Helsinki. It's such a beautiful city! Perfect during summertime. We will spend a little more time in Finland before flying back home to Orléans. I'll be starting my language course (I need to step up my French skills), which I'm excited about. New challenges – I'm ready!
Enjoy your Sunday everyone!
[spacer]
*Commercial links/Mainoslinkkejä.