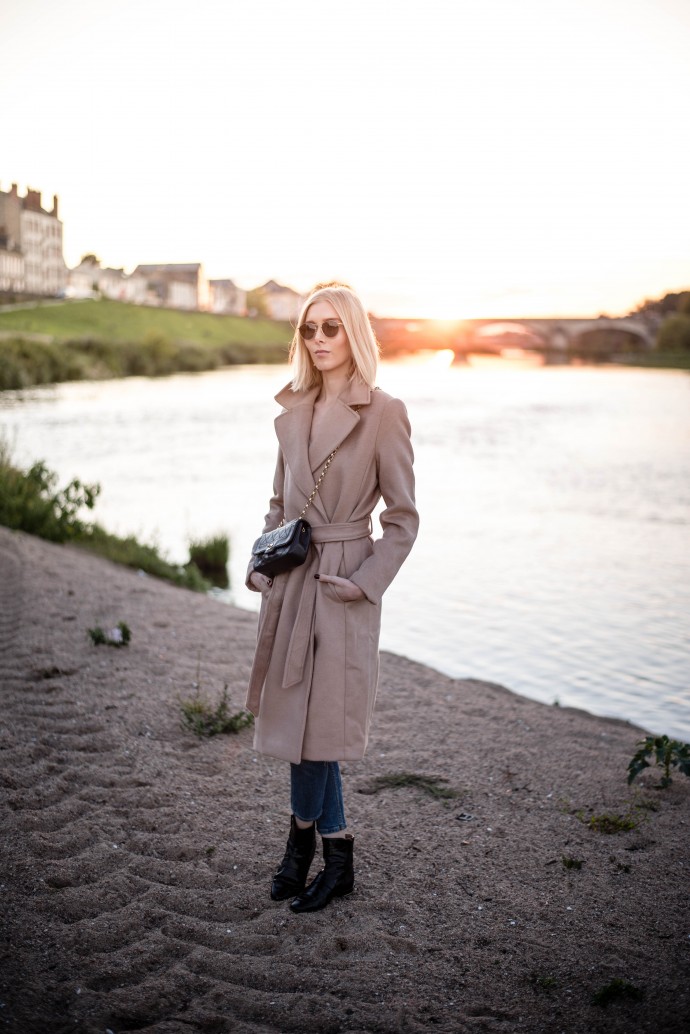 Me kävimme yksi ilta kävelyllä Loiren varrella ja samalla otimme pikaiset asukuvat auringonlaskiessa. Tuolla joenrannalla on muuten paljon kivoja kuvauspaikkoja, joita pitäisi hyödyntää useammin! Olisi mielestäni kivaa vaihtelua niille ainaisille kaupunkitaustoille. Tuonne ei tosin sipsutella missään korkokengissä, heh! Joen keskeltä löytyy nimittäin hiekkasärkkiä, jotka ovat näkyvissä aina joen ollessa matalalla. Hieman kyllä hirvitti olla joen päällä, sillä tuonne hukkuu useampi ihminen vuodessa. Joen virtaus on kuulemma niin voimakas, että se vetää pohjaan ja sieltä ei enää pääse omin avuin ylös…hui, ihan puistattaa! Noille hiekkasärkille ei siis ole enää mitään asiaa kun vesi on korkeammalla. Puhumattakaan siitä, että tuonne menisi uimaan…
Me saamme tänään asuntoomme vihdoin lämmön ja joudun päivystämään koko päivän kotona työmiesten takia. Olisin mielummin lähtenyt moikkaamaan Alexaa Pariisiin, mutta ei voi mitään. Meidän asunossamme on ollut niin kylmä, että lämpö tulee todellakin tarpeeseen! Sen lisäksi odotan muutamia vaatelähetyksiä ja toivon, että ne saapuvat tänään, jotta ne pääsevät kanssani Pariisiin. Haluisin kovasti käydä kuvaamassa meidän vanhalla asuinkadullamme, mutta saa nähdä jos ehdimme!
Ihanaa keskiviikkoa kaikille!
One evening we took a walk by the Loire river and took some outfit pictures during the beautiful sunset. The riverside is actually filled with great shooting spots, so we should definitely take pictures there more often. Gives a nice change to the normal city scenery. Although the downside with this spot is that heels don't work there, heh. When the water is low enough there are some "sand island" in the middle, which are great for pictures. However, I'm a bit terrified of getting too close to the edge as I've heard many people drown there, because the currents are so strong…Definitely not a good spot for swimming, but a great one for pictures.

Enjoy your day everyone!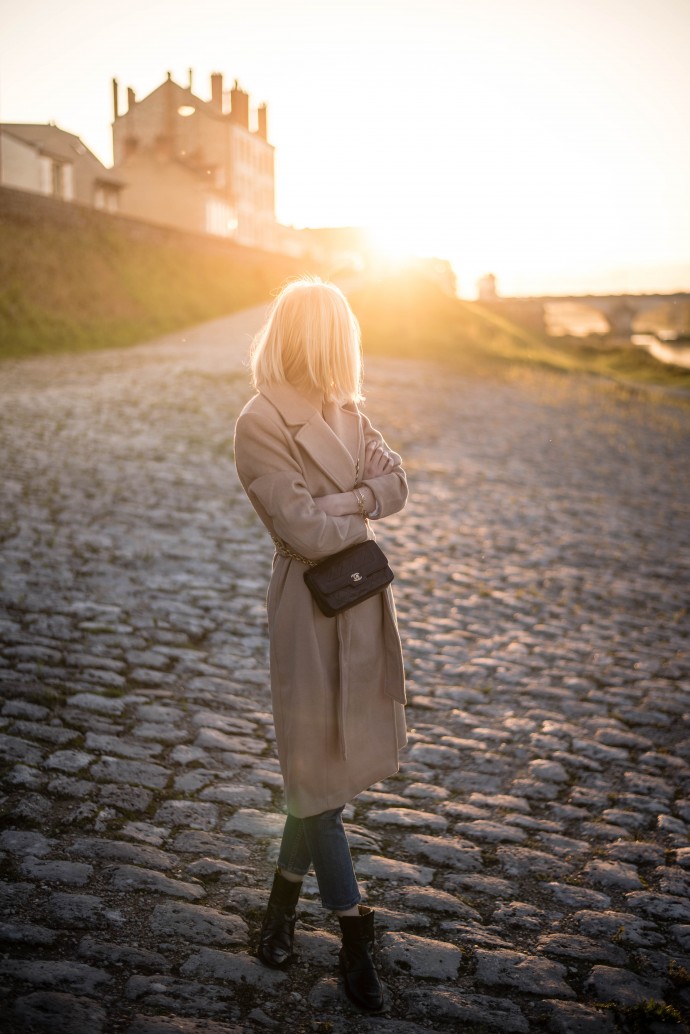 Coat / H&M (similar here*)

Jeans / Zara
Boots / H&M (similar here*)

Bag / Chanel
Sunnies / Vintage Luxottica
*Mainoslinkkejä.