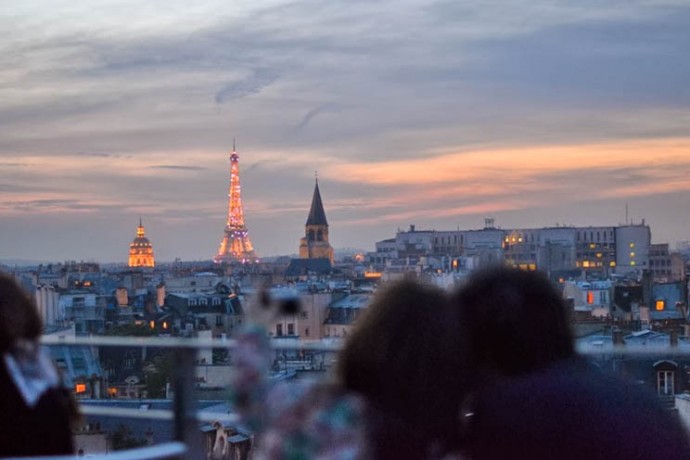 [dropcap custom_class="normal"]Eilen palasimme Pariisista vasta myöhään iltapäivällä ja heti laukkujen purkamisen jälkeen alkoi opiskeleminen joka viikkoiseen ranskan kielen kokeeseen. Viikonloppu meni yhdessä silmänräpäyksessä, mutta mitä kaikkea tuohon kahteen päivään mahtuikaan. Showroom vierailuita, uusia nuoria suunnittelijoita (yhdestä juttua myöhemmin), Marimekon kevät/kesä 2016 presentaatio, vanhojen tuttujen näkemistä (terveisiä Maijalle), sekä uusien tapaamista (oli ilo tavata Sofié). Unohtamatta hyvää ruokaa![/dropcap]
Törmäsin Anne Maliaan (yksi Suomen Blogimedian uusimmista kiinnityksistä – mahtavaa!) ja Petriin Palais de Tokyossa ja tuli fiilis lähteä vielä ensi viikolla Pariisiin päiväksi. Saa nähdä jos pystyn ottamaan vapaata koulusta…
Tällä viikolla pysytään siis tiiviisti Pariisi tunnelmissa ja toivottavasti illalla ehdin tekemään kunnollisemman postauksen huomiselle. Until then!
We got back from Paris yesterday afternoon and after unpacking all my bags, I started practicing for today's French exam (fingers crossed!). This weekend went by in an instant, but so much happened in such little time. Showroom visits, previewing the collections of new designers (more about one in particular later), Marimekko Spring/Summer 2016 presentation and seeing lots of old friends and meeting new ones. Not to forget about delicious food!
This week will be all about Paris and I hope tonight I'll have time to schedule a "proper" post  for tomorrow (I wish the days were longer!). Until then!