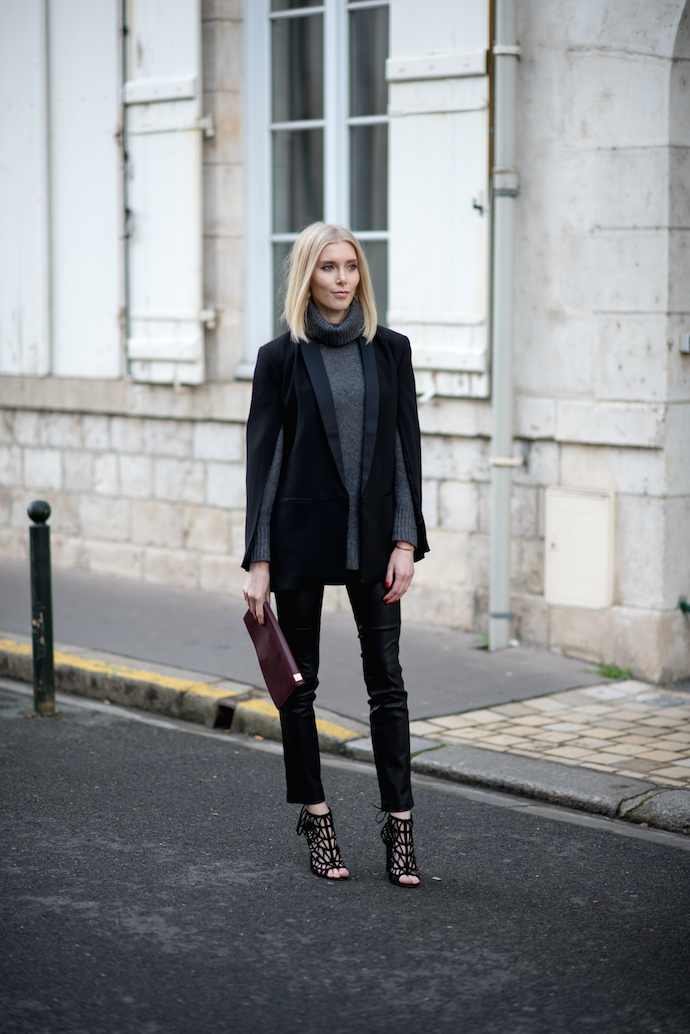 Muistan kun tämä H&M Conscious Collectionin silkkibleiseri tuli myyntiin ja vaikka olin jopa kirjoittanut  malliston lanseerauspäivän kalenteriini, niin unohdin koko jutun. Vasta iltapäivällä tajusin asian ja ryntäsin nettikauppaan. Kuten arvata saattaa, siinä vaiheessa kaikki oli jo loppuunmyyty. Siitä alkoi armoton H&M:n nettikaupassa ravaaminen ja jossain vaiheessa ymmärsin, että aikaisin aamulla voi tärpätä kun nettikauppa lisää palautuneita tuotteita myyntiin. Ei siis muuta kuin herätyskello soimaan klo.6 ja kokeilemaan onnea. Heti ensimmäisellä yrityksellä tärppäsi ja sain tilattua tämän kaunokaisen. Tästä bleiseristä on ollut jo niin paljon iloa, että se oli kyllä kaiken säätämisen arvoinen, heh.
Tuntuu hieman hölmöltä julkaista asukuvia avokkaiden kanssa kun siellä Suomessa on lunta ja paukkupakkaset, mutta toivottavasti saatte tästä edes jotain inspiraatiota tulevaa kevättä varten. Orléansiinkin on kyllä luvattu sateisempaa ilmaa, mutta silti päivälämpötilat pysyvät kymmenessä asteessa. Tämä vilukissa ei siis voi valittaa (etenkin kun meidän kodin lämmitys saatiin vihdoin kuntoon – hallelujah)!
Tammikuun aikana suunnitelmissa on hieman uudistaa ja raikastaa blogini ulkoasua, joten ryhdyn tämän projektin kimppuun tällä viikolla. Ensin täytyy ideoida ja sitten miettiä toteutusta. Pienimmätkin muutokset vievät yllättävän paljon aikaa, joten saa nähdä mitä tästä tulee. Toivottavasti tammikuun loppuun mennessä blogi olisi saanut raikkaamman ilmeen!
I remember that I was drooling over this silk blazer way before it hit the stores. I had the launch date on my calendar, but even still I forgot about it until the afternoon of the launch. By then, everything was sold out. I desperately stalked H&M's website for a few weeks before changing my strategy, heh. I realized that early morning is probably the time when new stock is put on the website, so the next morning I had my alarm at 6am and voilà! I managed to get one in my size. This blazer was worth all the effort, as it truly is such a beautiful piece!
This month I'm hoping to refresh the outlook of the blog, so this is my project for January. Hopefully by the end of this month the blog is looking better than it did before!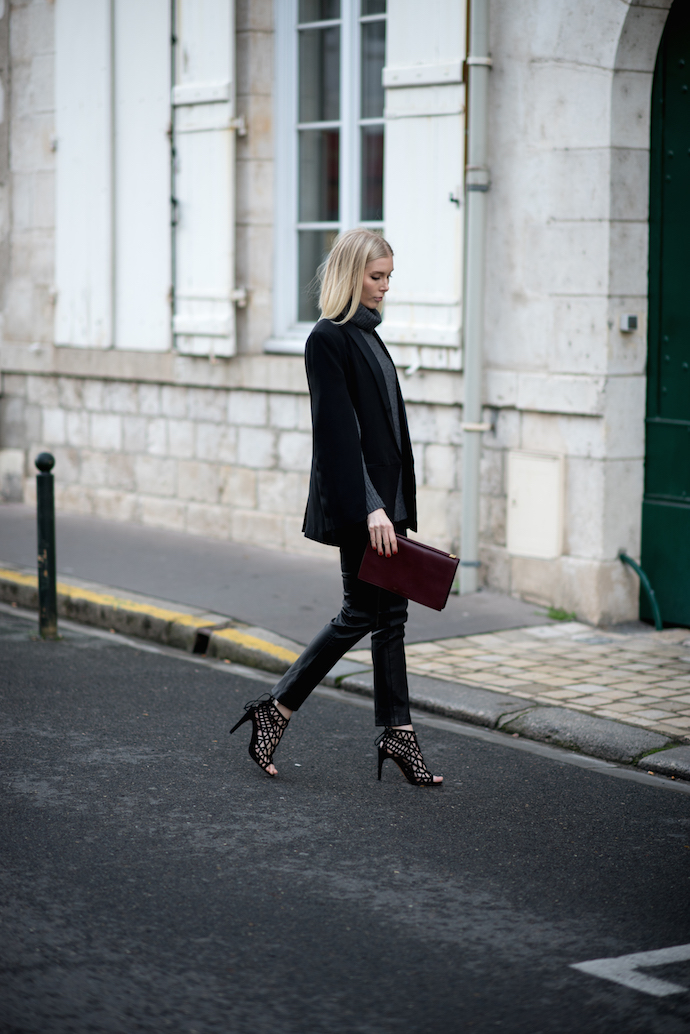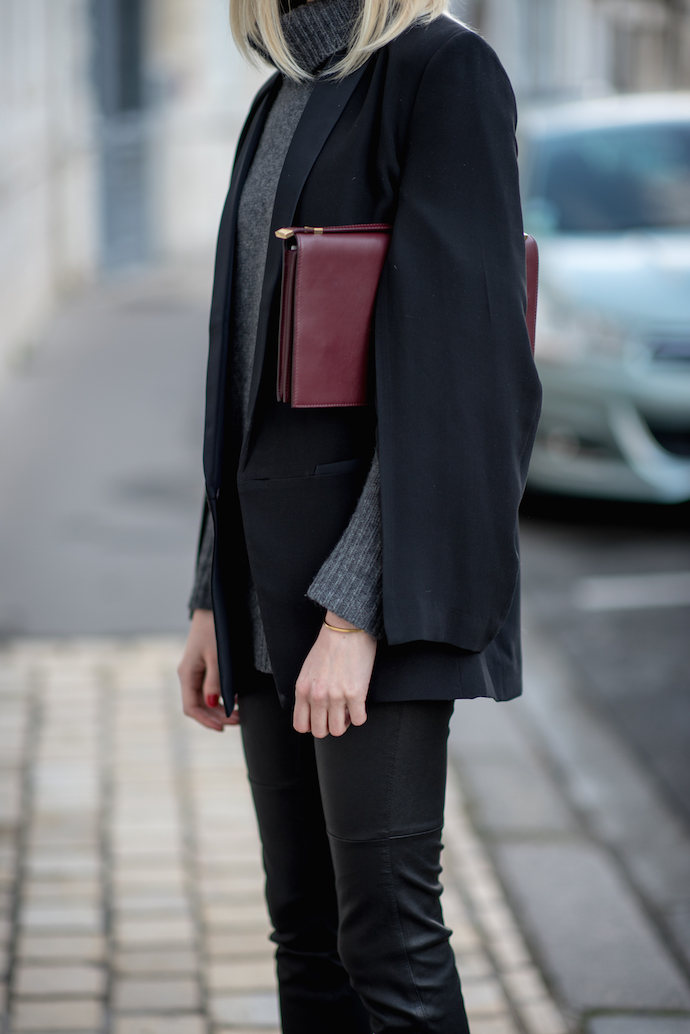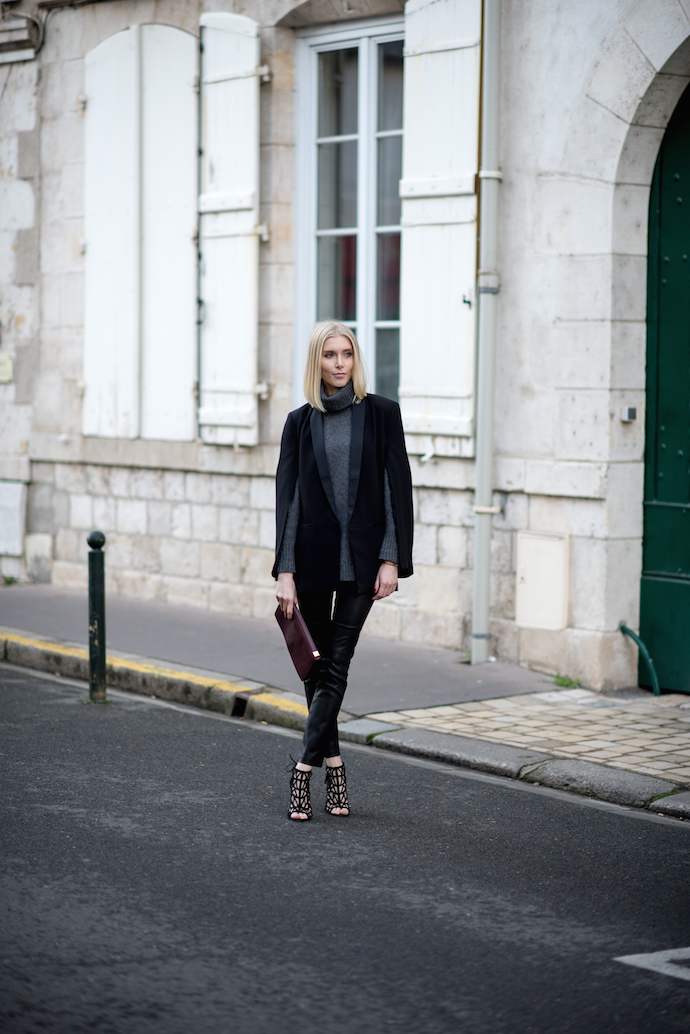 Silk blazer / H&M (similar here*)

Cashmere knit / Joseph (similar here*)

Leather pants / H&M (similar here*)

Heels / Zara (similar here*)

Clutch / Céline
Bracelet / Saint Laurent
*Mainoslinkkejä.