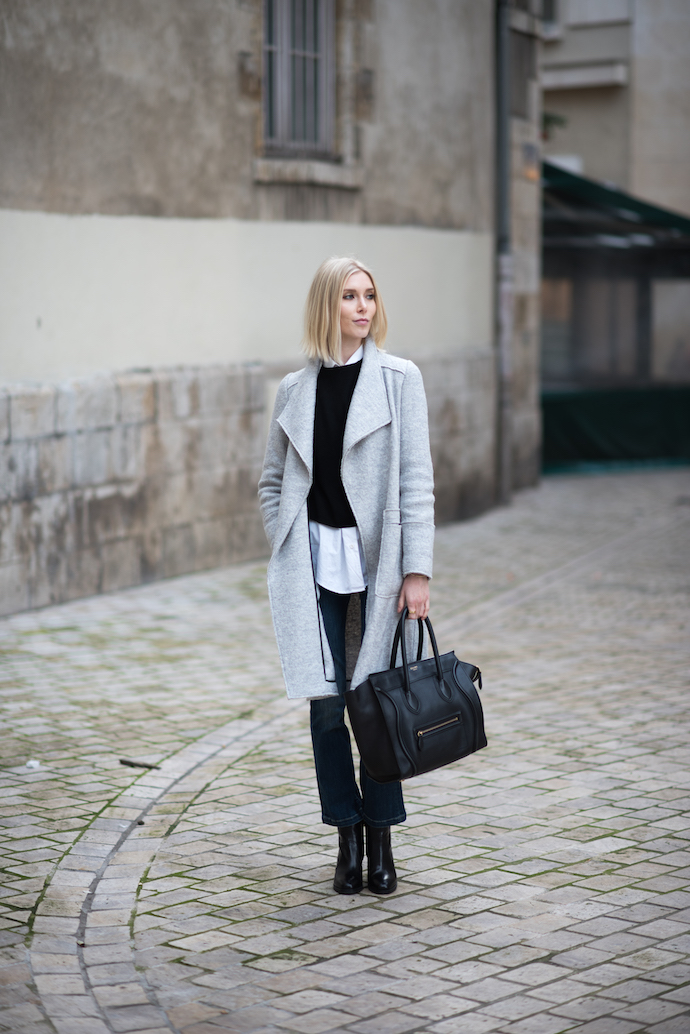 Orléansissa oli ihan mieletön ilma perjantaina ja lauantaina. Sininen taivas, lämmin ilma ja lintujen laulu. Tuli niin keväinen fiilis, että tuntui kun olisi ollut huhtikuu tammikuun sijaan. Onneksi nautimme näistä kauniista ilmoista, sillä eilinen menikin sitten neljän seinän sisällä vesisadetta paossa. Näyttää myös siltä, että ensi viikonloppuna yölämpötilat menevät hieman pakkasen puolelle, joten talvi tekee tuloaan tännekin.
Asukuvia ottaessa tulee kaikenlaisia tilanteita eteen ja näistä kuvista muistan parhaiten symppiksen puliukon, joka piti meille seuraa. Hän oli hyvin huolissaan siitä, että saamme sakon, sillä jätimme auton aika huolimattomasti kadun kulmaan. Hän kyttäsikin parkkiliisojen varalta katua, joten saimme kuvat purkkiin ilman stressiä, heh. Sakkoa ei siis onneksi tullut, mutta ainakin kuvaustilanne oli hieman erilainen.
Nämä farkut ovat yksi aleostoksistani ja ihastuin niissä tähän hieman levenevään lahkeeseen. Ne näyttävät mielestäni pukevammilta kuin aivan pillit lahkeet. Sopivat niin nilkkureiden, kuin kesällä ballerinojen pariksi. Omani ostin Zaran verkkokaupasta ja malli on tämä jos joku teistä kiinnostui! Toinen uutuus on tämä Andiatan kashmir/puuvillainen cropattu neule, joka näyttää erityisen hyvältä yhdistettynä pidemmän paidan päälle.
Hyvää maanantaita kaikille!
The weather here on Friday and Saturday was so sunny and warm, that I felt like we skipped winter altogether. I'm glad we enjoyed that weather, since yesterday it rained all day. It also looks like winter is slowly approaching France as well, so I better get prepared.
These cropped jeans are one of my sales purchases (they are these ones) and I actually like this model way more than a super skinny style. I think this is more flattering and works well ankle boots and with flats later on. I'm also wearing something else new, as I received this cashmere/cotton knit last week from Andiata. I'm obsessed with it and love the cropped length.  So I guess this look is all about cropped lengths then, heh.
Enjoy your Monday!
Coat / Zara (similar here*)

Knit / Andiata* (similar here*)

Jeans / Zara (similar here*)

Boots / Tod's
Bag / Céline
Ring / Cartier
*Gifted /Mainoslinkkejä.
Save