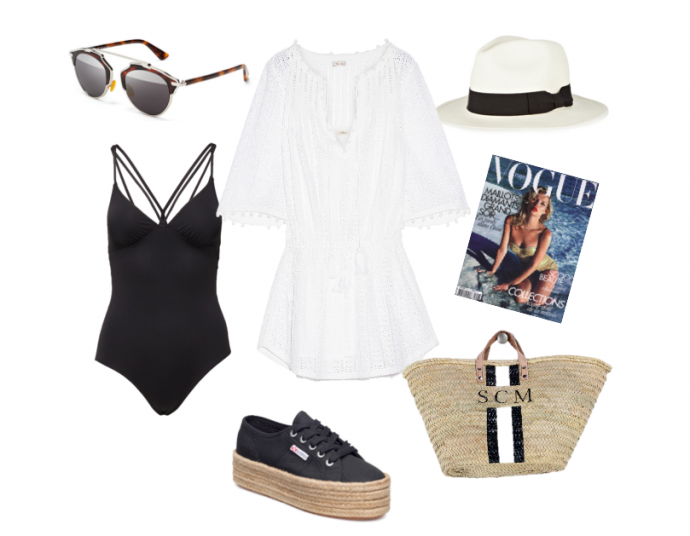 Sunnies / Dior     Swimsuit / Huit*     Panama hat / Sensi Studio
Dress / Talitha     Sneakers / Superga*     Bag / Rae Feather
Tämän sunnuntain toiveasu näyttää tältä! Luonnollisesti haaveilen hieman kevyemmistä vaatteista, sillä täällä lämpötilat ovat siinä +30 asteen tietämillä. Yksi asia mikä olisi pitänyt ostaa ennen lähtöä on tuo Huitin uimapuku. Kuinka tyylikäs valinta tuo olisikaan ollut! En varsinaisesti ota aurinkoa ollenkaan  (mitä nyt luen varjon alla hyvin suojattuna), joten mistään rusketusrajoista ei tarvitse murehtia. Olen myös todennut, että talvella se pienikin väriä häviää saman tien kun palaa takaisin Euroopan talveen, joten en todellakaan halua "turhaan" kärvistellä itseäni polttavan auringon alla. Tähän vitivalkoiseen hipiään on kyllä muutenkin vaikea saada hyvä väri, joten suosiolla keskityn muihin juttuihin (kuten saaren kansallispuistoon tutustumiseen)!
Olen muuten löytänyt ihan mahtavan aurinkovoiteen herkälle iholle ja kyseessä on Eucerinin Crème-Gel (suojakertoimella 50) ja tämä tuote on suunniteltu etenkin aurinkoallergiasta kärsiville. Se on myös koostumukseltaan yksi parhaimmista mitä olen kokeillut! Suomessa sen hinta taitaa olla aikamoinen (olisiko se ollut yli 20€), mutta netistä tilattuna sen saa reilulla kympillä. Suosittelen lämmöllä!
I would like to wear this look right now! Naturally I'm dreaming of beach wear, as the temperature is around +30 degrees. I so should have bought this swimsuit from Huit, as it would have been such a chic choice. I don't actually "sunbathe", so I wouldn't have to worry about tan lines. My skin is so light and I prefer to protect is, so my place is under the shade, wearing high protection sunscreen!
If some of you are looking for a good cream, I recommend you to try this one from Eucerin. It is the best sunscreen I have tried on my sensitive skin, so I can warmly recommend it!
*Commercial links/Mainoslinkkejä.