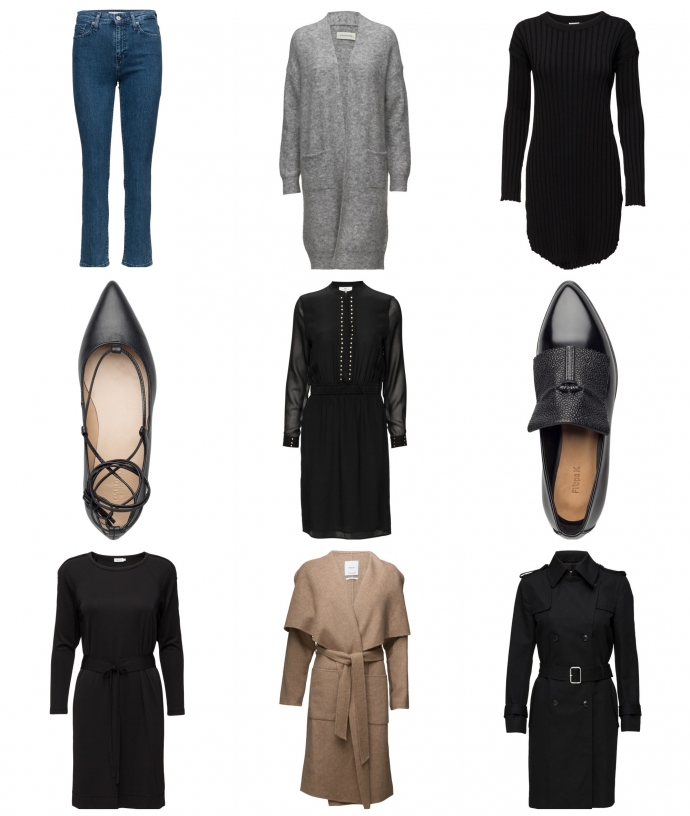 Jeans / Mango     Knit / By Malene Birger     Tunic / Filippa K
Shoes / Gardenia     Dress / Day Birger et Mikkelsen     Flats / Filippa K
Dress / Filippa K     Coat / Mango     Trench coat / Filippa K
Lomalla sitä ei tule tarkistettua merkkien uusia mallistoja kovinkaan tiuhaan, mutta viikossa monen verkkokaupan mallisto näyttää kasvaneen uusilla tulokkailla. Nyt käyttäisin mielelläni jo matalia kenkiä nilkkapituisten farkkujen kanssa kuivilla kaduilla, mutta kevät taitaa vielä antaa hetken odotella itseään. Onneksi kevätmuoti iskee kauppoihin jo näihin aikoihin, eli ainakin voimme fiilistellä tätä tulevaa valoisaa vuodenaikaan hieman etukäteen.
Muoti kulkee hassusti puoli vuotta etuajassa, sillä pian alkavat Pariisin muotiviikot, joissa esitellään jo seuraavan syksyn mallistoja (New Yorkista muotikansa vaeltaa takaisin Eurooppaan). Kevätkään ei ole siis vielä alkanut, kun sisäänostajat ja muotivaikuttajat seuraavat jo ensi syksyn mallistoja. Itse odotan etenkin Andiatan syksyn mallistoa, sillä ehdin jo ihastumaan muutamaan malliston tuotteeseen. Nyt pitää vain odotella vielä puoli vuotta, heh!
Hyvää viikonloppua kaikille ja terveisiä Mahén saarelta!
During holiday I don't check the new collections very actively, but for this post I took a look at the newcomers of Boozt. I'm already dreaming about flats and cropped jeans, but I think winter is still full on in Europe. Luckily we can start enjoying the Spring fashion already now, as it's hitting the stores.
The fashion crowds are taking a look already at next fall, as the fashion week-month got started in New York. I always tend to find something super beautiful in the fall collections and then all spring and summer I'm waiting for them to hit the stores. I already found a few gorgeous pieces from Andiata's new collection, but I'll have to wait six months until I get my hands on them, heh!
Enjoy your weekend everyone and greetings from Mahé!
*Commercial links/Mainoslinkkejä.