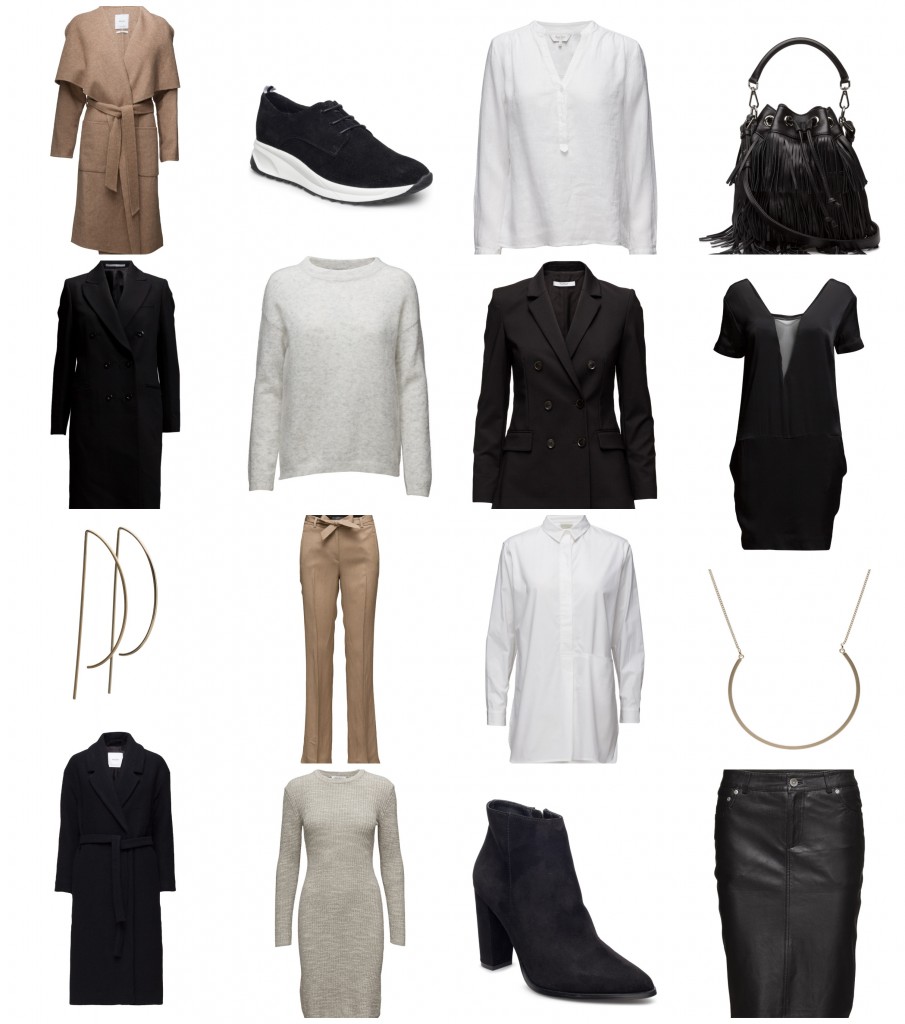 Wool coat / Mango    Sneakers / Bianco    Linen shirt / Part Two    Bag / Leowuff
Jacket / Tiger of Sweden    Knit / InWear    Blazer / Mango    Dress / Tiger of Sweden
Earrings / Pilgrim    Pants / Esprit    Shirt / Selected    Necklace / Pilgrim
Wool coat / Mango    Dress / Carin Wester    Boots / Bianco    Skirt / Gestuz
Toivottavasti kaikkien pääsiäisviikonloppu on lähtenyt hyvin käyntiin! Katselin, että ainakin Helsinkiin on luvattu upeita ilmoja seuraavaksi muutamaksi päiväksi, eli nauttikaa. Tänne on puolestaan luvattu paljon sateita, mutta niistä huolimatta kävimme eilen Beauvalin upeassa eläintarhassa, ja niin monella eläimellä oli pieniä pentuja (leijonilla, tiikereillä, gorilloilla, apinoilla, orangeilla….), että siellä sydän suli kyllä jokaisen aitauksen kohdalla. Poikaystäväni sai otettua todella hyviä kuvia, joten ehkä julkaisen niitä täälläkin jos teitä kiinnostaa? Beauval on muutenkin kauniisti hoidettu (ja eläimistä pidetään hyvää huolta), joten voin lämmöllä suositella sitä muillekin. Chambordin ja Blois:n linna on myös siinä lähettyvillä, joten alueella riittää kyllä muutakin nähtävää. Tänään aamulla kävimme sitten taas lenkillä ja hurjaa miten sitä jaksoi jo yli puolet enemmän kuin mitä viime kerralla. Täytyy kyllä myöntää, että se sitten tuntui kropassakin, mutta tällä energialla on hyvä jatkaa pääsiäisen viettoa!
Booztilla on parhaillaan menossa pääsiäiskampanja* ja valikoiduista tuotteista saa vähintään -20% alennusta. Valitsin tähän omat suosikkini ja seasta löytyy niin keväisiä kuin talvisempiakin valintoja. Villakangastakkeja ei toivottavasti enää kauan tarvita, mutta silti isken silmäni aina niihin vuodenajasta riippumatta. Mutta eihän tässä kauan mene, kun syksyn uutuudet jo saapuvat kauppoihin…muutama kuukausi, niin sitten se taas alkaa, heh. Aikamoista!
Rentouttavaa pääsiäistä kaikille!
I hope all of you've had a good start to this Easter weekend? We started our vacation yesterday by going to Beauval (a zoo) and it was so nice, as many of the animals had just had babies. I could have looked at the tiger puppies playing together for hours. Very cute! This morning we went out running and later today I'm intending to hit the chocolate stores.
Before going out I wanted to hint you about the Easter offers from Boozt. They have a great campaign and you can click here to see all the discounted items. Above you can find my favorites!
Have a relaxing Easter everyone!
*Commercial links/Mainoslinkkejä.