1. Week ago on Friday we were still enjoying the sunset in Mauritius. 2. Saturday was the day we had our flight, but we still enjoyed time on a speedboat and went to see dolphins. 3. First few days in Finland made me miss Mauritius big time. 4. My boyfriends birthday present for me. Love it! 5. I have been cleaning my closets at my parents place and came across this picture of me in a Finnish fashion magazine wayyyy back. My very short modelling career 😉 6. Snowy weather here in Finland!
1. Viikko sitten perjantaina ihasteltiin vielä kaunista auringonlaskua Mauritiuksella. 2. Lauantaina ennen lentoa nautittiin täysin rinnoin lomasta veneajelun muodossa (nähtiin myös delfiinejä!) 3. Ikävä takaisin lämpöön iski aika nopeasti Suomeen palattua. 4. Poikaystäväni hemmotteli ihanalla 26-vuotis syntymäpäivälahjalla. 5. Olen siivonnut paljon kaappeja täällä vanhempien luona ja mitä löysinkään kaapin perukoilta? Trendi jossa esiteltiin kahdeksan uutta mallia…tämä malli ei kyllä pitkälle pötkinyt sillä alalla 😉 6. Lumi narskuu kenkien alla, ihanaa!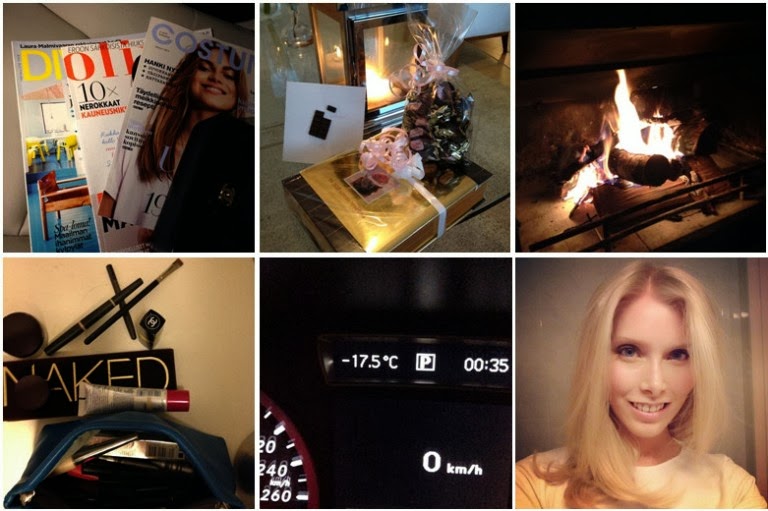 7.
I met with the lovely
Private Blend–
blogger Mikko for a drink at Teatteri. He also gave me three Finnish magazines. Thank you!
8.
My friend knows me the best…I'm a chocoholic!
9.
There is nothing better than a fireplace during winter.
10.
Getting ready for dinner with my friends.
11.
On Friday night it was -17.5 degrees in Helsinki. How lucky I felt driving home rather than walking around in that freezing weather!
12.
My look for the night. My friend said I shouldn't cut my hair too much and now I'm so confused…I was sure I wanted a lot shorter, but now not so much anymore 😉 Next week I have my hairdressers appointment with the talented Sedin from Q Hair, so we'll see what happens…
Wish you all a great and relaxing weekend! Stay warm 🙂
7. Viime viikolla tapasin ihanan Mikon Private Blend-blogista. Sain myös matkaani kolme huippu lehteä, joten kiitos vielä niistä Mikko! 8. Ystäväni tuntee mut kyllä parhaiten <3 Olen täysin suklaa-addikti. 9. Takka on maailman ihanin asia näin talvella. 10. Valmistauduin eilistä illallista varten. Meikkailu ajan kanssa on niin rentouttavaa! 11. Eilen yöllä pakkanen paukkui. Olin kyllä ilonen, että lähdin autolla liikenteeseen! Tuossa pakkasessa ei hirveesti olisi innostanut liikkua ohuessa villakangastakissa ulkona. 12. Eilisen "look". Ystäväni mielestä mun ei kannata liikaa lyhentää hiuksiani ja nyt en tiedä mitä tekisin niille. Ajattelin, että ne lyhenisi paljonkin, mutta saa nähdä 😉 Sain Sedinilta ajan Q Hairiin ensi viikolle, joten saa nähdä mitä me keksitään!
Ihanaa ja rentouttavaa viikonloppua kaikille! Itse ajattelin käydä Makuunista hakemassa pari leffaa ja paljon irtokarkkeja ja vaan olla 🙂 Pysykää lämpimänä jos liikutte ulkona!