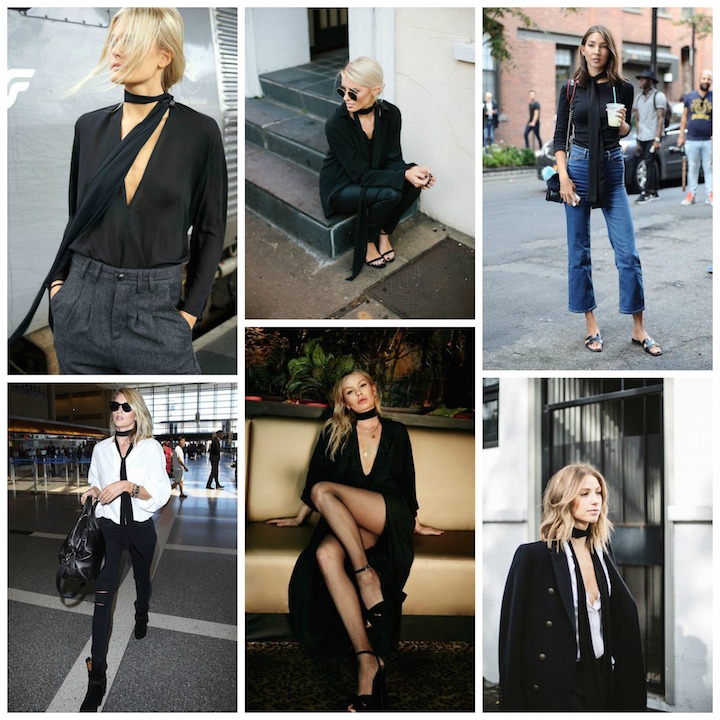 Yksi tämän hetken kuumin asuste on ohut huivi, jota kutsutaan "skinny scarf"-nimellä. Omaan kaappiini tämä asuste muutti muutama viikko sitten ja huomenna näette miltä se näyttää päälläni. Ihastuin siihen niin, että kävin Pinterestin läpi inspiraation toivossa ja sieltähän sitä löytyi. Kuten näkyy, tämän huivin voi yhdistää niin rentoon farkkuasuun kuin ilta-asuunkin. Sen lisäksi se toimii hyvin myös asusteena toimisto-lookissa!
Kyseessä on siis monipuolinen huivi, joka ajaa enemmän korun asemaa kuin oikean huivin (tämä ei siis ole mikään lämmike). Itse ihastuin etenkin tuohon yhdistelmään mustan silkkipaidan kanssa. Seuraavalle illalliselle voisin hyvin pukea mustan kashmir neuleen, skinny scarfin ja mustat nahkahousut. Huulet punaiseksi ja ei muuta kuin menoksi! Ehkä voisin kokeilla tuota komboa jo tänään kun menemme illalliselle lempiravintolaani täällä Orléansissa…
Uppoaako tämä asuste teihin? Huomenna on siis luvassa asukuvia skinny scarfin kera, joten pysykää kuulolla. Hyvää torstaita kaikille!
P.S. Booztilla* on tänään menossa kenkäkamppis ja monista uusista malleista saa -20% alennusta!
One trend this season is the skinny scarf. The long and thin scarf that can be wrapped around the neck or tied loosely. Two weeks ago I found the perfect skinny scarf and tomorrow I'll show you some outfit pictures of me wearing it. I actually liked it so much that I browsed though Pinterest for inspiration on how to wear it in different ways. As you can see, it works well with all kind of outfits; with jeans, evening looks and even with office outfits.
It definitely is a versatile accessory! After these pictures, I can see myself wearing it with a black cashmere knit, leather pants and red lips. That would be a killer combo or what do you think? Maybe I should try it tonight as we head out for dinner…
Do you like this trend? Can you see yourself wearing a skinny scarf? So tomorrow I'll show you my look with it, so keep posted. Enjoy your day everyone!
*Images: Pinterest.
*Commercial link.