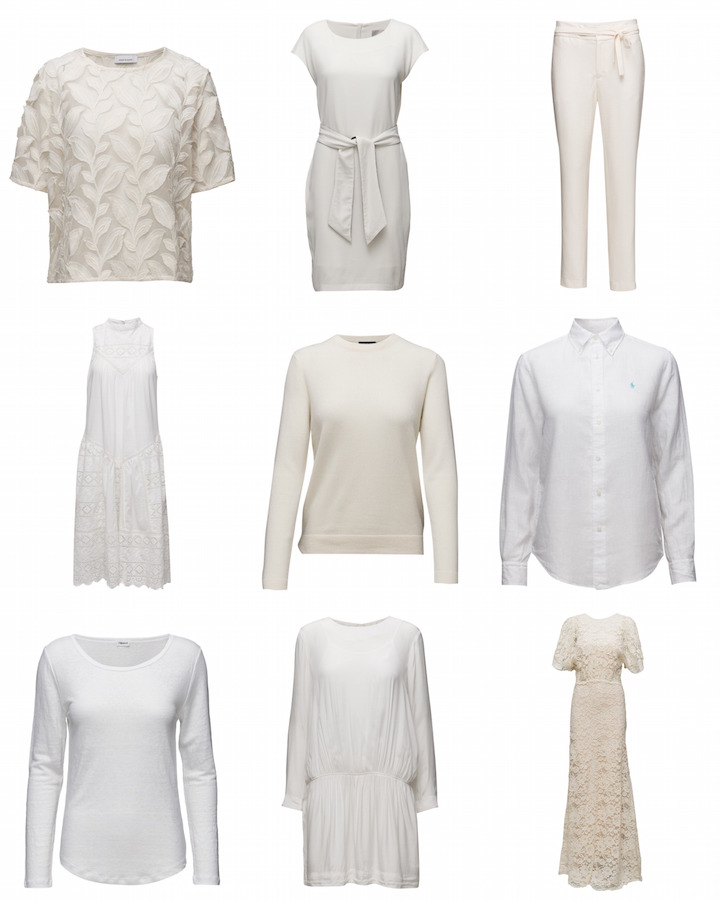 Samsoe & Samsoe    /    InWear    /    Filippa K
French Connection    /    Ralph Lauren    /    Ralph Lauren
Filippa K    /    Line of Oslo    /    By Ti Mo
Tämä aikaisemman postauksen kokovalkoinen asu inspiroi minua valitsemaan suosikkini tämän viikon valintoihin. Näkisin päälläni tuon Ralph Laurenin kashmir neuleen yhdistettynä Filippa K:n suoriin housuihin. Myös tuo Samsoe & Samsoen toppi olisi tyylikas valinta näiden valkoisten housujen kanssa, vai mitä sanotte?  Line of Oslon mekko olisi taas täydellinen kesäpäiviin panamahatun kanssa ja ottaisin sen enemmän kuin mielelläni omaan kaappiini. Siitä saisi myös ihanan lomavaatteen jos syksyllä pääsisin taas lämpimään…
Täällä ollaan nautittu täysillä Helsingistä, sekä perheen ja ystävien näkemisestä. Saunaankin olen jo ehtinyt, eli on ollut hyvä aloitus tälle reissulle! Tänään ilman pitäisi olla upea, joten ulkoilua on ainakin luvassa. Ei siis muuta kuin nauttimaan näistä yli +10 asteen lämpötiloista ja auringosta. I love you Finland!
P.S. Paljon terveisiä sille ihanalle naiselle, joka eilen huikkasi terveiset Boulevardilla. Häkellyin aivan täysin ja olin yhtä hymyä koko loppupäivän. Iso kiitos!
This all white outfit from my previous post made me dream of these white items. I could see myself wearing the white cashmere knit from Ralph Lauren with the Filippa K pants. I also think the Samoe & Samsoe shirt would work perfectly with them or what do you think? This dress from Line of Oslo would definitely be my pick for this summer.

I've enjoyed my time back home and seeing my family and friends. Today the weather is supposed to be amazing, so I want to be outdoors as much as possible. So I'm off to enjoy the sunshine and I wish you all a great Sunday!
*Commercials links/Mainoslinkkejä.