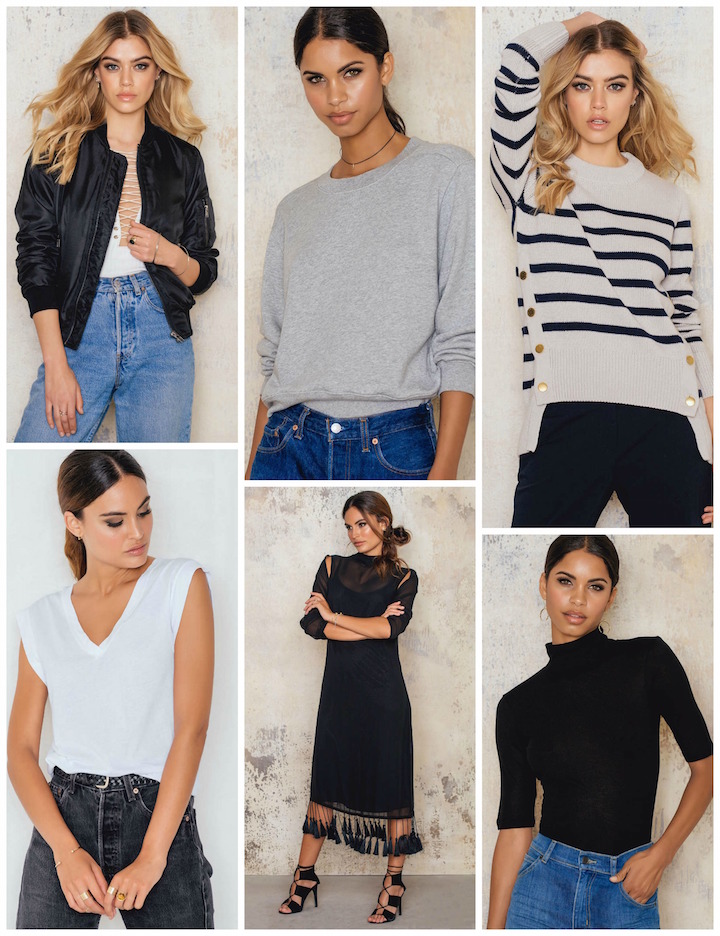 Bomber / Sisters Point   Sweatshirt / Filippa K   Knit / Hunkydory
Tee / Filippa K   Dress / Aèryne Paris   Top / Filippa K
Oletteko jo kuulleet uudesta verkkokaupasta nimeltä NA-KD? Kyseessä on ruotsalainen verkkokauppa, jonka valikoimassa on tuotteita yli sadalta eri merkiltä. Huomasin, että heiltä löytyy monia suosikkejani, joten kahlasin valikoimaa läpi ja valitsin tähän lempparini. Mistä tykkäsin erityisen paljon tässä nettikaupassa on se, että tuotteet ovat kuvattu mallin päälle (+videolle) ja stailattu kivasti. Se helpottaa huomattavasti hahmottamaan miltä tuote näyttää livenä ja valitsemaan oikean koon. Olen (erittäin) hitaasti lämmennyt bomber takeille ja tuo kollaasin musta houkuttelisi nyt syksyksi…
Olen nyt arponut Jurlique-tuotepaketin voittajan ja onnetar suosi lukijaani nimimerkillä Eevastiina – onnea (laitan sinulle mailia kun kotiudun reissusta). Kiitos vielä kaikille osallistumisesta!
Have you already checked out the new webstore called NA-KD? It's a Swedish online fashion destination, which features a wide selection of great brands and products. I saw that they carry some of my favorites, so I made a short selection of my top pieces. What I loved most about this store is that the clothes are actually photographed on models, as it makes it a lot easier to imagine how the piece would look on you. I also love how the looks are styled.
Have a relaxing Sunday everyone!
*Postaus sisältää mainoslinkkejä.
Enregistrer
Enregistrer
Enregistrer