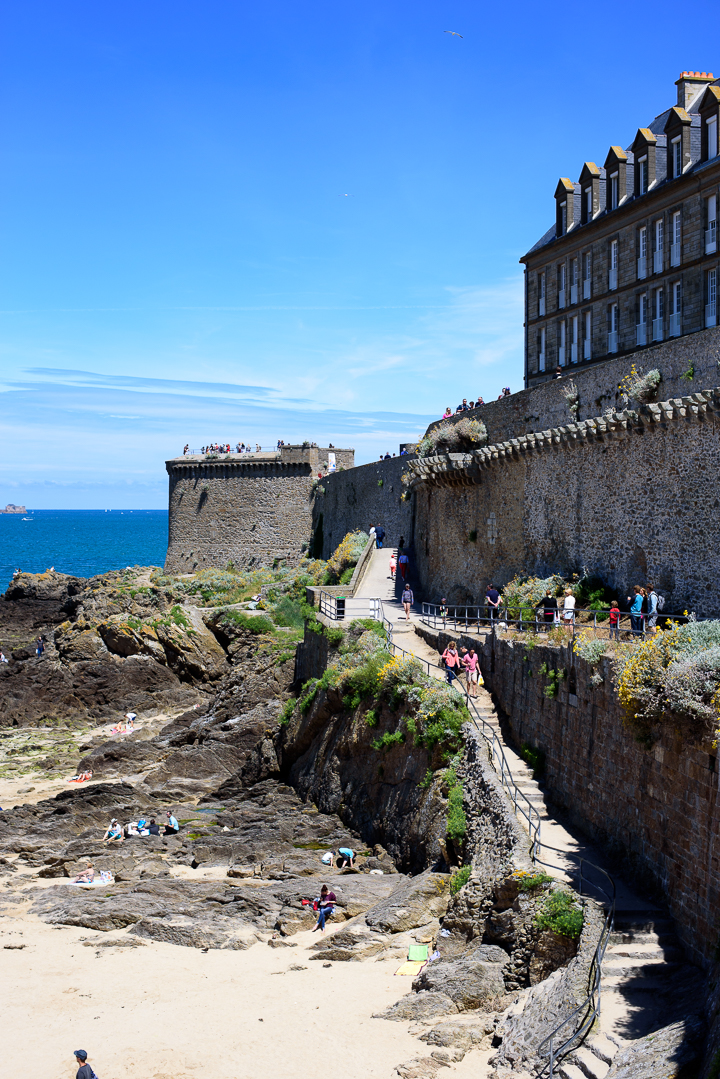 Yövyimme kaksi yötä Saint-Malon lähettyvillä ja päädyimme varaamaan hotellin maaseudun rauhasta. Hotelli oli ihanalla paikalla luonnon helmassa ja hyvällä maulla sisustettu. Meillä oli tilava huone isolla terassilla lähellä uima-allasta ja koko kaksi päivää olisimme voineet hyvin viettää pelkästään hotellilla.
Saint-Malo oli kuitenkin meidän agendassa ja ajoimme sinne perjantaina lounaalle. Tämä 14.heinäkuuksi kutsuttu viikonloppu on Ranskassa erittäin kiireistä aika, sillä moni ottaa kansallispäivän kunniaksi koko viikonlopun vapaaksi. Tämän saimme huomata Saint-Malossa, sillä kaikki parkkipaikat olivat ääriään myöten täynnä. Jonotimme parkkipaikalle lähes tunnin ja siinä ehtikin tuskastua jo sen verran, että teki mieli kääntyä takaisin maaseudulle, mutta onneksi jaksoimme odottaa. Saint-Malo oli nimittäin ehdottomasti näkemisen arvoinen kaupunki. Kävelimme keskusta-alueella, nautimme lounasta kalaravintolassa ja söimme jäätelöt rannalla. Kertakaikkisen kaunis kaupunki upealla sijainnilla. Pariisista Saint-Maloon ajaa autolla hieman yli neljä tuntia (ilman ruuhkia siis).
Mutta antaa kuvien puhua puolestaan!
We stayed two nights not far from Saint-Malo, as we decided to book a hotel in the countryside. Hôtel de l'Abbaye was a great choice, as I loved the calmness and elegance of this place. We had a big room with a nice terrace overlooking the pool and garden. We could have easily spent just two days in the hotel relaxing, but we had plans to visit Saint-Malo.
We drove there on Friday for lunch and we knew that the 14th of July-weekend was going to be busy, but we were still surprised by how packed the city was. The worst was to find a parking spot and we actually waited in line for almost an hour before we were able to park. Luckily we didn't give up, because this city was definitely worth the wait. We walked around, had a great lunch by the sea and just enjoyed the views. From Paris it takes approximately four hours by car to get here, but it's well worth the drive.
I'll let the pictures do the talking!