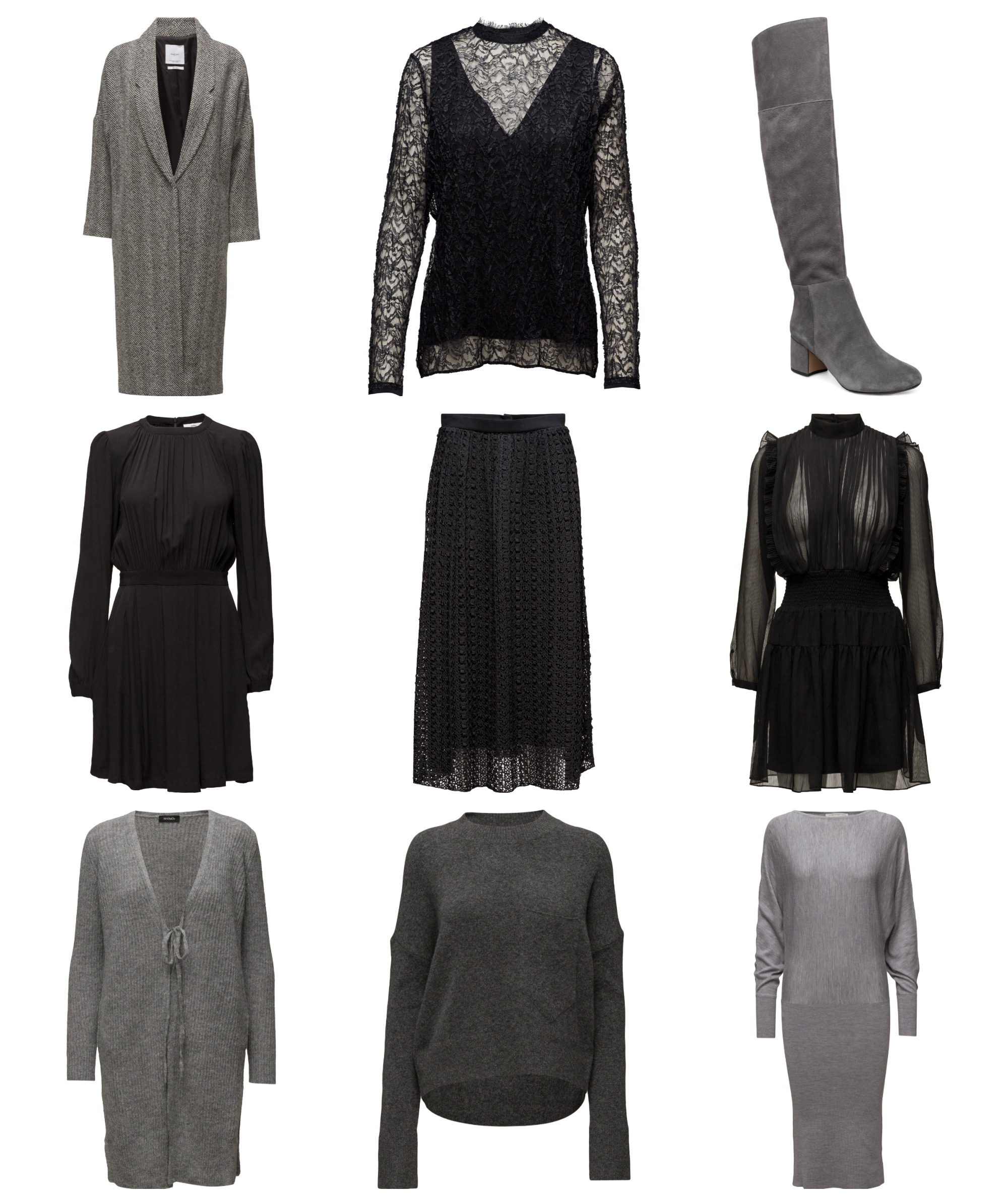 Coat / Mango   Shirt / FWSS   Boots / Clarks
Dress / Minimum   Skirt / Selected Femme   Dress / Designers Remix
Cardigan / Max Co.   Knit / Hunkydory   Knit dress / FWSS
Olin eilen pitkästä aikaa keskustassa kiertelemässä isäni kanssa ja kävimme katsastamassa mm. Massimo Duttin liikkeen (ihanaa, että Helsinkiin vihdoin avattiin heidän myymälä). Lounasta söimme Rosterissa ja ruoka oli todella hyvää, mutta yksi kritiikin aihe löytyi. Musiikki oli niin kovalla, että hyvä kun kuuli samassa pöydässä istuvan puheen. Tarjoilija onneksi reagoi kun pyysimme laittamaan musiikkia hiljaisemmalle, mutta en ymmärrä miksi musiikin täytyy olla lounasaikaan niin kovalla, että ihan kuin baarissa olisi?
Kiinnitin muuten taas huomiota siihen miten hyvää asiakaspalvelu Helsingissä saa. Kaikki myyjät ovat niin avuliaita ja mukavia. Ehkä ero Ranskan välillä on niin suuri, että jo sen takia palvelu täällä tuntuu ekstra hyvältä? Näen jo miten tilanne olisi päättynyt, jos Ranskassa asiakas pyytäisi tarjoilijaa laittamaan musiikkia hiljaisemmalle, heh…
Täällä vietetään tänään rento päivä keräten energiaa ensi viikkoon. Rauhallista sunnuntaita kaikille!
Yesterday I was in the center with my dad, doing some shopping and checking out some new stores. I'm so happy Massimo Dutti finally opened a store in Helsinki. I also heard that & Other Stories (which is one of my favorites), will open their store next year. Can't wait! We also had lunch at Roster and the food was excellent. The only downside was the music, which was way too loud. When you can't even hear the person you are sitting with, it's definitely not enjoyable. Luckily the waiters reacted fast and put the volume down, but to be honest, I've never understood these restaurants that have music blasting so loud during the day.
But if something positive, I noticed again how good the service is in Helsinki. The sales staff in most stores are extremely helpful and friendly. I really appreciate this!
Today is all about relaxing (aren't Sunday's for that?), so I'm wishing you all a great chill day!
*Commercial links/Mainoslinkkejä.
Save
Save
Save
Save