Olen alkanut fiilistelemään hopeaa enemmän ja enemmän. Aikaisemmin olen ihastunut vain kullanvärisiin koruihin ja kaikissa laukuissanikin metalliosat ovat kultaisia. Nyt hopeakin tuntuu taas raikkaalta ja ehkä pidän siitä, että se on astetta arkisempi? Ja toki hopean väri sointuu kauniisti harmaiden neuleiden kaverina, joten siitäkään ei ole haittaa! Aikaisemmin en ole tykännyt edes hopeanvärisistä vetoketjuista nahkatakeissa, mutta tässä Andiatan versiossa ihastuin nimenomaan näihin. Tämä Célinen laukku on onneksi täysin musta, joten se menee kivasti näiden asujen kanssa joissa päälläni on hopeaa. En nyt sanoisi, ettenkö voisi käyttää laukkujani joissa kultaiset yksityiskohdat tämän nahkatakin kanssa, mutta tämä Phantom on juuri sopivan neutraali.
Viime viikko oli niin ihana keväinen, mutta tälle hiihtolomaviikolle on luvattu lisää lunta ja pakkasta. Lumisade on viimeinen asia mitä toivoisin näkeväni, mutta ei auta…ainakin hiihtolomalaiset pääsevät nauttimaan kunnon talvisesta ilmasta, jos ei muuta. Ihanaa talvilomaa kaikille teille jotka siitä pääsette nauttimaan ja hyvää alkanutta työviikkoa meille muille!
I'm starting to like more and more silver tones. Before I've been all about gold and almost all my jewelry are of this metal. Even the metal parts of my bags are all gold-colored, but silver feels so fresh right now. And it's also a bit more casual than gold, which makes it perfect for everyday looks. The silver zippers of this leather jacket look good and I'm happy this Phantom is all black, as it works with any outfit of mine. Not that I wouldn't mix silver and gold together.
I'm wishing a great new week to all of you – no matter if you're skiing in the Alps (lucky you) or stuck in the office like me!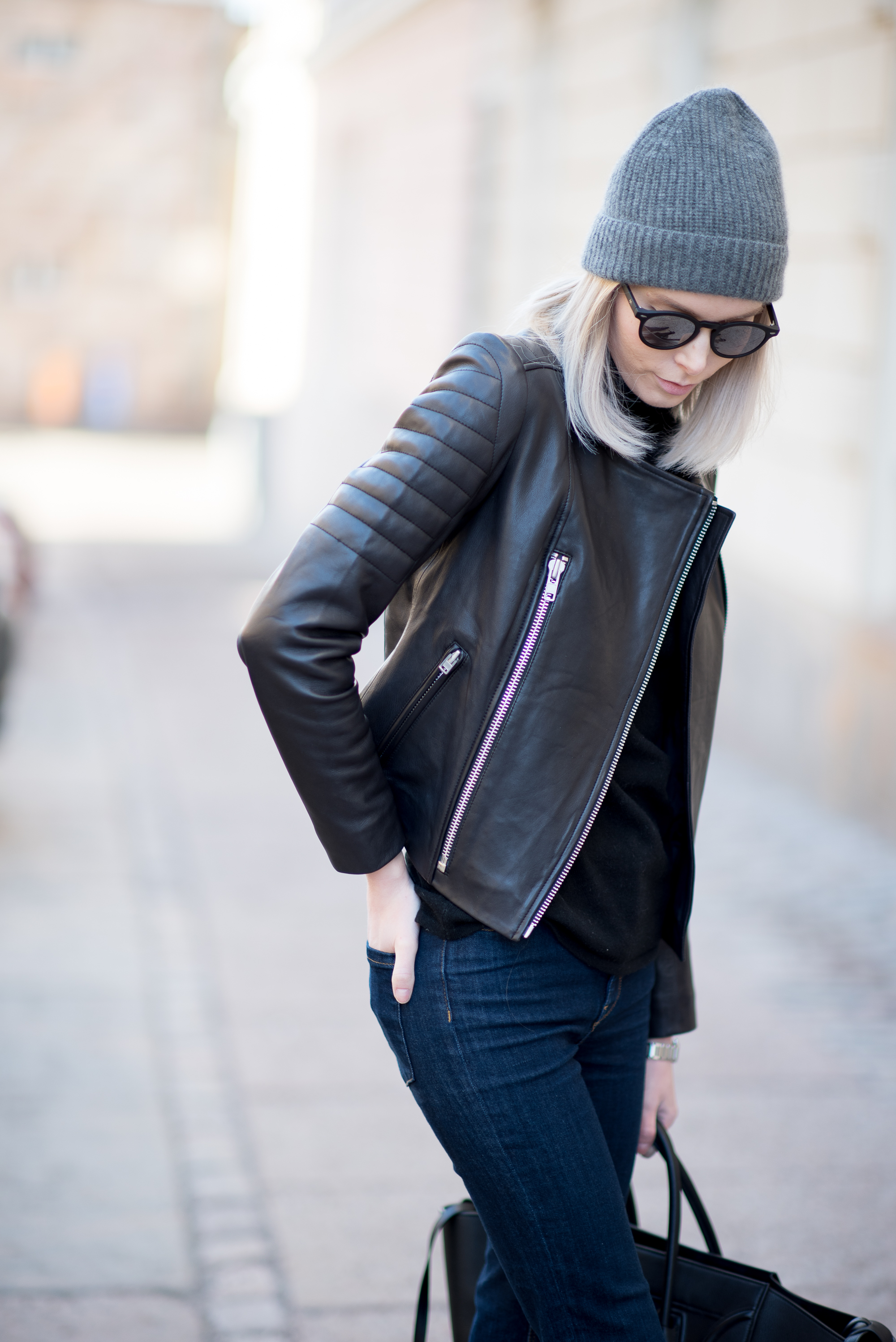 Leather jacket / Andiata* (similar here*)
Cashmere knit / Andiata* (similar here*)
Jeans / Lindex (similar here*)
Sneakers / Paul Green
Beanie / H&M
Bag / Céline
Watch / Cartier
*Commercial links/Gifted.
Save
Save
Save
Save
Save
Save
Save
Save
Save
Save
Save
Save
Save
Save
Save
Save
Save
Save
Save
Save
Save
Save