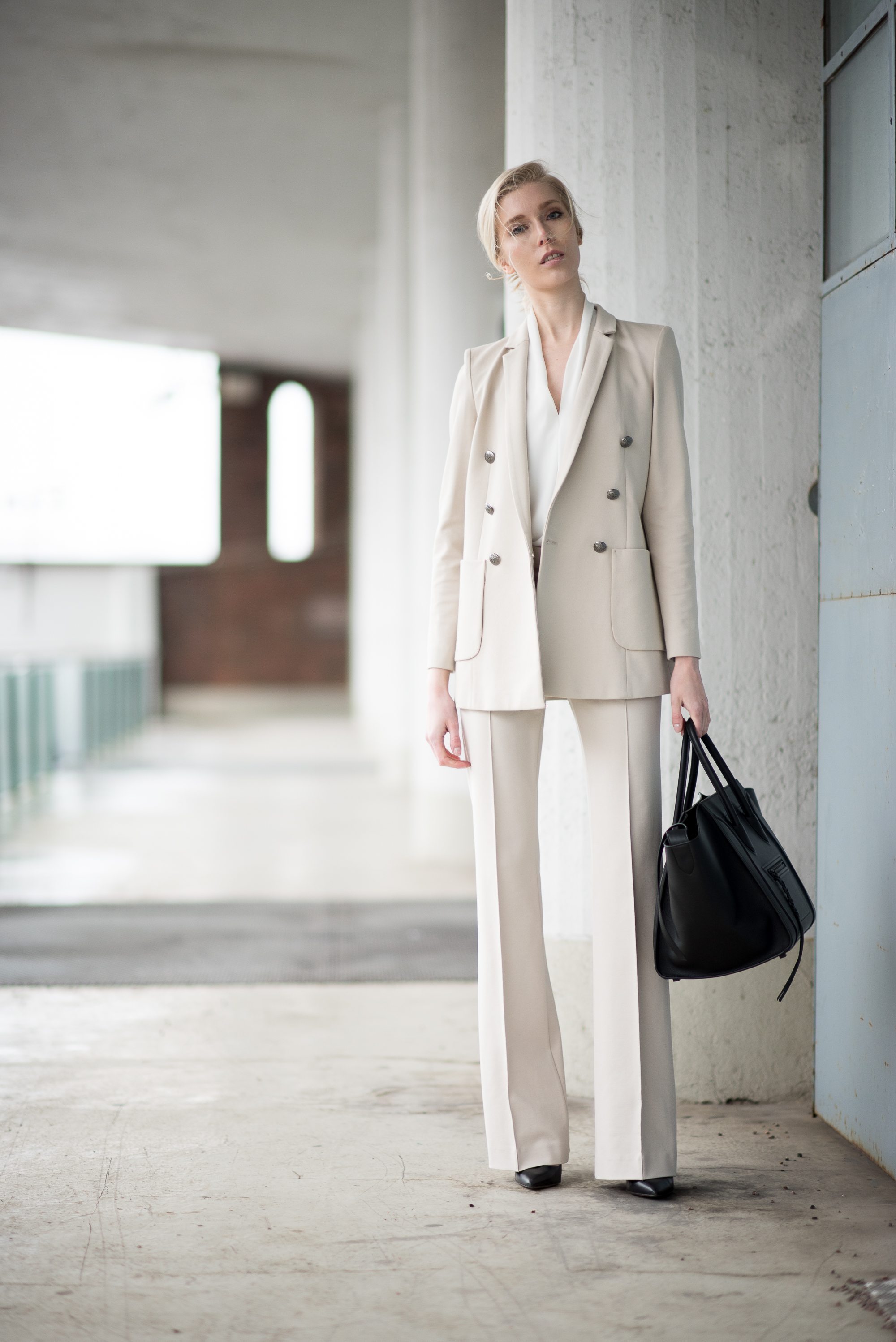 Tämä ihana jakkupuku on varma valinta kevään juhliin ja parasta siinä on se, että housuja ja jakkua pystyy käyttämään erikseen, jolloin molempia vaatekappaleita tulee käytettyä useammin. Töihin tämä on tietysti myös varma valinta ja kevääksi ihanan raikas sävy. Kuvat on tosissaan otettu vesisateessa ja kylmässä tuulessa, eli en tiedä pystyttekö kuvittelemaan tämän kokonaisuuden kuivilla kevätkaduilla, mutta se oli tarkoitus. Nämä Dania-nimiset housut ovat muuten ihan mielettömän kivat jalassa ja tuntuvat niin mukavilta, että ihan kuin olohousuissa kulkisi ihmisten ilmoilla! Tätä housupukua on myynnissä Andiatan myymälässä, joten sieltä kannattaa käydä sovittelemassa.
Tämä viikko on aivan hullu, sillä olen parhaillaan työmatkalla ulkomailla ja nyt koti-Suomessa on muutto meneillään. Hieman stressaavaa, mutta ensi sunnuntai ja maanantai ovat varattu muuttokuorman purkamiseen ja ehkä sen jälkeen helpottaa (ainakin siihen asti, kun löydämme sen oman kodin). Kuten sanoin aikaisemmin, niin nämä vuoden kaksi ensimmäistä kuukautta ovat aika täynnä ohjelmaa! Vielä kun se oma koti löytyisi, niin sitten voisi asettua ja hengähtää…Ihanaa viikonloppua kaikille!
P.S. Koodilla andiata20 saatte vielä tämän päivän -20% alennusta kaikista verkkotilauksista!
This Andiata pantsuit is a safe bet for the upcoming spring parties, as well as for work. It's such a versatile piece, since you can wear the blazer and pants separately. I'm definitely going to wear this blazer with jeans and these pants with a knit! Today I'm keeping it short and sweet, so enjoy your day everyone and I hope you like the look!
Suit / Andiata
Shirt / Andiata
*Postaus on toteutettu yhteistyössä Andiatan kanssa.
Save
Save
Save
Save
Save
Save
Save
Save
Save
Save