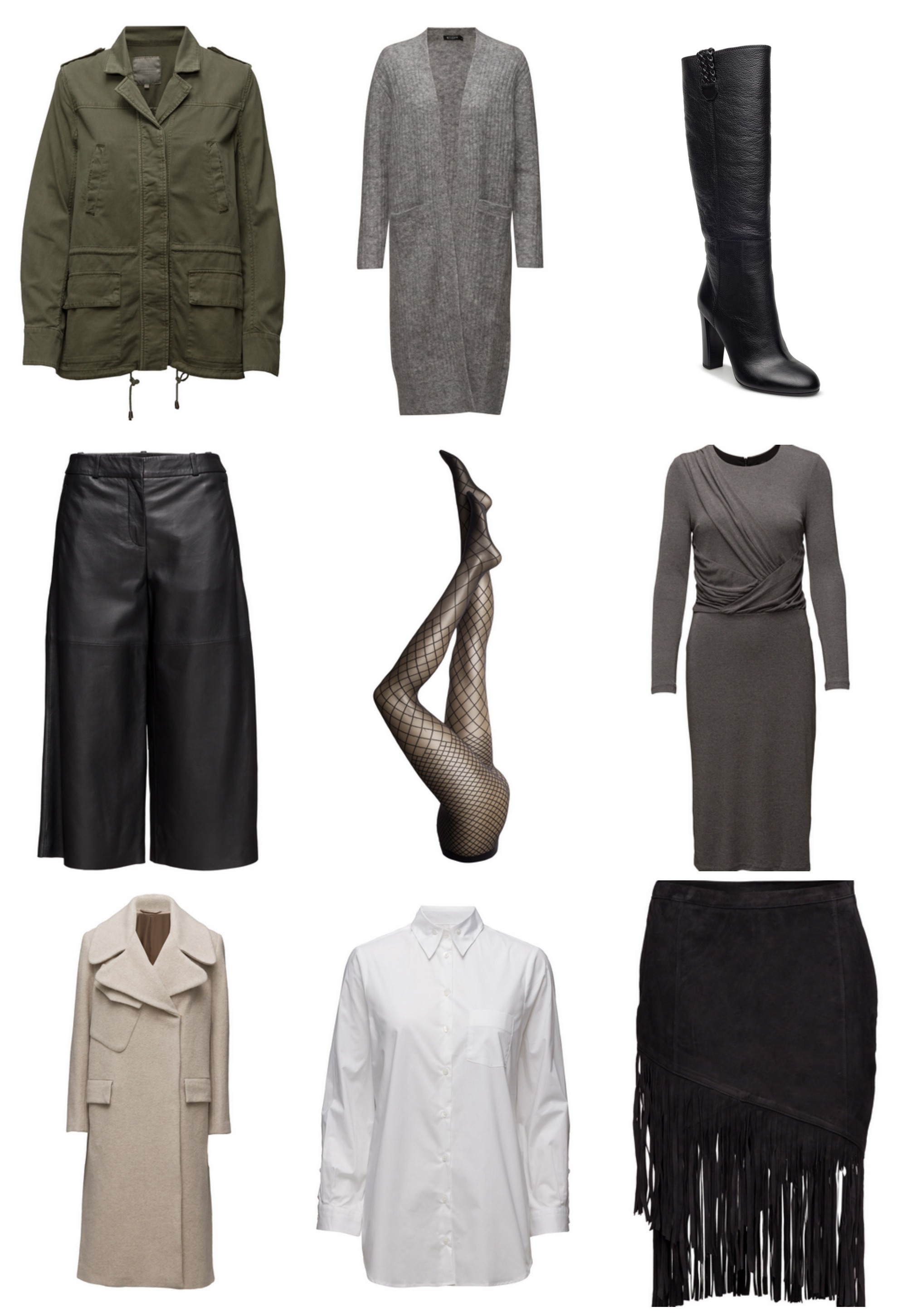 Jacket / Part Two   Knit / Tiger of Sweden   Boots / Hugo
Culottes / Weekend Max Mara   Tights / Wolford   Dress / Selected Femme
Coat / Filippa K   Shirt / Filippa K   Skirt / Day Birger et Mikkelsen
Tulin vasta eilen illalla kotiin työmatkalta ja nyt saan heti hypätä muuttokuorman kimppuun. Tämä päivä menee siis pitkälti työntouhussa, mutta onneksi huominen on vielä vapaa, niin saan viimeisetkin tavarat paikoilleen. Ainakin siksi aikaa, että se oma koti löytyy. Ja onneksi ensi viikolle on jopa luvattu aurinkoa, joten toivottavasti siitä saa tarvittavaa virtaa. Tuntuu, että tämä viikko on ollut aika intensiivinen, joten pieni energia-boosti olisi paikallaan.
Booztin alennusmyynnit päättyvät tänään ja aletuotteista saa vielä -15% koodilla EXTRASALE. Omat suosikkini löytyvät tuttuun tapaan tästä ja valikoimassa oli vielä hyvinkin ajattomia juttuja. Kaikki näistä sopisivat hyvin myös kevääseen ja ihastuin etenkin näihin nahkaisiin culottes-housuihin, jotka yhdistäisin Wolfordin verkkosukkahousuihin. Siihen vielä harmaa poolo ja avokkaat, niin olisi aika tyylikäs kombo. Rentouttavaa sunnuntaita kaikille!
I got back home late last night from a work trip and today I'll tackle all the moving boxes. Feels good to be back home and I still have tomorrow off, so I can finish unpacking everything. I'm so glad the weather seems to get sunnier next week, because the weather in Copenhagen was so foggy all through the week. A bit of sun might do wonders for my energy levels (or that's what I'm hoping for anyways!).
Today is the last day of the Boozt's sale and I picked my favorite pieces. I would love those leather culottes for spring and I would combine them with these Wolford tights. Would be a cool combo, don't you think? With the code EXTRASALE, you can get -15% off the discounted price (only valid today).  Have a relaxing Sunday everyone!
*Commercial links/Mainoslinkkejä.
Save
Save
Save
Save
Save
Save
Save
Save
Save
Save
Save
Save
Save
Save
Save
Save