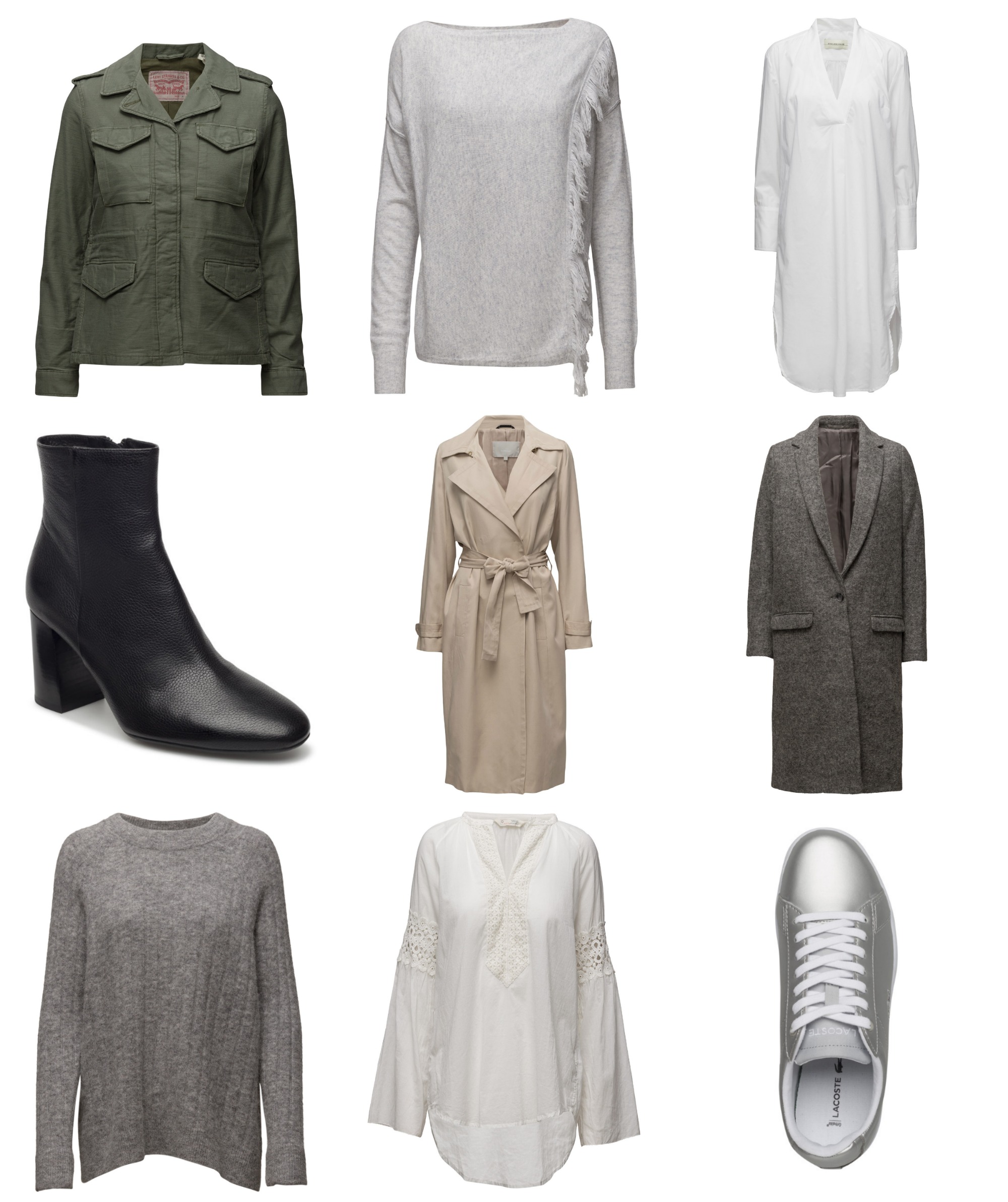 Army jacket / Levi's Women (-25%)   Knit / Hunkydory ( -50%)   Dress / By Malene Birger (-50%)
Boots / Billi Bi (-25%)   Trench / InWear (-35%)   Coat / Samsoe & Samsoe (-30%)
Knit / Samsoe & Samsoe (-25%)   Shirt / Odd Molly (-50%)   Sneakers / Lacoste (-25%)
Ihanaa, että on perjantai. On taas aikamoinen viikko takana ja nyt parin päivän lepo tekee todella hyvää. Lähdetään landelle viettämään rentoa viikonloppua ja nauttimaan ensimmäisistä kunnon lämpötiloista. Töiden jälkeen siis ruokaostoksille ja siitä kohti maaseutua. Miten odotankaan, että pääsen saunan lauteille makaamaan – niin parasta. Huomenna ystäväperheemme tulee vielä viettämään päivää meidän kanssa, joten edessä on varmasti mitä kivoin viikonloppu. Hyvää ruokaa, yhdessä hengailua mitä rentouttavimmassa paikassa ja lasi viiniä. Yes please! Eilen sain vielä kuulla ilouutisia, sillä yksi läheisimmistä ystäväpariskunnistamme menivät kihloihin ja häät ovat ensi vuonna. Häähumu taitaa meidän kohdalla alkaa kyllä heti kun tapaamme heidät, sillä olen niin innoissani tulevista häistä ja heidän kihloista. Olemme kulkeneet pitkän matkan tämän pariskunnan kanssa ja meidän tarinat ovat hyvinkin samanlaisia, joten siitä syystä nämä uutiset koskettavat vielä enemmän. Hyviä uutisia on muutenkin syytä juhlia täysillä ja pitkään eikö? Kunhan vaan ne hemmetin lintukirput eivät tule kuokkimaan, heh…
Ihanaa ja aurinkoista viikonloppua kaikille!
P.S. Booztilla on hyvä alekamppis meneillään, joten kannattaa tarkistaa heidän valikoima!
It's finally Friday! What a week it has been and now I'm just so happy that the weekend is here. We are heading to our summerhouse to relax properly and the weather should be amazing as well, so I couldn't be happier. After work we'll stop at the grocery and then drive to the countryside. In the evening I'll take a sauna and just lay there for an hour – best relaxation ever (I'm obsessed with sauna in case you didn't know, heh). Then tomorrow our friends are coming over, so it's going to be a fun weekend! On top of that we just got the happy news that our close friends got engaged and the wedding is next year – we couldn't be happier for them and I'm so excited for the wedding already! So this weekend we have many reasons to celebrate and that's what we'll do.
Have a great weekend everyone!
P.S. Boozt has a great sales campaign, so you should get it out!
Save
Save
Save