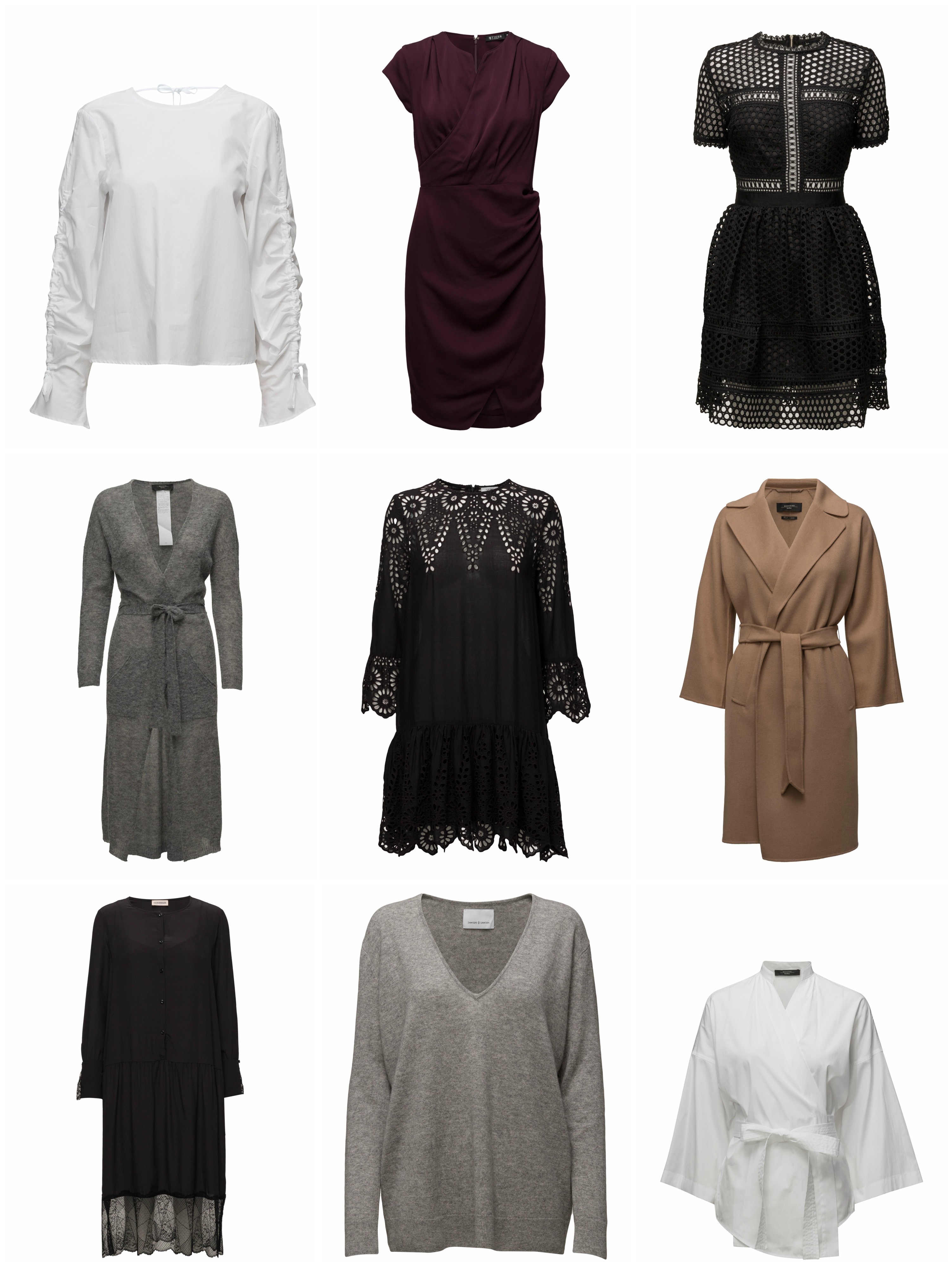 Shirt / Dagmar   Dress / Tiger of Sweden   Dress / By Malina
Knit / Weekend Max Mara   Dress / Ganni   Coat / Weekend Max Mara
Dress / Custommade   Cashmere knit / Samsoe & Samsoe   Shirt / Weekend Max Mara
Meillä on ollut ihanan rento viikonloppu landella. Sadekuuroista huolimatta eilen saimme nauttia suurimmaksi osaksi aikaa auringonpaisteesta, joten hyvä ilma tuli kuin tilauksesta. Tänään näyttääkin taas vähän synkemmältä, joten taidamme lähteä kotiinpäin heti lounaan jälkeen. Kamerakin piti olla mukana (ja se olikin), mutta ilman akkua, eli kuvailut jäivät tällä kertaa väliin. Ensi kerralla sitten!
Kaupat ovat jo täynnä syksyn mallistoja ja ajattelin taas toteuttaa Andiata-viikon, kunhan kaikki suosikkini ovat saapuneet varastoon. Viime vuonna tykkäsitte siitä, joten ehkä uusinta olisi paikallaan! Tässä ylhäällä on valintani Booztin valikoimasta ja tuo Custommade:n hihallinen silkkimekko olisi täydellinen syksyllä nilkkureiden kanssa!
Ihanaa sunnuntaita kaikille sateisesta säästä huolimatta ja ehditte muuten vielä iltaan asti osallistumaan Balmuir-arvontaan täällä!
We've had a relaxing weekend at the countryside despite the rain showers. Yesterday we enjoyed sunny weather, but today it's looking very grey. We'll probably drive back to the city after lunch, as there's not much you can do outdoors in this weather. I also took the camera with me, but not the battery, so no pictures this time.
Above you can see my fall favorites from Boozt. I love especially the Custommade silk dress and it would look cool with ankle boots. Enjoy your Sunday everyone!
*Commercial links/Mainoslinkkejä.
Save
Save
Save
Save