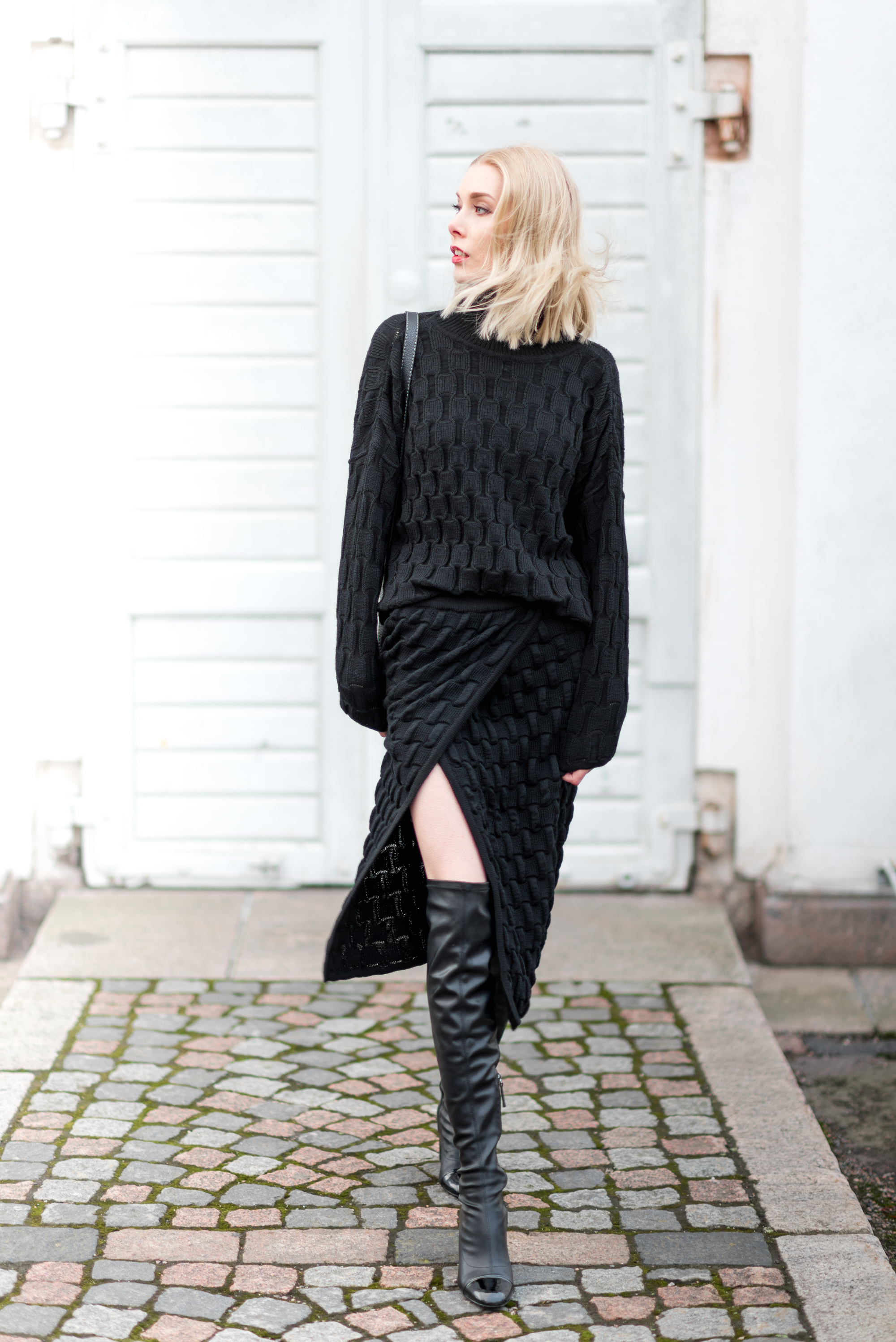 Tuntuu, että olisin ollut blogista erossa pitkänkin aikaa, vaikka edellisestä postauksesta on todellisuudessa vain muutama päivä. Kun on tottunut lähes päivittäiseen postaustahtiin, niin muutamankin päivän tauot tuntuvat pitkiltä ja blogia tulee ihan ikävä. Tällä viikolla on ollut niin paljon iltamenoja, että koneelle en ole yksinkertaisesti ehtinyt, mutta tänään olisi tiedossa rauhallisempi ilta, joten töiden jälkeen suunnitelmissa on tehdä vähän blogihommia ja nauttia siitä, että ei tarvitse lähteä yhtään mihinkään. Ah, ihanaa!
Perjantain kunniaksi halusin vihdoin esitellä teille tämän kauniin merinovillasetin. Tämä asu on aivan kuin tehty meikäläiselle, sillä neulesetit ovat mielestäni aivan upeita. Asu on eestiläisen suunnittelijan, Liisa Sooleppin, käsialaa ja suosittelen kurkkaaman hänen verkkokauppaan. Super ihania ja laadukkaita tuotteita kohtuulliseen hintaan! Tämän setin puen nilkkureiden ja paksujen sukkahousujen kanssa heti, kun pakkanen saapuu.
Mutta nyt vielä yksi työpäivä purkkiin ja sen jälkeen viikonloppu voi alkaa – ihanaa perjantaita kaikille!
I feel like I haven't posted in ages, but it's only been a few days since my last post. I'm used to posting almost daily, so even these few day breaks feel like forever. This week I've been super busy with all kind of events and after work activities, so I simply haven't had the time to even open my computer properly. Tonight I have nothing planned, which means I can chill and enjoy the feeling of not having to go anywhere!
I managed to make this post (even if it meant typing at midnight), because I wanted to show you this gorgeous knit set from an Estonian designer called Liisa Soolepp. She makes beautiful pieces from natural fibers, so no wonder I fell for her collection! You should definitely check her out. This skirt and polo I'll be wearing this winter a lot and next I want to combine them with tights and sturdy ankle boots.
But now let's get this Friday going, so we can start the weekend – enjoy everyone!
Knit and skirt / Liisa Soolepp
Boots / Zara
Bag / Chloé