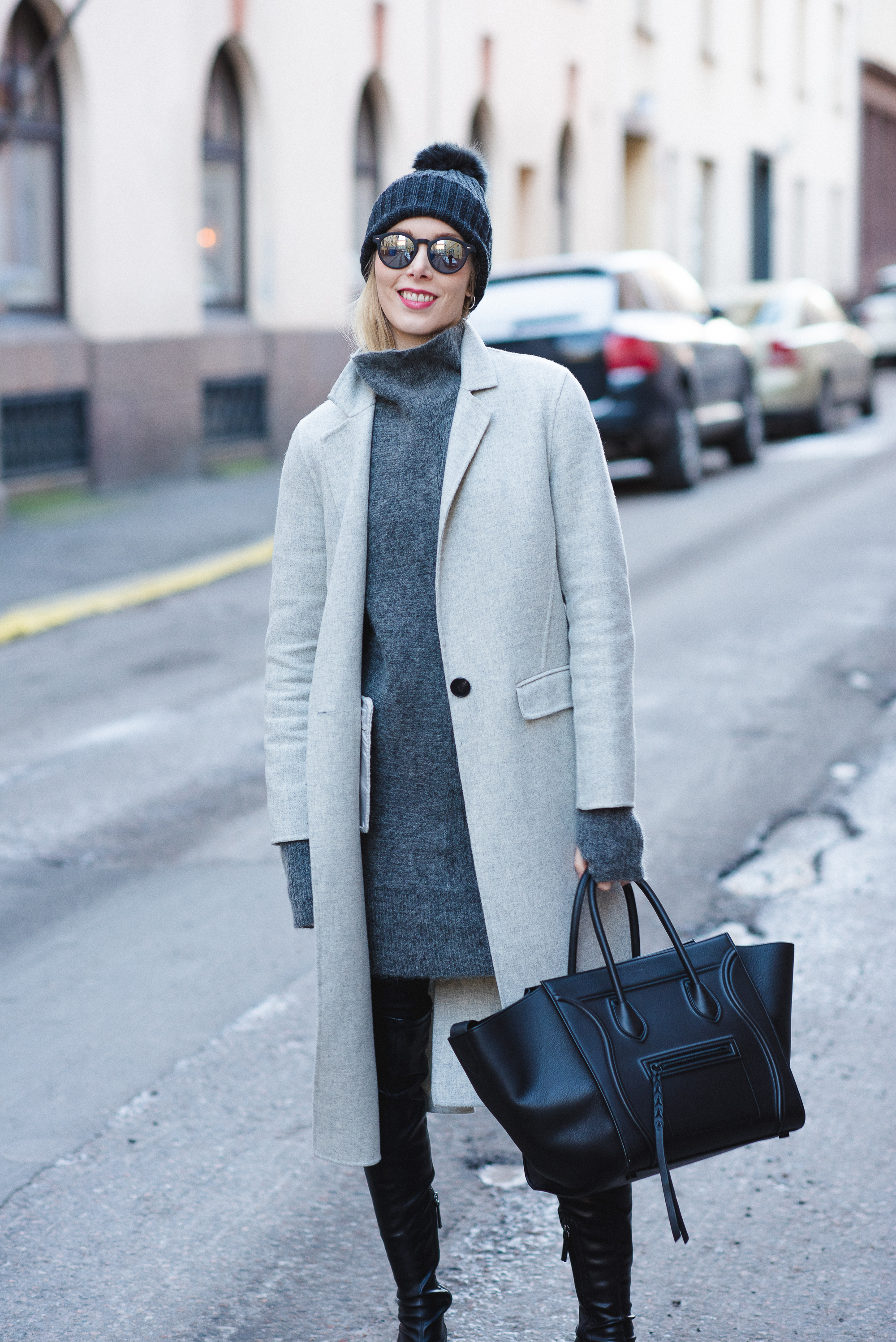 Juuri kun ehdin sanoa, että talvi on ollut leuto tähän asti, niin sieltähän se kylmä ilma sitten saapuikin. Vaikka lämpötilat näyttävät olevan miinuksen puolella tammikuun loppuun saakka, niin onhan se parempi näin kuin nolla astetta ja vesisadetta. Tällä siis mennään ja täytyy vaan pukeutua tarpeeksi lämpimästi! Itse suosin kerrospukeutumista ja talvisin paksut sukkahousut ja merinovillainen paita (tästä en luovu) ovat ihan pakolliset lisäkerrokset mihin tahansa asuun. Jos on jotain mitä en kestä, niin se on kylmyyttä. Siksi kunnon pakkasilla hautaudun mieluummin pipon ja paksun takin sisälle, kuin palelen liian vähissä vaatteissa. Tällä asukuvien setillä ei näillä asteilla enää tarkene, mutta tulipahan testattua ennen pakkasia!
Huomenna vuorossa olisi sitten kampaaja enkä malta odottaa, että saan pätkäistyä hiukseni. Sen lisäksi aloitan taas joogan mitä olenkin kaivannut edellisen kurssin loputtua. Siitä tulee vaan niin hyvä fiilis! Joku toinenkin harrastus olisi hyvä keksiä keväälle, mutta ehkä annan ajatuksen muhia vielä hetken. Pitäisi nimittäin löytää sellainen harrastus josta oikeasti innostuisin ja se on helpommin sanottu kuin tehty. Ja miettikää – jouduin syömään sanani ja turvautumaan länsimetroon maanantaina. Metromatkahan ei nyt ollut mikään kovin paha, mutta sitten pysäkiltä kotiin pääseminen olikin eri asia. Onneksi sain kyydin, eli pääsin helpolla, mutta olen edelleen sitä mieltä, että osa suorista bussilinjoista pitäisi palauttaa ja antaa ihmisille vaihtoehto. No mutta…nyt vaikenen ikuisesti tästä asiasta täällä blogin puolella, heh. Ihanaa keskiviikkoa ja pitäkää itsenne lämpimänä!
Just as I was talking about dry streets and the winter being mild enough to wear sneakers, the cold weather came running. Today it's supposed to snow quite a lot (until Friday), so no more sneakers for me. But like I said, it's better to have a proper winter than few plus degrees and rain everyday. Now it's all about dressing warm enough and layering is the key in my opinion. I couldn't handle the could without thick tights and a merino wool undershirt. They'll keep me warm!
Tomorrow I have my hairdressers appointment and I'm going to cut a bob again. I'm also starting yoga, which I'm very excited about. I have missed it! I would like to start some other sport as well, but I'm struggling to find something I would enjoy doing (I'm the least sporty person on this planet). Hopefully something will come up this spring, so I can take better care of my health!
Coat / Zara (similar here*)
Knitted dress / H&M (similar here*, here*)
Boots / Zara (similar here*)
Beanie / H&M (similar here*)
Bag / Céline
*Commercial links.