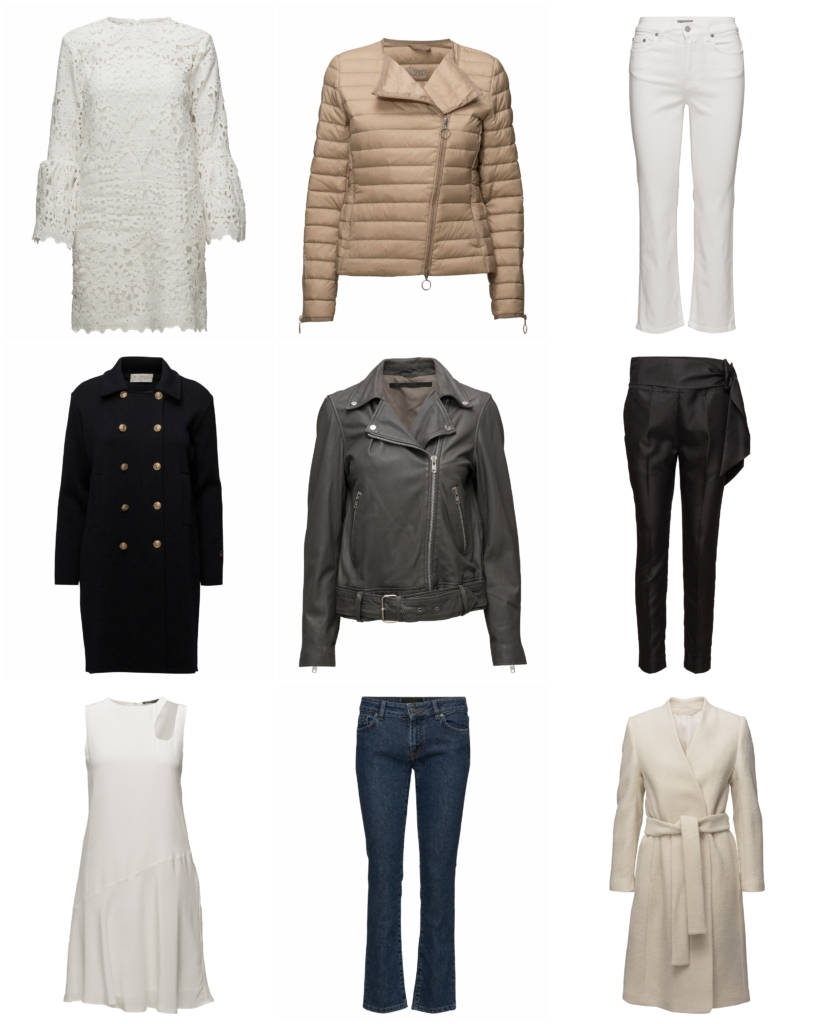 Dress / By Malina   Jacket / Line of Oslo   Jeans / Filippa K
Coat / Busnel   Leather jacket / MDK   Trousers / Day Birger et Mikkelsen
Silk dress / Tiger of Sweden   Jeans / J.Lindeberg   Coat / Tiger of Sweden
Pitkä viikonloppu jatkuu ja kohta pitäisi pakata kamat ja suunnata takaisin kaupunkiin. Meidän vappu alkaa illallisella ystävien kanssa ja sen jälkeen jatketaan vielä yöhön (jos jaksan yli puolenyön niin se on jo meikäläiseltä hyvä suoritus). Huomenna suunnitelmissa olisi nauttia brunssia meillä ja jatkaa siitä mattolaiturille, mutta ilmat eivät välttämättä ole samoilla linjoilla näiden suunnitelmia kanssa. Laiska tiistai ei kyllä kuulosta sekään hullummalta, joten väkisin en kyllä lähde mihinkään, heh.
Viime viikolla kävin Sandin pressipäivillä ja vitsit miten ihania juttuja on tulossa syksyn mallistoon! Yksi harmaa puku ja valkoinen takki veivät kyllä meikäläisen sydämen. Jos mietin jotain vaatteita monta päivää, niin silloin ne kuuluvat kaappiini. Olen huomannut, että tällaiset (todella harkitut) ostokset eivät mene ikinä pieleen! Ei siis muuta kuin syksyä odottamaan..
Ihanaa vappuaattoa kaikille!
I have a day off, so we are still at the countryside, but soon we are headed back to the city, as we have a dinner with friends planned. Tomorrow is May Day, but I think we are celebrating it today, because it should rain tomorrow. I'm so excited for May, as it's one of my favorite months. In a few weeks nature starts waking up and it's going to be so beautiful! Can't wait.
Have a great May Day Eve everyone!
*Commercial links/Mainoslinkkejä.