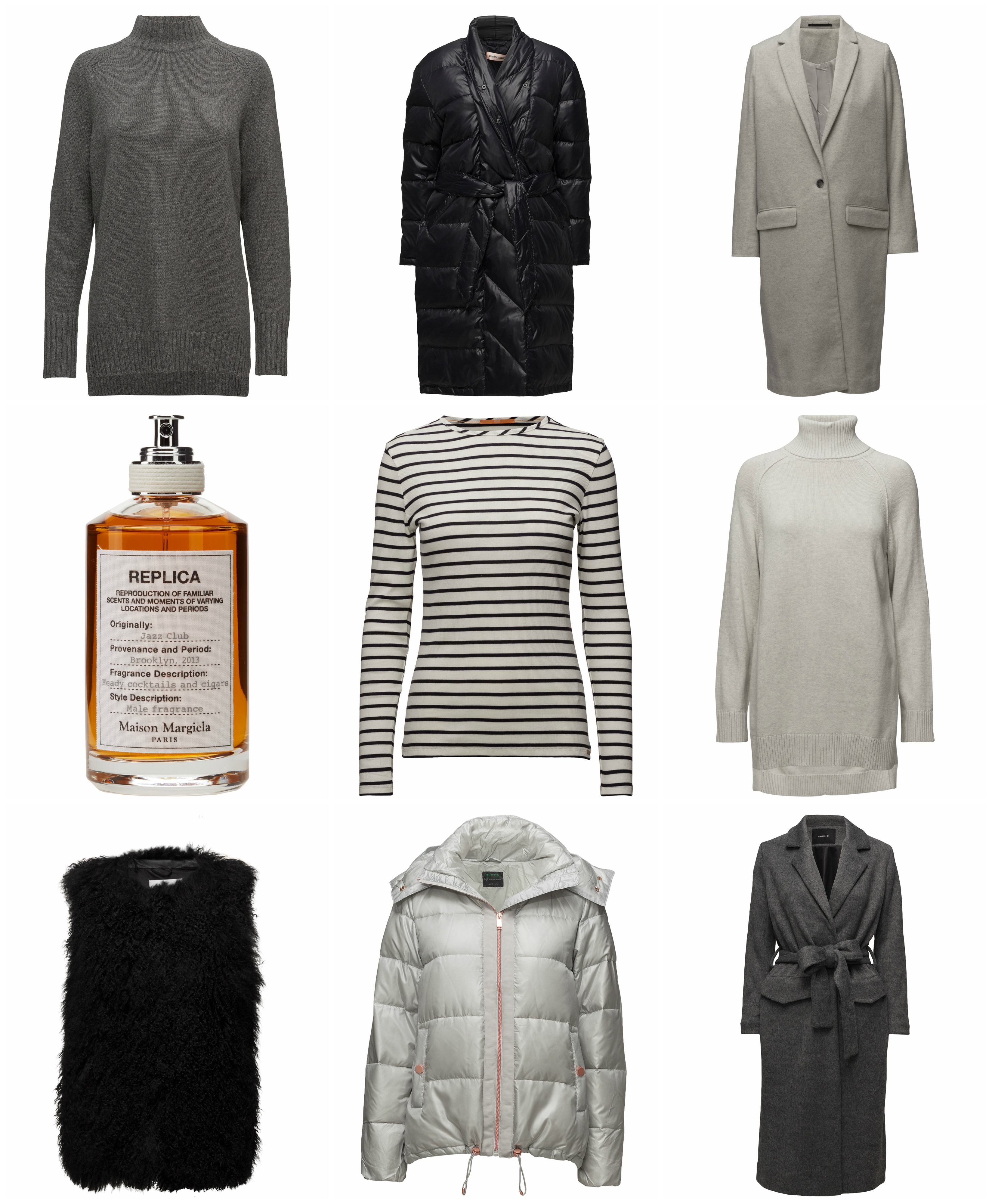 Knit / Polo Ralph Lauren   Coat / Custommade   Coat / Samsoe & Samsoe
Perfume / Maison Martin Margiela   Shirt / BOSS Orange   Knit / Filippa K
Lamb fur vest / Stand   Coat / Benetton   Coat / Raine
Alet alkavat jo olla vanha juttu, mutta tässä vielä omia suosikkejani! Tilasin itselleni tuon ihanan lampaankarvaliivin, jota kuolasin koko syksyn. Tein myös muutaman muun ostoksen, joten nyt pitää sulkea rahahanat kyllä kokonaan. Onneksi kevätmuoti ei pahemmin innosta, joten on huomattavasti vähemmän kiusauksia kuin mitä syksyisin. Oletteko te tehneet hyviä löytöjä alennusmyynneistä?
Eilen ehdin jo iloita suorasta bussiyhteydestä Espoosta keskustaan ja hehkuttaa sitä muille espoolaisille, mutta arvatkaa mitä? Se on linja joka kulkee vain ÖISIN! En kestä…Täytyy siis odottaa kevättä, että voin tulla Espooseen sähköpyörällä seuraavan kerran…
Tämä lyhyt työviikko on tänään purkissa ja ensi viikolla arki alkaa kunnolla. Tällä viikolla olen kulkenut keskustan ja Espoon väliä, mutta huomenna poikaystäväni kaveri palaa takaisin Luxembourgiin ja muutan sitten taas pysyvästi omaan kotiin. Meillä on siis suunnitelmissa poikaystäväni kanssa rento viikonloppu yhdessä – täydellistä! Ihanaa viikonloppua teille!
The sale has been on for a while and I found some nice things. I ordered for example the fur vest above and it's so perfect. I also found some other things, which I'll show you soon! Did you make any good sales finds? This short work week is almost over and I can't wait to relax and chill with my love. We haven't spent any quality time in three weeks, as he's been traveling and had  his friends over. It's going to be nice to get back on track with my love!
Have a great weekend everyone!
*Commercial links/Mainoslinkkejä.