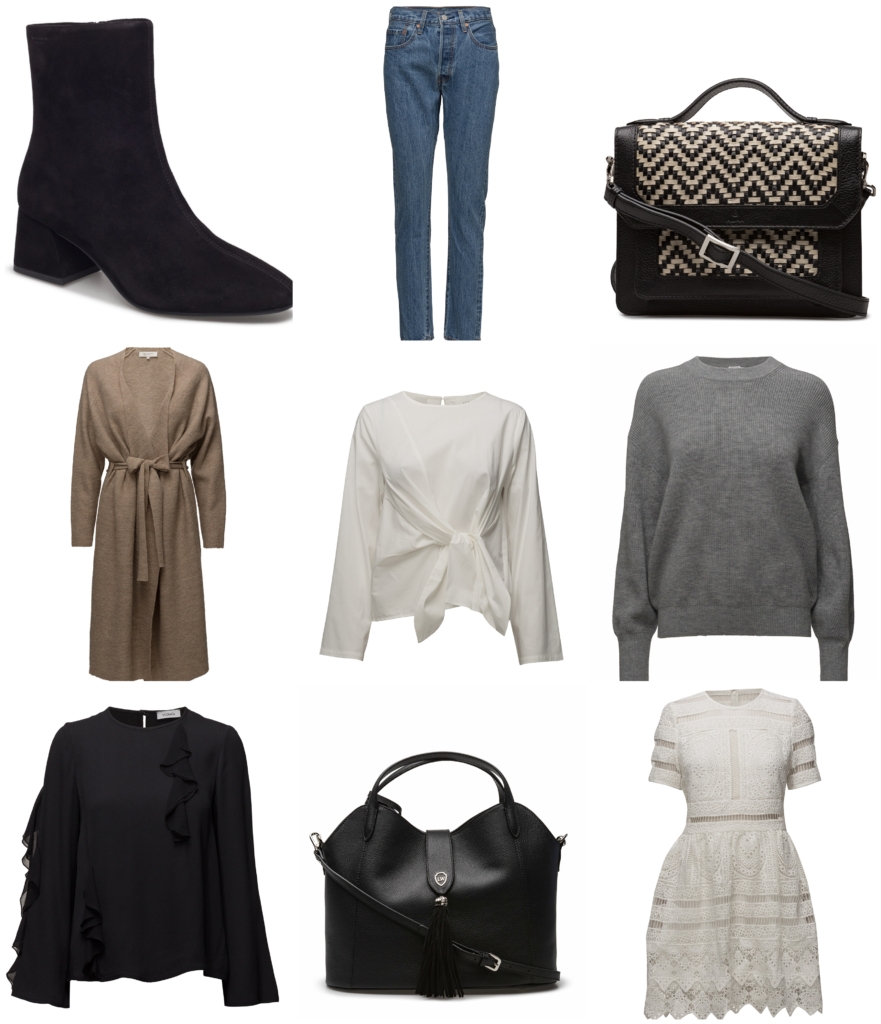 Boots / Vagabond   Jeans / Levi's Women   Bag / Adax
Cardigan / Selected Femme   Shirt / Just Female   Knit / Filippa K
Blouse / Max & Co.   Bag / Leowulff   Dress / By Malina
Kuten jo eilisessä postauksessani sanoin, tänä vuonna yritän entistä tarkemmin miettiä ostoksiani siten, että ne kulkisivat matkassa seuraavat kolmekymmentä vuotta. Tuskin tulen tässä onnistumaan sataprosenttisesti, mutta tavoite on kuitenkin se, että hankinnat olisivat vain sellaisia jolle povaan pitkään ikää ja jotka uskon miellyttävän itseäni vielä vuosienkin päästä. Äitini on tässä oma esikuvani, sillä hänen kaapissa on vieläkin vaatteita, jotka hän on ostanut vuosikymmeniä sitten, mutta mitkä ovat vielä tähänkin päivään sopivia.
Kun oma maku ja tyyli ovat näinkin varmoja ja ostaa todella harkiten, ainut ongelma on se, että tyylin kanssa ei tule reviteltyä. Se johtuu lähinnä siitä, että ei halua ostaa mitään kausijuttuja, joita käyttää vain sen yhden sesongin ja sen jälkeen ne unohtuvat kaapin perälle. Oma tyylini on selkiintynyt hyvinkin paljon tässä muutaman vuoden sisällä, mutta välillä ikävöin pientä heittäytymistä. Ja vaikka tyylini on hyvin selkeä, niin joku juju pitää kuitenkin aina olla mukana, että ei mennä tylsän puolelle. Voisin muuten tehdä sellaisen "my style evolution"-henkisen postauksen, jossa katson vähän taaksepäin, että millaisissa asuissa sitä tuli liikuttua ennen. Pistetään se siis harkintaan. Ihanaa sunnuntaita kaikille!
This year I want to emphasize even more on buying things that will last for years to come. I probably won't succeed 100% (and it's okay), but that's the goal. So every time I'm buying something, I need to ask myself if it's something I think I'll love years from now and is the quality good enough to last that long. My mom is a true inspiration when it comes to this, because she has always bought very little, but high quality. She still has some things that are 20-30 years old, but they look contemporary enough to be worn today.
As my sense of style is very sure and quite safe, I don't really play with it at all. That's sometimes a shame, but I just can't get myself to buy some trendy pieces that I know I'll only wear for a season. It just wouldn't feel right. That's why I rather invest in timeless classics that I will never get bored of. I was thinking about doing a "my style evolution" kind of post, so let's see if I can get it done. Could be interesting even for me! Have a great Sunday!
*Commercial links/Mainoslinkkejä.