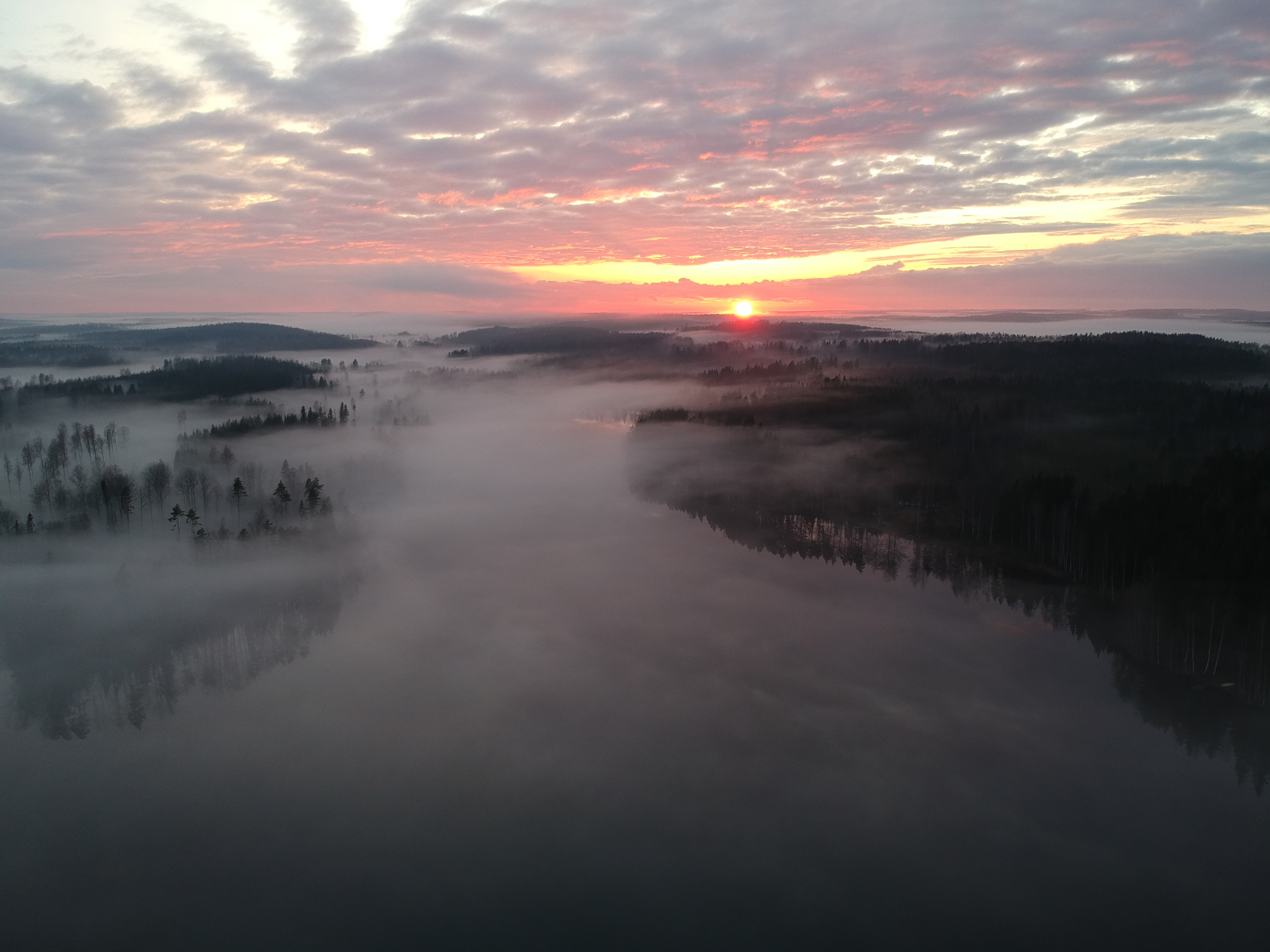 Viikonloppu vierähti taas landella ja mistä ihanista ilmoista saimmekaan nauttia! Edellisenä viikonloppuna olimme myös mökillä, mutta silloin satoi ja oli pilvistä. Osa näistä kuvista on siltä ajalta ja vaikka maaseudulla on aina kivempaa auringonpaisteella, niin onhan näissä sumuisissakin päivissä oma tunnelmansa. Mies on innostunut lennättämään droneaan ja sillä saa kyllä niin upeita kuvia.
Vanhempani rakennuttivat vierastalon pari vuotta sitten ja se oli kyllä loistava päätös. Vierastalossa on tilava makkari ja olohuone, joten se on meille kuin oma pieni koti. Erillisestä rakennuksesta löytyy sitten "kylpyhuone" johon rakennettiin modernimmat mukavuudet. Itse en ole kyllä vielä kertaakaan käyttänyt sisäsuihkua, mutta vanhemmille se on kiva silloin jos he eivät laita saunaa päälle. Vaikka kuinka tykkään landella siitä, että siellä ollaan luonnonhelmassa, niin onhan se kiva, että vessassa voi käydä sisätiloissa ja hampaat pestä juoksevan veden alla. Astianpesukoneesta puhumattakaan. Muistan edelleen ne ajat, kun vesi haettiin sisään ja pesuvesi keitettiin ja siinä niitä astioita hinkattiin monta kertaa päivässä. Sitä ei ole ainakaan vielä toistaiseksi tullut ikävä! Tontilla kyllä riittää enemmän kuin tarpeeksi töitä, joten tylsää hetkeä ei halutessaan tule, vaikka osa taloustöistä onkin helpottunut.
Tämä viikko tulee olemaan ikimuistoinen, sillä lauantaina tanssimme Alexan ja hänen miehensä häitä Italiassa! Kokoonnuimme perjantaina hääjengin kanssa yhteen ja fiilistelimme tulevaa viikonloppua, joten nyt alkaa olla jo perhosia vatsassa Alexan puolesta. Hääviikko alkakoon!
We spent the weekend at our summerhouse in the countryside and had the most amazing weather. It's the perfect place to enjoy sunshine and my boyfriend even went swimming a few times (the water is +10 degrees, so way too cold for me, heh). My parents built a guesthouse on the property few years ago and it was a great thing, as we basically have a place we can always go and relax. It's one of my favorite places on this planet and just look at these nature pictures – beautiful!

This will be a special week, as on Saturday we are attending a wedding in Italy. I'm so excited for my friend and can't wait for this day to come! On Wednesday we are heading to Venice and then heading to Garda on Friday. Can't wait!