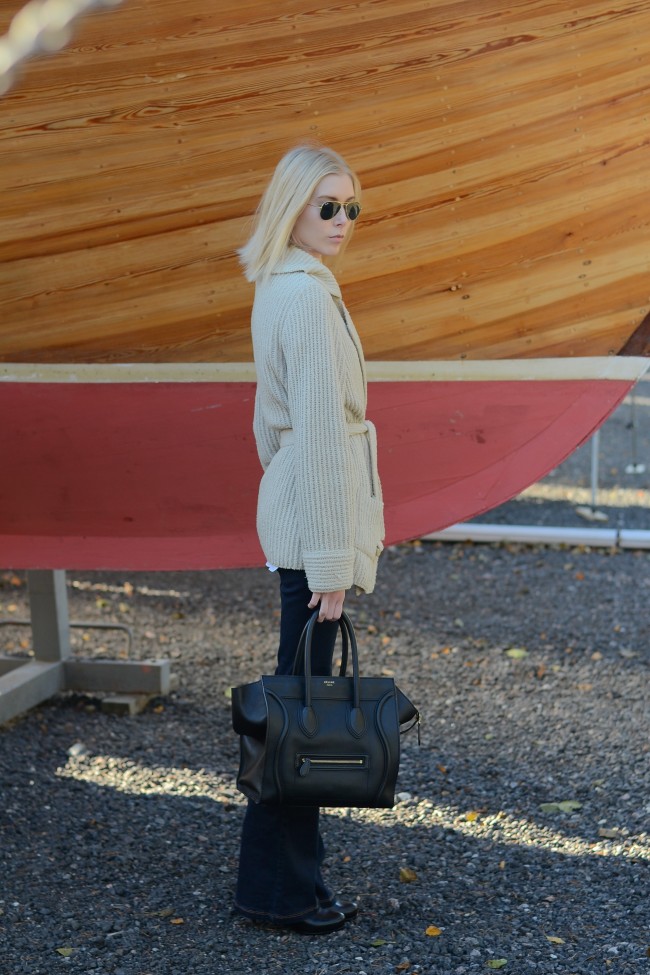 [dropcap custom_class="normal"]Mun päällä näkee todella harvoin kirkkaita värejä, mutta yksi helppo tapa tuoda väriä siihen omaan puketumiseen on huivin kautta. Tai paremmin sanottuna Hermèsin kautta. Merkin silkkihuivi valkoima on aikamoinen ja sieltä löytyy joka makuun jotain. Eri liikkeissä valikoimat voi myös vaihdella, joten jos etsinnässä on tietyn värinen niin kannattaa käydä usemmassa myymälässä. Muistan kun etsin tätä huivia ja mukana oli Célinen viininpunainen kirjekuorilaukku. Huivin piti sopia laukun väreihin, joten taisin käydä kahdessa eri myymälässä ennen kuin nappasi.[/dropcap]
Ja tähän neuletakkiin viitaten täytyy vielä sanoa, että kyllä kerralla kannattaa ostaa laatua. Tämä on nimittäin lähes 20-vuotta vanha (äitini siis) ja kovasta käytöstä huolimatta edelleen loistavassa kunnossa. Muistan jo tosi pienenä ihailleeni sitä äidin yllä, mutta en olisi uskonut, että vielä joku päivä käytän sitä itsekin. Yksi tärkeimmistä asioista mitä olen äidiltä oppinut mitä tulee vaatteisiin on laatuun panostaminen ja vaatteista huolehtiminen. Äidillä on myös tosi suppea vaatevarasto, mutta se pitää sisällään laadukkaita vaatteita ja asusteita joita voi käyttää vuodesta toiseen. Tähän itsekin pyrin!
//
I'm not very good at wearing bright colors. For some reason I'm very much into neutral tones. However, every now and then I feel like adding a little pop of color to my outfits and there's no better way to do it then through accessories. Colorful silk scarves are great and out of all the luxury brands,  Hermès in particular, has a great selection of colorful silk scarves.
I have to tell you more about this knit, because it's almost 20 years old. I was very young when my mother bought it and I remember already then loving it. My mom has really taught me to buy quality items and that with good care they will last for years. This knit is proof of that.
Knit / Toni Gard (similar here)
Jeans / Mango (similar here)
Shirt / COS
Boots / Louis Vuitton
Scarf / Hermès
Bag / Céline
Sunnies / Ray Ban
*Mainoslinkkejä.