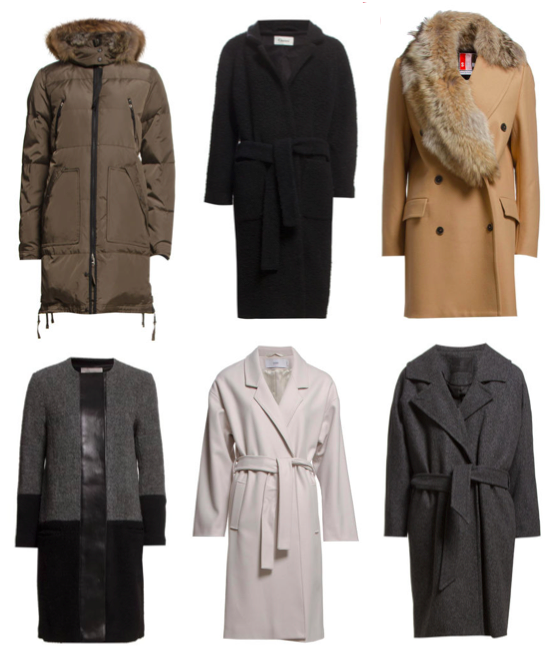 Gerard Darel*  /  Closed*  /  Bruns Bazaar*
[dropcap custom_class="normal"]Näissä Suomen sääolosuhteissa takki on aika pakollinen vaatekappale. Muistan, että jopa tämän vuoden juhannuksena päältäni löytyi paksu takki… Onneksi sentään koko kesä ei mennyt se päällä! Mä itse suosin kevyitä takkeja ja rakastan etenkin pitkiä vyöllisiä villakangastakkeja (tämän te olette varmaan jo huomannut, heh). Olen kyllä sen verran vilukissa ja mukavuudenhaluinen, että vielä joku vuosi ostan kunnollisen pitkän untuvatakin…takin ulkonäöstä viis. Pitkät paksut toppikset kun ei mun silmään ole kovinkaan tyylikkäitä, mutta mukavuus vie välillä voiton. Uusin tulokas on se parka takki, josta torstaina luvassa asukuvia. Se on onneksi yllättävän lämmin, joten sillä ja muilla takeillani pärjään enemmän kuin hyvin tämän talven ja vielä monta seuraavaa.[/dropcap]
Jos teillä on takki vielä hakusessa niin suosittelen kurkkamaan täältä Booztin takkivalikoiman. Tämän päivän ajan saatte sieltä nimittäin koodilla Styleplaza20 -20% alennusta (kunhan takin minimiarvo on 39€). Ylhäältä löydätte omat suosikkini. Happy shopping!
//
I'm a coat person. Luckily so, because in Finland you need a coat almost throughout the year. I remember that this midsummer (which is in June) I was wearing a thick coat. That's how cold it was. Luckily it got warmer and for a few months we were coat free! Now is definitely the season for thicker coats as winter is approaching. So far, the temperature hasn't dropped below zero degrees, but at some point it for sure will.
I have enough coats to survive this winter, but if you're missing the perfect one, take a look at Boozt's coat selection here. With the code Styleplaza20, you can get -20% off them only today (as long as the minimum price is 39€). Happy shopping!
*Commercial links/Mainoslinkkejä.