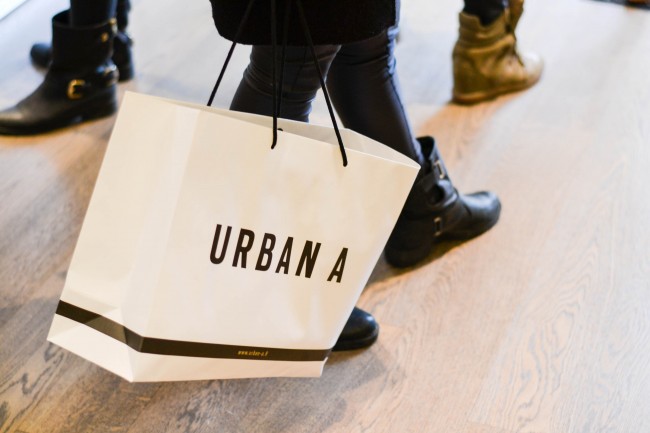 [dropcap custom_class="normal"]Alexa ja Urban A järjestivät eilen muutamalle bloggarille ihanan aamiaishetken Erottajankadun liikkeessään. Putiikki on itselleni hyvinkin tuttu jo monen vuoden takaa, mutta täytyy myöntää, että viime käynnistä on jo tovi. Oli siis ihanaa päästä rauhassa ihastelemaan kaunista valikoimaa ja vaihtaa kuulumisia tyttöjen kanssa.[/dropcap]
Liikkeen valikoima on ihan huippu ja kaikki sisäänostot on tehty niin hyvällä maulla. Voisin pukeutua lähes mihin tahansa tämän putiikin vaatteista. Me saatiin vielä yllätykseksi valita Urban A:n oman malliston ihana kollari mukaan. Valinnanvaraa oli tekstin suhteen ja illemmalla näette oman valintani!
Alexa and a Finnish multibrand store called Urban A organized a breakfast yesterday for a few bloggers. I love that store and it was so nice to meet up with the girls. Urban A has a great selection and I could wear almost anything from there! We actually got to pick out a sweatshirt, which I'll show you later today.
Myös liikkeen koruvalikoima iski muhun täysin ja yksi käsikoru on nyt toivelistalla. Ehkä siinä olisi hyvä joululahja? Iso kiitos vielä Urban A:n mukavalle porukalle ja Alexalle ihanasta aamunaloituksesta!
I also loved the jewellery selection and found a beautiful bracelet, which might just be the perfect Christmas present (from me to me, heh). Thanks again Alexa and Urban A for having me!
Urban A
Erottajankatu 1
09 6216887