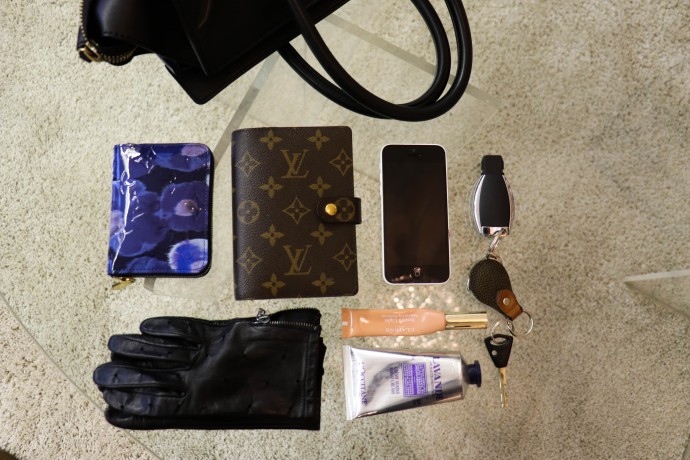 [dropcap custom_class="normal"]Mun mielestä on mielenkiintoista kuulla mitä kaikkea naiset kantavat laukuissaan mukana. Laukun sisältö kertoo ihmisestä aika paljonkin. Tässä siis mitä itse kannan normaalisti mukanani. Vaihtelen veskoja aika usein, joten mulla on tapana heti kotiin tultaessa "siivota" juuri käytetty laukku ja laittaa tavarat hyllyyn odottamaan seuraavaa laukkua. Harvoin siis omasta veskastani löytyy kasapäin kuitteja ja muuta tilpehööriä. Jos käyttäisin samaa laukkua pitkään niin silloin se tilanne olisi varmaan aika toinen, heh.[/dropcap]
Lompakko – Poistun todella harvoin himasta ilman lompakkoani. Autoillessa se täytyykin aina olla mukana ja pikaisilla kauppareissulla se kulkee yleensä kädessä. Tämä Vuittonin kiiltonahkainen lompakko on ihanan erilainen ja siinä on tunnearvoa koska se on lahja ystäviltäni Pariisista.
Kalenteri – Kalenteriani en kanna aina laukussa. Riippuu siitä mihin olen menossa. Työpöydällä on sen oma paikka, mutta kannan sitä mukana jos olen menossa esimerkiksi tapaamisiin. Vuittonin pikku kalenteri on tarpeeksi tilava omiin tarpeisiini.
Puhelin – Lompakon kanssa tämä on oikeastaan ainut pakollinen esine minkä otan aina mukaani kotoa lähtiessä. Ilman sitä on orpo olo! Kuvittelen myös aina silloin kun se unohtuu, että juuri sinä hetkenä autosta menee rengas rikki tai muuta vastaavaa, jolloin olisin ihan avuttomana tien vieressä, heh. Kuten sanottu, mulla on aika vilkas mielikuvitus…
Hanskat – Tähän aikaan vuodesta hanskat kulkee aina laukussa. Sieltä löytyy normaalisti kahdet; nämä nahkaiset ja yhdet paksummat.
Käsivoide – Mun kädet on ihan järkyttävän kuivat aina talvisin ja hyvä käsivoide on ihan pakollinen .L'Occitanella on loistavia voiteita ja pidän tästä laventeli voiteesta erityisesti siksi, että se ei tahmaa lainkaan, joten se sopii täydellisesti arkeen.
Huulikiilto/rasva – Toinen asia mikä normaalisti aina löytyy laukkuni pohjalta on huulirasva/kiilto.
Avaimet – Luonnollisesti avaimet kulkevat aina mukanani!
Omasta laukustani löytyykin siis pelkästään ne pakolliset asiat ja välillä ihastelen kavereideni laukkuja, jotka on ihan mahtavia aarreaittoja. Sieltä löytyy kynsiviilaa, meikkipussia, hiuslakkaa ja hiusharjaa. Laukkuni sisältö on siis oikeastaan aika minimalistinen, mutta se ei ehkä tule kenellekään yllätyksenä? Kannatteko te mukananne vain ne välttämättömyydet vai kulkeeko matkassa myös vähän muutakin?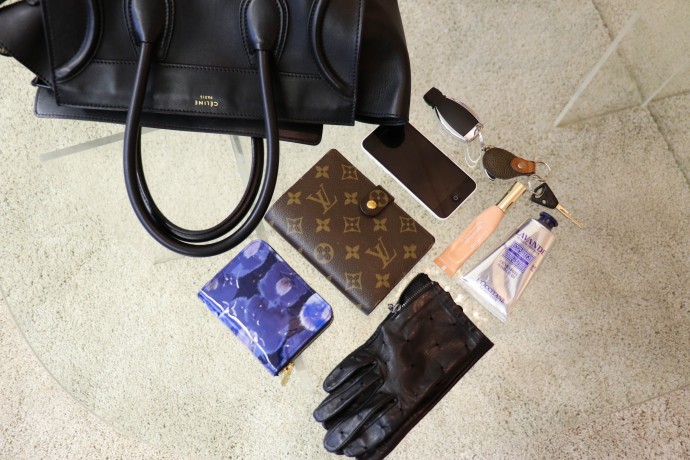 I think it's so interesting to see what women carry in their bags. I think the insides of a bag tells something about  the person! This is what I normally carry with me. I switch bags quite often so I have a habit of emptying my bag as soon as I get home. This means I "clean" the insides after use, which explains why I don't have any receipts or papers there. If I used only one bag, the situation might be a lot different, heh.
Wallet – I never leave the house without my wallet (unless I'm going for a walk). Especially when driving it's quite important to have your drivers license with you in case you're stopped or in a accident. And obviously it's quite hard to pay for anything if the wallet is at home and you're in the store!
Agenda – I actually don't always carry my agenda with me. Only if I have a meeting, but otherwise it stays at the office desk.
Phone – No need for explaining. I actually feel very lost when sometimes I forget my phone at home. Then I start thinking that for sure now I'm going to have a flat tire and be stuck on the side of the road, heh. I have quite an imagination as I've told you…
Gloves – During the winter months, gloves are a must. At least in this part of the world.
Hand cream – Winter really affects the skin on my hands and I couldn't do without my hand cream. Right now I'm using a lavender cream from L'Occitane, which I love.

Lip-gloss – Another thing I carry always with me is a lip-gloss or a lipstick. I'm pretty sure it's a fixture in the bags of most women?
Keys – No need for explanation!
As you can see, I usually only carry the "essentials" with me. I'm sometimes amazed by the insides of my friends bags since they're like treasure chests. They have their make-up, hair products and everything in between with them. So the insides of my bag are quite minimal actually, but then again, that's so me!