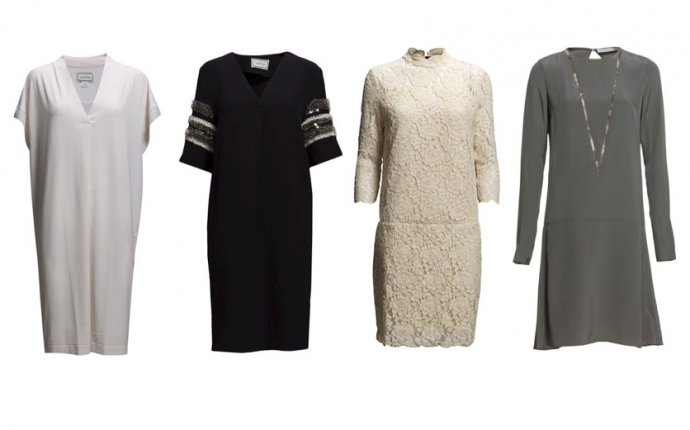 White dress / By Malene Birger     Black dress / By Malene Birger     Lace dress/ Gestuz     Grey dress / Schumacher
[dropcap custom_class="normal"]Tasan viikon kuluttua on kummityttöni nimiäiset. Itselläni ei ole vielä mitään hajua siitä mitä puen päälleni tähän tilaisuuteen. Tämän viikon valinnat ovatkin kaikki sellaisia jotka voisin pukea ylleni ensi sunnuntaina. En tosin ole hankkimassa mitään uutta vaatetta näitä juhlia varten, sillä yksi asia mitä inhoan on se, että "pakon edessä" ostaa jotain, mitä pahimmassa tapauksessa tulee käytettyä ainoastaan sen kerran.[/dropcap]
Keskityn siis vaatekaappini sisältöön. Oma juhlavarustukseni on aika rajallinen, mutta kyllä sieltä jotain löytyy. Onneksi koroilla ja asusteilla saa melkein mistä tahansa vaatteesta juhlallisemman, joten ei tässä onneksi hätää ole…
Rentouttavaa sunnuntaita!
Next Sunday my goddaughter has her name giving party. I still have no idea of what I'm going to wear, which is why this weeks pics are a bit more festive than usually. I wouldn't mind wearing one of these dresses to the party, but I'll definitely look into my closet and wear something that's already there. There's one thing I hate and that's shopping for one occasion something by "force" that you would probably only wear once.
So my plan is to find something I already own and make it work. Thankfully heels and accessories can save almost any look and make something casual into more festive.
Have a relaxing Sunday everyone!
*Mainoslinkkejä / Commercial links!