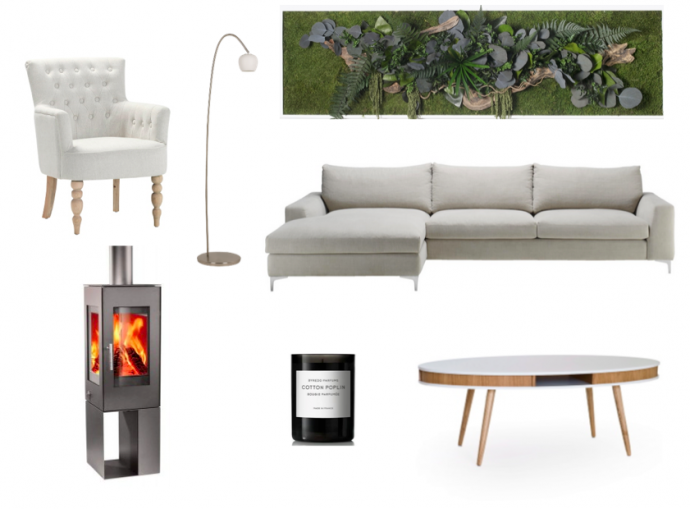 Chair / Ellos Home     Lamp / Habitat     Nature Art /  Interiors Exclusive    Couch / Isku
Fireplace / Rais     Candle / Byredo     Table / Ellos Home
Kuten olen kertonut, meillä on meneillään landella uuden vierastalon rakentaminen. Sen pitäisi valmistua ennen kesää ja sitten alkaa se paras osuus – sisustaminen. Taloon tulee yksi makuhuone, olohuone ja terassi. Kirjoitinkin tästä projektista jo aikaisemmin ja pääsette lukemaan postauksen tästä. Haluttiin siis isoja ikkunoita, valoa ja yksinkertaista muotoa. Arkkitehdin kanssa jouduttiin tekemään muutamia rakenteellisia muutoksia, jotta talo on mahdollisimman järkevä, mutta nyt ollaan jo siinä vaiheessa, että talon rakentamista päästään taas jatkamaan kovaa vauhtia talven jälkeen.
Huomattiin myös tämän projektin myötä miten tiukat rakennusluvat kaupungilla onkaan. Ihan hyvä, että lupia ei saa ihan mihin tahansa, mutta tuntuu hassulta, että metsän keskelle isolle alueelle rakentamiseen puututaan hyvin tiukasti. Sitten taas täällä kaupungissa talot tulevat vieri viereen ja lähes jokaisen sentin saa ottaa hyötykäyttöön. Oletteko huomannut saman kun olette rakentaneet landella lisärakennuksia tai muuta vastavaa?
No mutta, kohta siis alkaa se paras osuus, eli sisustaminen. Me varmasti pidetään värimaailma neutraalina ja jätetään huonekalut minimiin. Landella luonto ja järvi on ne kauneimmat asiat, joten ne saa olla pääosassa. Jo siinä vaiheessa kun hahmoteltiin rakennuksen mallia, mietittiin huonekalujen paikkoja ja kokoja, jotta vältyttäisiin turhien neliöiden rakentamiselta.
Tässä vähän sitä tyyliä mitä haetaan olohuoneeseen (eikö niin veljeni?). Yksi sisustusjuttu johon olen täysin ihastunut tällä hetkellä on nämä viherkasveista tehdyt taulut. Näitä näkyy Ranskassa paljon tällä hetkellä ja yksi poikaystäväni ystävistä myy näitä yrityksensä kautta. Taulut tehdään siis aidoista elävistä viherkasveista ja ne kestävät viisi vuotta ilman minkäänlaista hoitoa tai vettä. Aika ihanteellinen juttu tällaiselle laiskalle viherpeukalolle!
As I've told you before, we are currently building a guesthouse to our second home in the Finnish countryside. It's a place where most of my family spend the summertime and now with a complete renovation to the main house as well, even Spring and Fall time. The guesthouse should be ready before summer and that's when the fun part begins. I love interior design and it's great to be able to plan the entire design of a new place. The house itself will have a living room, a bedroom and a terrace. 
We want to keep the mood very light and minimalistic so that the surrounding nature and lake are still the key elements. When we started planning the layout of the house with the architect, we already planned where the furniture was going to be and the size of them so that we wouldn't waist time and money on any"unnecessary space".
This is the style we are going for so very neutral tones and we will keep the furniture to the minimum. At the moment I'm in love with nature art and a piece like this would fit perfectly the mood of the new house. My boyfriends friend sells these beautiful art works and what's great about them is that they last for approximately five years without any maintenance. Imagine that. Perfect for a lazy green thumb like me!
Save
Save