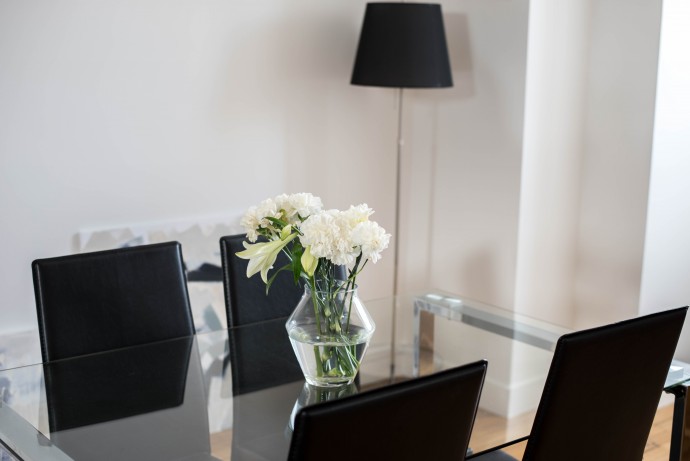 [dropcap custom_class="normal"]Meidän asuntomme sisustusprojekti on ollut jäissä jonkin aikaa, mutta nyt tekisi mieli taas jatkaa. Oikeastaan mikään huone ei ole varsinaisesti valmis, mutta meidän prioriteettimme on saada olohuone siihen kuntoon, että kumpikin on tyytyväinen. Tällä hetkellä olohuoneesta puuttuu matto, sekä kattovalaisimet ja taulut (yhden asentaminen). Taulu on työn alla ja sen tekee poikaystäväni äiti. Työnsä vastapainoksi hän harrastaa taidetta ja suostui taikomaan meille taulun. Hän tekikin jo tuon pöydän takana vilahtavan värikartan, josta voimme valita oikeat sävyt.[/dropcap]
Vihertaulu on edelleen toiveissa ja päätimme, että se tulee huoneisiin johtavan käytävän päähän. Saa nähdä jos tämä projekti ottaa ikinä tulta alleen. Se olisi kyllä aivan mahtava lisä tänne! Tiedostamme, että sen vuoksi käytävä tulee näyttämään ahtaammalta kuin mitä se on, mutta mielestäni sillä ei ole väliä.
Työ/vaatehuone kaipaa vielä mm. mattoa ja penkkiä, mutta nyt sieltä löytyy sentään työpöytä. Mietin, että itämainen matto voisi olla hyvä vaihtoehto tuohon huoneeseen, mutta en ole kyllä täysin varma. Tuntuu, että matot ja valaisimet ovat todella vaikeita mitä tulee sisustamiseen. Itselleni matot ovat välttämättömiä (niihin kun olen tottunut Suomessa), kun taas poikaystävälleni ne ovat melkeinpä yhdentekeviä.
Täällä muuten kummeksutaan meidän minimalistista sisustustyyliä, sillä ranskalaisilla on usein aika päinvastainen tyyli mitä tulee sisutukseen (enkä nyt puhu miljoonia maksavista pariisilaiskodeista, heh). Tavaraa on usein paljon ja on montaa eri tyyliä sekaisin. Minimalistin painajainen, heh. Ihmettelinkin miten poikaystäväni tyyli on niin lähellä omaani, mutta uskon, että hänen tanskalaisilla juurilla on tekemistä tämänkin asian kanssa…
Hyvää torstaita kaikille!
Our apartment is coming together slowly, but surely. There are still many things to be done, but we'll take it easy. The first thing to do is complete the living room. We need to find a carpet and then my boyfriends mother kindly agreed to do us a painting. So nice of her!
Besides that, the dressing room needs a carpet and a bench. Our bedroom is also unfinished, but there's no rush. So here are some detail shots of how our place looks now, but I'll take more (with a wider lens) when everything is done!
Enjoy your Thursday everyone!