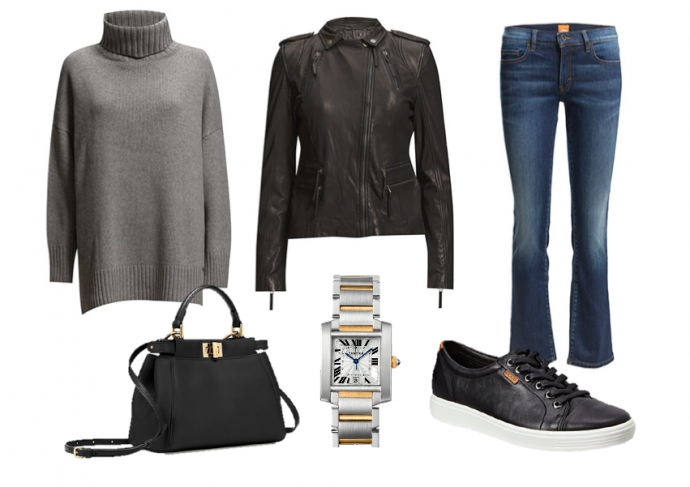 [spacer]
Knit / Polo Ralph Lauren     Leather jacket / MDK     Jeans / Boss Orange
Bag / Fendi     Watch / Cartier     Sneakers / Ecco
[dropcap custom_class="normal"]Kerroin tässä aikaisemmassa postauksessa, että Chanelin WOC voisi olla seuraava laukkuhankintani. Etsin nimenomaan kevyttä laukkua, jonka saa olan ylitse ja johon mahtuu ne kaikista tarpeellisimmat jutut. Toinen vaihtoehtoni on tämä Fendin mini Peekaboo. Se on hieman isomman kokoinen, joten sinne mahtuisi ainakin varmuudella kaikki tarpeellinen. Saa siis nähdä kumpaan päädyn (sitten joku kaunis päivä).[/dropcap]
Ecco ei nyt ehkä kuullosta kovin mielenkiintoiselta merkiltä, mutta heidän uusin mallinsa yllätti minut todella positiivisesti. Voisin kuvitella vetäväni nuo tennarit jalkaan ja mitä upeat blogikolleegani (Vilma, Sofia ja Madde) ovat blogeissaan kertoneet, niin kengät ovat myös super hyvät jalassa. Tulen Suomeen ensi kuussa, joten silloin täytyy käydä sovittamassa näitä livenä!
Ihanaa sunnuntaita kaikille!
I told you in this previous post about my obsession for Chanel's WOC. I'm looking for a light, small bag, that fits all the essentials. My other option is Fendi's mini Peekaboo. It's a bit bigger than the Chanel, so this one would at least fit everything I would need. Yet, you can still carry it across the body, which is the most important criteria for me. Let's see, which one will be my new companion (some beautiful day in the future).
Have a relaxing Sunday!
*Commercial links/Mainoslinkkejä.