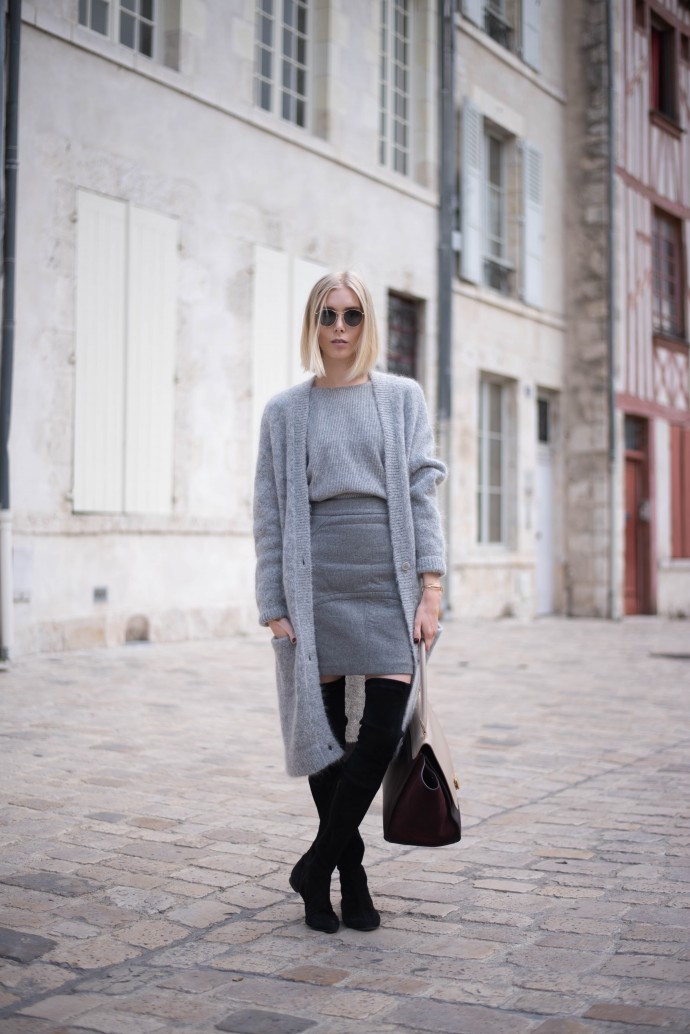 Eilen keräsin tänne blogiini inspiraatiokuvia kokoharmaista asuista ja tässä olisi oma tyylinäytteeni. Kokoharmaaseen vaatetukseen lisäsin ripauksen väriä laukun ja kynsilakan muodossa. Mustat mokkasappaat taas sopivat tähän vuodenaikaan mainiosti ja näin asu on myös sopivan lämmin. Kokeilin muuten ensimmäistä kertaa kahta neuletta päällekkäin ja miten tykkäsinkään tuosta neule+villatakki yhdistelmästä. Tulee kunnon twin-set vibat!
Itselläni on niin paljon inspiraatiota muodin suhteen tähän aikaan vuodesta, että pukeutumiseen on löytynyt ihan uutta puhtia (nihkeän) kesäpukeutumisen jälkeen. Täällä on oikeastaan nyt mitä täydellisin ilma, koska voi pukeutua jo kunnon syysvaatteisiin, mutta kepeisiin sellaisiin. Jalkaan voi vielä sujauttaa ne balleriinat ilman, että varpaat jäätyvät ja tämän asun kaltaiset kokonaisuudet ovat mahdollisia. Välillä tuntuu, että se syksyn paras osuus menee ohitse vähän turhankin nopeasti, joten täytyy täysillä nauttia juuri tästä hetkestä! Olen kuullut, että myös siellä Suomessa on ollut varsin kaunis alkusyksy, mikä on ihanaa. Nauttikaa!
Hyvää keskiviikkoa kaikille (miten ihmeessä on jo työviikon puoliväli?)!
Yesterday I posted some of my favorite all grey looks and here is my take on this trend. I added a hint of color with the bag and nail polish to break the monochromatic color. These black suede boots fit great with the season and with them, the outfit is actually warm enough to be worn just as it is (at least for now). I tried layering two heavy knits for the first time and I quite like the look. Brings slight twin-set vibes though, heh!
I feel like I have so much fashion inspiration at the moment and dressing up feels nice again, after the hot summer. Now is actually the prime time for Fall outfits as the weather is perfect. Not too cold and not too warm. I sometimes feel like this moment is too short (it's my all time favorite time of the year) and soon it's rainy and cold again. Well, until then, I'm going to enjoy the sunny and crisp Fall weather to the fullest! Hope you will too.
Enjoy your Wednesday everyone! I can't believe we are soon halfway though this workweek…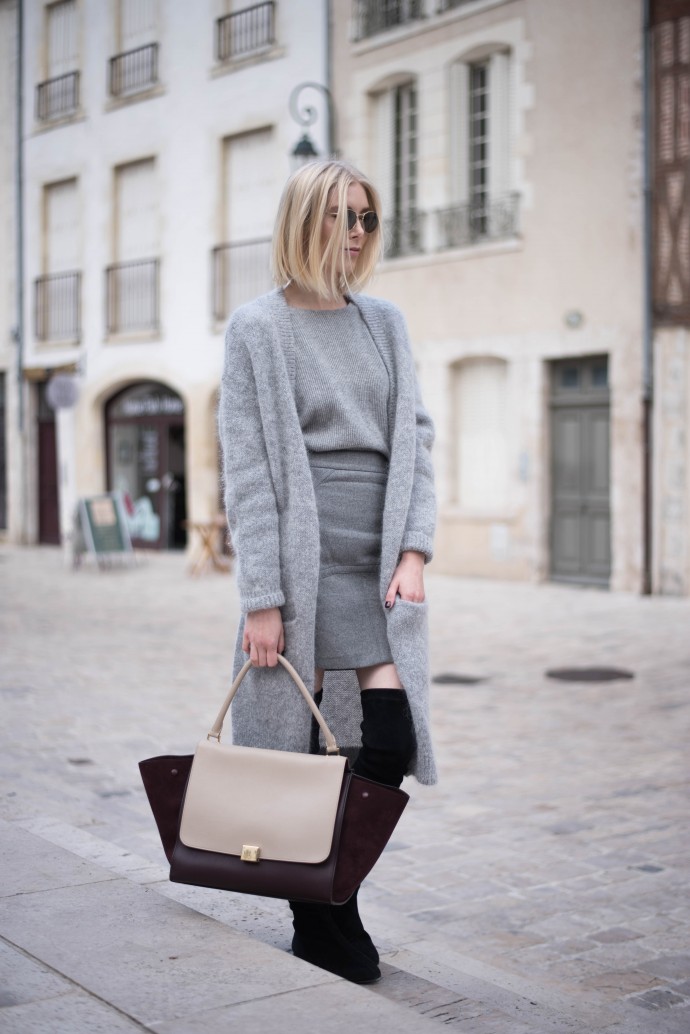 Cardigan / & Other Stories (similar here*, here* and here*)

Knit / Cashmere Polo Club (similar here*)

Skirt / T by Alexander Wang (similar here*)

Suede boots / Zara (similar here*)

Bag / Céline
Sunnies / Vintage Luxottica
*Mainoslinkkejä.