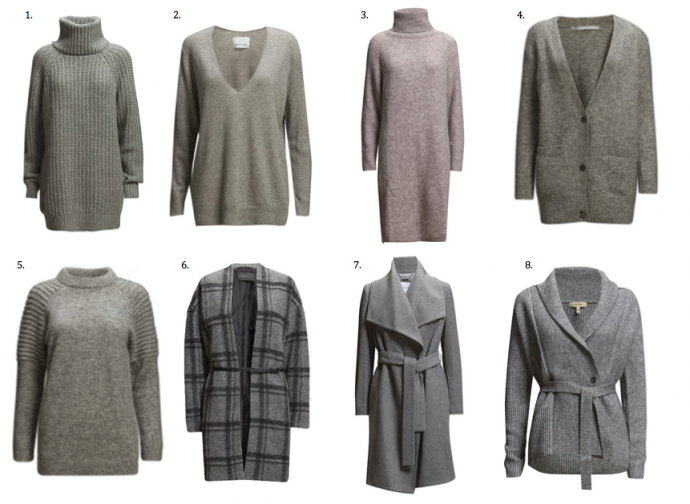 [spacer]
1. Hunkydory     2. Samsoe & Samsoe     3. Mads Noorgard    4. Tiger of Sweden
5. Tiger of Sweden     6. Esprit     7. Mango    8. Whyred
[spacer]
[dropcap custom_class="normal"]Tämä viikko on ollut varsin harmaa vaatetukseni puolesta täällä blogissa, joten viimeistellään tämä viikko vielä samalla värillä. Harmaata tulee toki näkymään jatkossakin asukuvissani, sillä vaatekaappissani se taitaa olla se dominoivin väri. Valitsin tähän suosikki yläosani Booztin valikoimasta ja tänään, sekä huomenna saatte 15% alennusta kaikista* normaalihintaisista tuotteista koodilla styleplaza15.[/dropcap]
Tämä viikonloppu on ollut hyvinkin vauhdikas. Nyt tuntuu, että se oikea opiskelurytmi on löytynyt, joten opiskelu ei kuluta enää niin järjettömästi energiaa. Viikonloppuisin jaksaa sitten tehdä paljon muutakin kuin vain nukkua, heh. Eilinen oli tosiaan täynnä juhlaa ja sama meininki jatkuu ensi viikonloppuna Pariisissa. Can't wait!
Itselläni on alkuviikosta taas kolme koetta, joten nyt ei muuta kuin kertaamaan sanastoa ja taivuttamaan verbejä. Toivottavasti teidän sunnuntain suunnitelmat ovat hieman mielekiintoisemmat, heh. Nauttikaa!
This week has been all about grey color, so let's finish with it as well. I can promise you that this is not the only time you'll see grey on this blog, as it's a dominating color in my closet (which you'vre probably noticed by now). I chose some of my favorite knits and jackets from Boozt.com as this weeks picks. My favorite is the cardigan by Whyred.
This weekend was full of celebration, which was very nice! I'm slowly starting to get used to my new rhythm meaning that I have more energy on the weekends. As I told you, the weekend after I'm heading to Paris for the fashion week, which I'm already excited about. So tomorrow it's yet again another week, but today is still all about relaxation (and for me, French grammar – yes, very exciting indeed).

Enjoy your day everyone!
*Lukuun ottamatta:Day-merkkejä, Ralph Lauren-merkkejä, ECCO, Hilfiger-merkkejä, Decadent, NN07, Octopus, Julie Fagerholt, UGG, By Malene Birger. Ososten miniarvon pitää ylittää 59€.
*Commercial links/ Mainoslinkkejä.