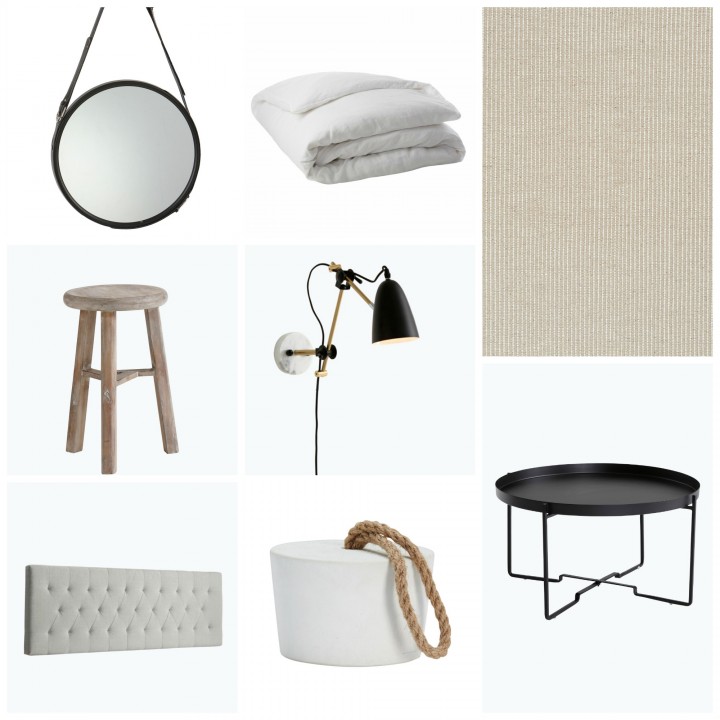 Mirror   /   Linen sheets   /   Carpet
Headboard   /   Door stopper   /   Coffee table
Voi että, Suomen kesä on vain maailman kaunein. Ei siitä mihinkään pääse! Perjantaina oli niin mieletön ilma, että landelle oli pakko päästä. Lähes +27 asteen lämpötilat, perhe kasassa ja kaunis järvimaisema nenän edessä. Ihana, ihana viikonloppu. Se fiilis kun saunan jälkeen istuu laiturin nokassa peilityyni järvi ympärillä ja ilmassa tuoksuu vielä sauna. Ah, bliss!
Viikonloppuna sain taas mietittyä vähän vierastalon sisustusta ja ehdin vierailemaan eri verkkokaupoissa. Ellokselta tuli tilattua jo tuo beige sängynpääty* ja sieltä bongasin muutakin sopivaa. Sängyn kummallekin puolelle mietin näitä seinävalaisimia* ja yöpöydiksi näitä jakkaroita*, jotka voi sitten nostaa olohuoneen puolelle, jos lisäpaikoille on tarvetta. Sisustusjutut ovat siis vahvasti mielessäni ja tänään taas uppoudun sisustuskauppojen ihmeelliseen maailmaan, jotta saadaan projekti joskus päätökseen.
Hyvää sunnuntain jatkoa sinne ja onnea kaikille valmistuneille!
Finnish summers are something magical. Especially when it's +27 degrees outside and super light day/night. I decided to come down to your countryside place and I had a perfect relaxed weekend with the family. The lake view is so beautiful and taking a swim after sauna makes you feel amazing. Just enjoying the moment is what counts!
During the weekend I also had time to think about how to decorate the guest house. I found some cool things and I actually ordered the headboard. I'm thinking about putting wall lamps on each side of the bed and then have two stools as bedside tables. Let's see, but that's what I'm thinking about right now…
*Postaus sisältää mainoslinkkejä.