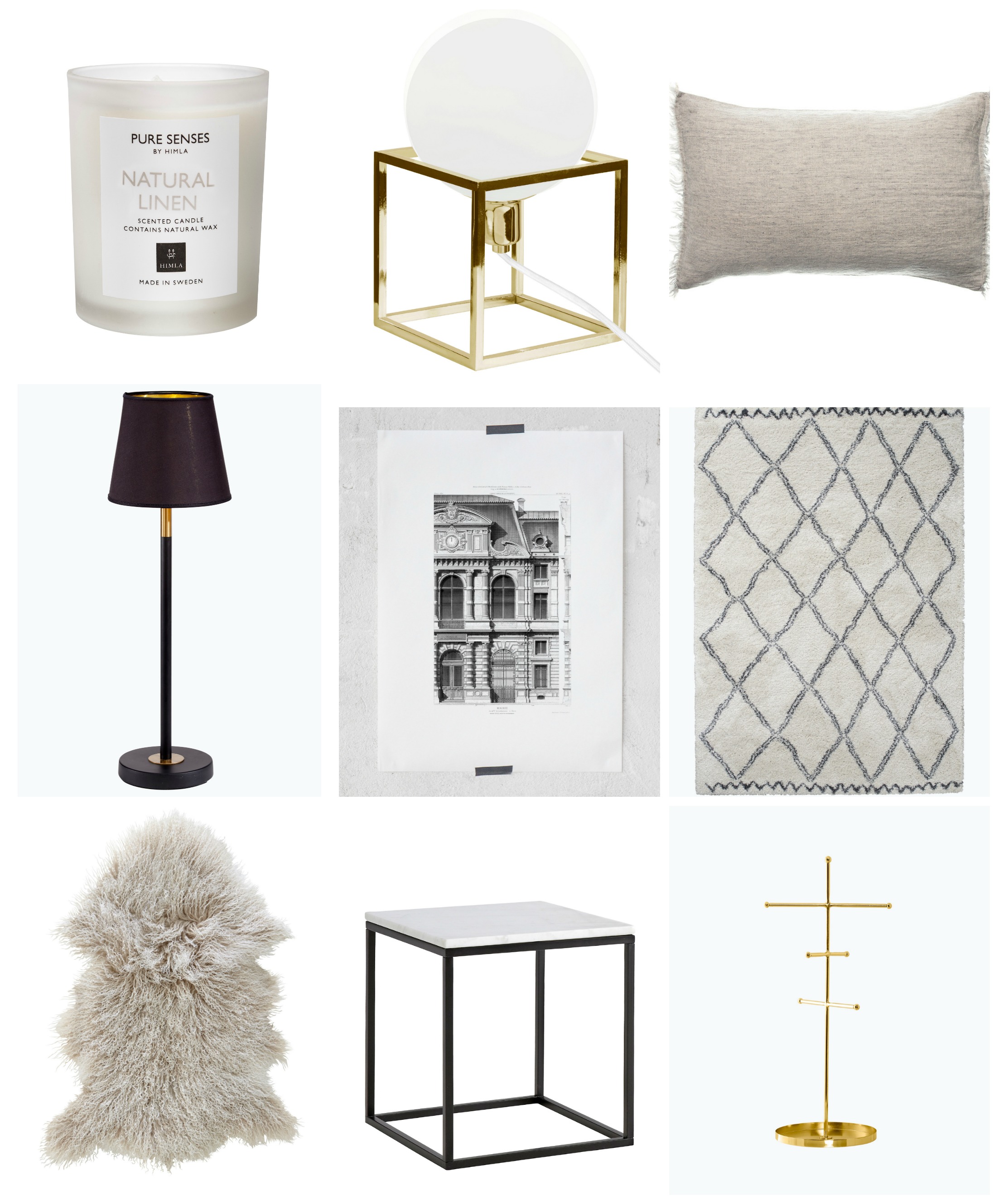 Candle   /   Lamp   /   Pillow case
Fur   /   Small table   /   Jewelry stand
Puhuimme juuri poikaystäväni kanssa siitä kuinka outoa on, että emme ole kertaakaan ikävoineet takaisin vanhaan asuntoomme. Luulisi, että kun asumme tilapäisesti vanhemmillani, niin seinät kaatuisivat niskaan ja omaa asuntoa olisi suuri ikävä, mutta ei. Orléansin asunto oli vielä meidän suosikkimme kaikista yhteisistä kodeistamme, joten ajattelimme muuton ottavan koville. Olen tosin tottunut muuttaja, enkä oikeastaan ikinä kiinny asuntoihin, joten varmasti silläkin on paljon tekemistä sen kanssa, että vanhaa kotia ei ole ikävä.
Vaikka seinät eivät vielä kaadu päälle (kiitos vanhempieni mielettömän avun ja tuen – en tiedä kuinka moni vanhempi ottaisi avosylin vastaan aikuisen lapsensa miehensä kanssa, heh?), niin silti meidän yhteinen pesä kutkuttaa jo mielessämme. Vanhempani asuvat Espoossa (ei tosin kaukana keskustasta), mutta emme silti malta odottaa, että voimme kävellä drinkeille ystävien kanssa sen sijaan, että aina pitää hypätä auton rattiin. Länsiväylää on tullut kulutettua siihen tahtiin, että keskusta asuminen tuntuu nyt erittäin hyvältä ajatukselta. Sen lisäksi mieleeni on taas alkanut iskostua vaikka mitä sisustukseen liittyvää…Let the fun begin!
It's very strange, but I don't really miss our old home at all. It was our favorite apartment that we've lived in so far and it felt like a real home, but nonetheless we haven't missed it even once. We are now living at my parents place until we find our own apartment in the center of Helsinki. I'm just so grateful to my parents who've taken us in with open arms. It's not a given that parents do that to their adult child and her boyfriend, heh. So you can pretty much say I won the lottery when it comes to parents. So much support and love. Now we can take our time and visit apartments so we find the perfect one for us. And I'm so looking forward to the decorating of our new place…let the fun begin (soon I hope)!
*Commercial links/Mainoslinkkejä.
Save
Save