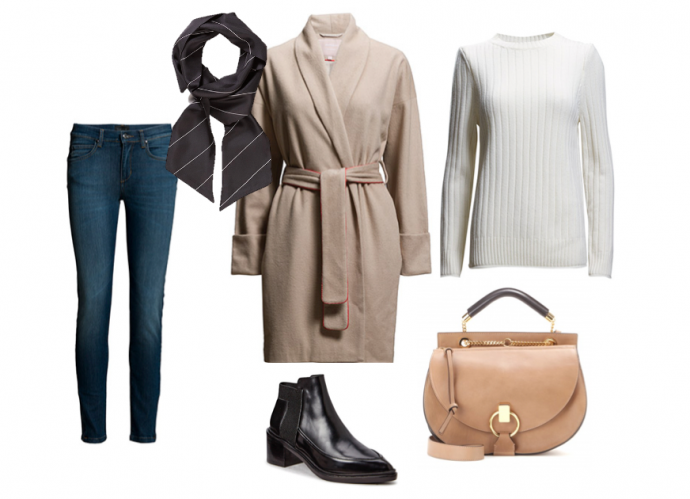 [spacer]
Jeans / Sand     Scarf / Filippa K     Coat / InWear
Knit / Filippa K     Boots / Tiger of Sweden     Bag / Chloé
[spacer]
[dropcap custom_class="normal"]Mikä viikonloppu! Täällä on ollut aivan mielettömät ilmat ja tuntuu kuin olisin muuttanut takaisin Etelä-Ranskaan. Tällainen välimerenilmasto voisi muuttaa pysyvästi Orléansiin. Saatiin eilen kuvattua muutamia pikkujouluasuja ja tuntui absurdilta miettiä, että joulu on ensi kuussa, kun todellisuudessa tuntui kuin nyt olisi toukokuu. Ilmat kyllä näyttävät taas normalisoituvan ensi viikolla, joten täytyy nyt nauttia tästä täysillä. Kävelylenkki metsässä on ainakin suunnitelmissa tälle päivälle! Sen jälkeen alkaa taas pänttääminen ensi viikon kokeisiin…[/dropcap]
Booztilla on muuten tänään menossa kampanja missä useamman merkin uutuuksista saa -20% alennusta (kunhan tilauksen arvo ylittää 108€). Kannattaa siis kurkata jos löytyisi jotain kivaa! Koodilla 20FUNDAY saatte tämän edun.
Aurinkoista sunnuntaita kaikille!
[spacer]
This weekend the weather was amazing in Orléans. Warm and sunny. The Christmas decorations on the streets were the only thing that reminded me that Christmas is next month. Otherwise I would have thought we skipped winter and went straight to spring. Can't complain though!
Boozt is having a campaign today and with the code 20FUNDAY you can get -20% off of many brands products. Happy shopping!
[spacer]
*Mainoslinkkejä/Commercial links.