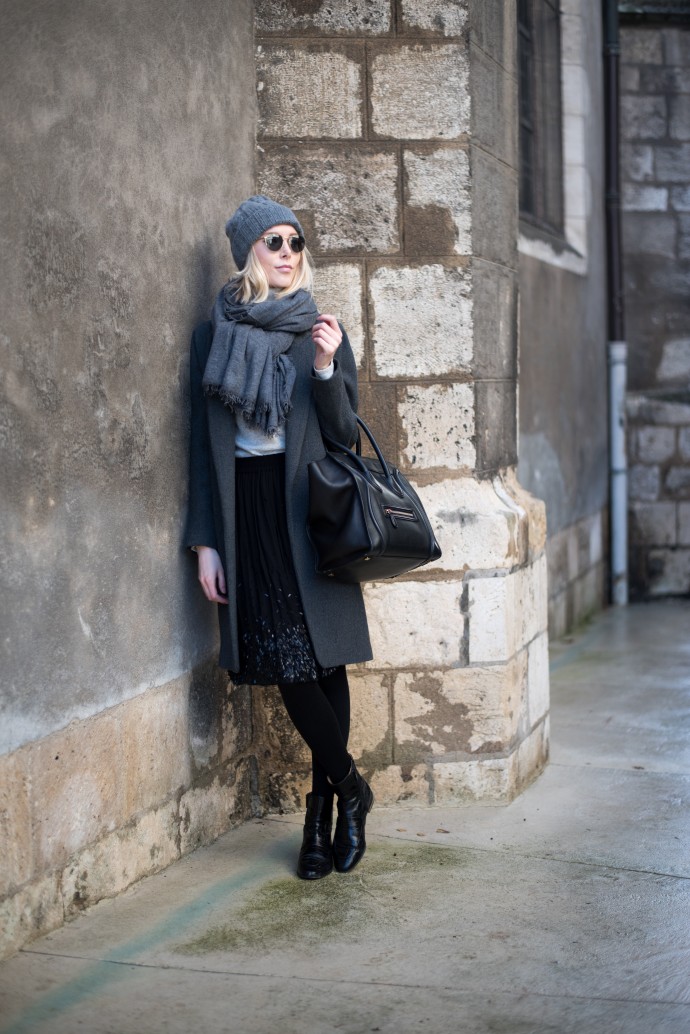 Harmaan, sateisen ja surullisen viikon aikana, mikään vaate ei taida olla ajankohtaisempi kuin tämä upea paljettihame. Tuo vähän loistoa tänne tämänhetkisiin tunnelmiin. Kaikesta huolimatta, Ranskassa valmistaudutaan nyt täysillä joulun tuloon ja toivottavasti ehdin pian Pariisiin ihastelemaan katujen ja kauppojen jouluvaloja. Orléansissa on myös laitettu keskusta näyttäväksi, joten joulufiilis on jo vienyt mennessään. Kotia koristaa myös minikuusi, joten täällä joulu on jo todellakin tuloillaan. Bienvenue!
Tämä hame on todella juhlava, mutta yhdistettynä neuleeseen ja mataliin bootseihin se toimii hyvin arjessakin. Siihen vielä paksu huivi ja pipo lämmittämään, niin rento tunnelma on taattu. Tätä asua suunnitellessani kirosin sitä, että kaapistani ei löydy nahkatakkia. Tämä hame olisi nimittäin aivan ihana nahkatakin kanssa. Tykkään kontrasteista, joten naisellinen hame yhdistettynä nahkaan olisi juuri tyylilleni ominta. Mielestäni tämä pehmeä kashmir huivi olisi myös täydellinen asuste nahkatakin kanssa! Ehkä löydän omani loppuvuoden alennusmyynneistä..? Se kyllä taitaa olla toiveajattelua. Tähän asuun sopisi hyvin myös mustat tennarit, jos haluisi siitä vielä astetta rennomman.
Itselläni on koulua jäljellä enää muutama lyhyt viikko ennen joululomaa ja melkeinpä heti viimeisen kokeen jälkeen lennän Suomeen rakkaideni luokse. Tuntuu, että viime kerrasta ei ole pitkä aika, mutta niin se ikävä silti vain kasvaa. Moni kurssitoverini on ilmaissut kiinnostusta matkustaa Helsinkiin joululomalla, mutta olen varoitellut heitä siitä, että on hyvin mahdollista, että lunta ei ole nimeksikään (heidän mielessään Helsinki on lumen peittämä ihmemaa). Silti toivon, että eteläänkin saataisiin valkoinen joulu! Sitä odotellessa…
During a grey, rainy and sad week, there is nothing better than wearing clothing that lifts your spirits (and hopefully others too) even just a little. There's no better time to wear sequins than now. Christmas is also on it's way and by looking at all the decorations being put up all over Orléans, it's almost here. I'm hoping to visit Paris soon to admire some of the Christmas lights and of course view the window displays of a few stores. 
This skirt is quite festive, but it works during daytime when combined with casual pieces, such as a turtleneck knit and boots. I would have loved to wear a leather jacket with this look, but since it's still the missing piece in my closet, I went for this grey over-sized coat. Maybe I'll find my dream leather jacket in the upcoming sales…? Or maybe that's just wishful thinking, heh.
What do you think of this look?
Coat / Zara
Knit and skirt / Andiata*
Hat and scarf / Balmuir *
Tights / Wolford
Boots / H&M
Bag / Céline
*Gifted.