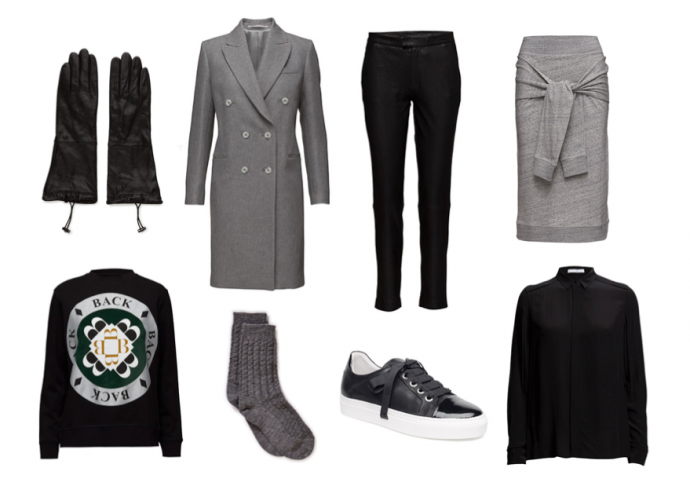 [spacer]
Leather gloves / Tiger of Sweden     Coat / Tiger of Sweden     Leather pants / Designers Remix     Skirt / Back
Sweatshirt / Back     Socks / Hudson     Sneakers / Billi Bi     Silk shirt / Boss
[spacer]
[dropcap custom_class="normal"]Terveisiä Helsingistä! Tulin Suomeen tällä viikolla ja edelliset päivät ovat kuluneet joulujuttujen parissa. Olen myös ehtinyt nähdä paljon ystäviä ja perhettäni, sekä järjestämään muutaman työtapaamisen. Kiirettä on siis pitänyt, mutta tällaista se on aina kun palaan Suomeen rajalliseksi ajaksi. Moni ulkomailla asuva pystyy varmasti samaistumaan siihen, että kun palaa kotimaahan niin ne "to do" ja "to see"-listat ovat aika pitkiä. Onneksi on sentään mukavaa kiirettä, eli ei voi valittaa! Eilen ihana Alexa oli vielä järkännyt Zarrossa aamiaisen ja siellä pääsin näkemään pitkästä aikaa blogiystäviä, sekä muutamaa uutta tuttavuutta. Kiitos vielä Alexalle (ja muille leideille) mahtavasta lauantai aamusta![/dropcap]
Odotan innolla ensi viikkoa ja etenkin sitä, että pääsee rauhoittumaan ja ottamaan pientä taukoa kaikesta. Keskiviikon jälkeen blogissani hiljennytään joulun viettoon, mutta siihen asti postailen normaalisti. Kuullaan siis huomenna normaaliin tapaan. Rentouttavaa sunnuntaita kaikille!
Bonjour de Finlande! I came here this week and for the last few days I have been crazy busy. I've been preparing for Christmas, seeing my friends and family and I've had a few work meetings. So a lot has been going on, but that's how it always is when I come back here. I'm sure everyone who lives abroad is familiar with the situation when your "to do" and "to see" list is a mile long.  Luckily it's a pleasant kind of rush, so I can't complain! Yesterday morning I got to see some of my blogger friends (and meet some new ones) as Alexa had organized an amazing breakfast for us. It was the best possible way to start the weekend!
I'm looking forward to next week, as I get to take some time off and tune out from everything. After Wednesday I'll also take a break from blogging to enjoy the holidays, but until then I'll post as usual, so until tomorrow! Enjoy your Sunday everyone.
*Commercial links/Mainoslinkkejä.