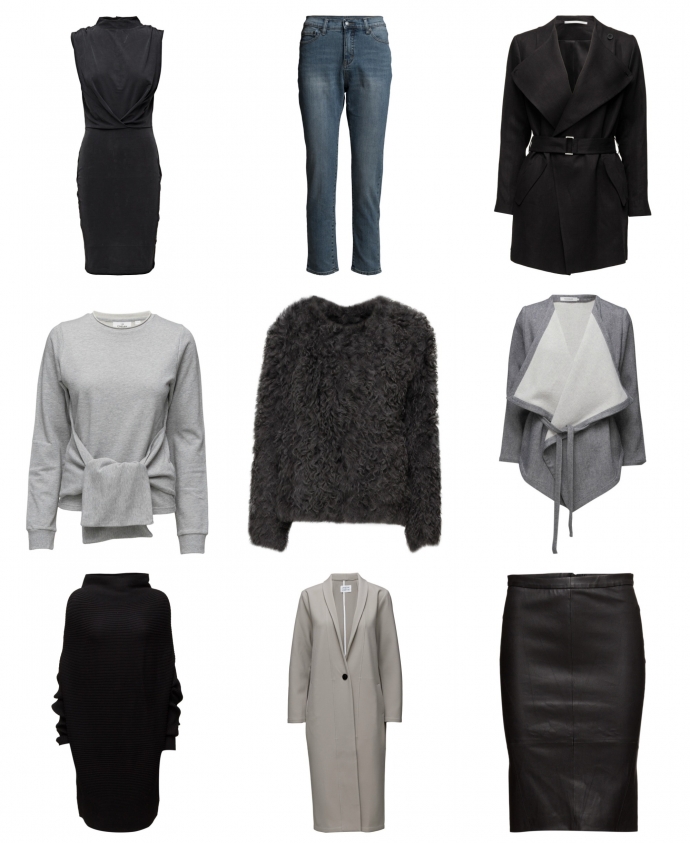 Dress / Selected Femme     Jeans / Cheap Monday     Jacket / Tiger of Sweden
Sweatshirt / Monki     Coat / Style Butler     Coat / Rodebjer
Knit / Designers Remix     Coat / Libertine-Libertine     Skirt / Day Birger et Mikkelsen
Olen saanut hirveän päähänpinttymän tuosta Style Butlerin lampaankarvatakista. Eikö olekin upea? Huomaan, että innostun näistä "syksyisemmistä" uutuuksista niiden pastellien ja kirkkaiden kevät värien sijaan. Huomaan myös, että vaikka kevät mallistot olisivat kuinka kauniita, niin niihin ei tule samanmoinen himo, kuin mitä yleensä syysmallistoihin. Nytkin voisin hyvin skipata kevään ja kesän vain sen takia, että saisin käsiini muutaman lempimerkkini mallistot (how crazy is that?).
Kuten sanottu, Andiatalta on tulossa todella vahva syysmallisto ja Marimekon FW16 kokoelmasta löysin unelmieni mohairtakin (harmaana tietenkin). On kyllä vaarallista vierailla näiden merkkien luona, sillä aina sitä tuntuu iskevän silmänsä johonkin. Kävin perjantaina myöskin Balmuirin showroomilla Lauttasaaressa ja sieltäkin olisin voinut poistua koko malliston kanssa. On ehkä ihan hyvä, että asun ulkomailla ja pääsen harvemmin mihinkään tilaisuuksiin, sillä ostoslistani kasvoi pelkästään tämän viikon aikana kovemmalla tahdilla kuin mitä se normaalisti kasvaa vuodessa…lompakko-raukkani saisi varmasti sydärin jos asuisin Helsingissä, heh.
Vaikka joudun syksyä vielä odottelemaan, niin kevät ei tarkoita itselleni mitään suurta muutosta värimaailmassa. Harmaalla ja mustalla mennään ja "maustevärinä" toimii valkoinen. Aika villiä, eikö? Harmaana hiirulaisena mennään siis kevättäkin kohti!
I'm obsessed with this Style Butlers fur coat. Isn't it gorgeous? I notice that I'm drawn more towards the Fall-looking pieces, rather than all the bright Spring colors. I've noticed that Spring and Summer collections are not my favorites (even though they are beautiful) and fashion wise I wouldn't mind skipping straight to Fall. I'm already waiting for some Fall pieces to hit the stores and this will happen in about six months, so I have a long wait ahead of me, heh.
What is your favorite fashion season?
*Commercial links/Mainoslinkkejä.