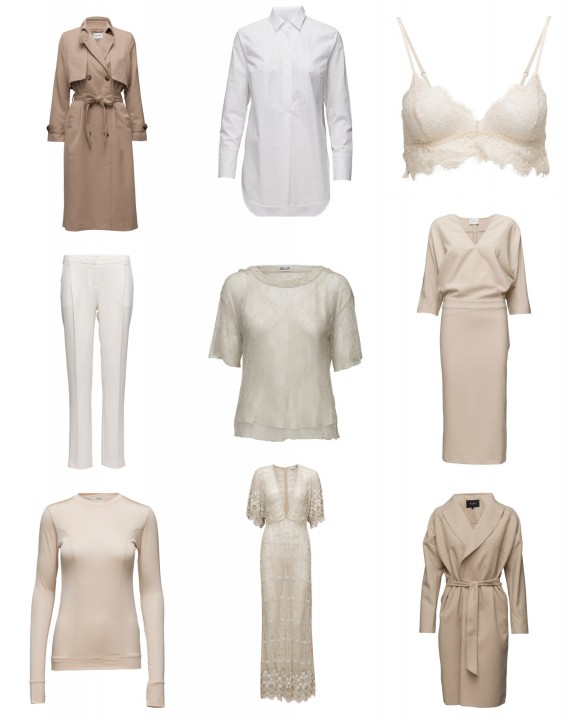 Trench coat / Ganni     Shirt / By Malene Birger     Bra / Ganni
Pants / Ba&sh     Shirt / Baum und Pferdgarten     Dress / Gestuz
Shirt / Ganni     Dress / Ganni     Jacket / Vila
Kevät, tule jo! Aina tähän aikaan vuodesta sitä on jo niin valmis jättämään untuvatakit varastoon ja kaivamaan ballerinat ja trenssit kaapin uumenista. Orléansissa päivälämpötilat kipuavat jo yli +10 asteen, mutta ilma tuntuu silti yllättävän viileältä. Se on tämä pohjoistuuli, joka rokottaa, mutta toivottavasti pian saadaan kevät kunnolla käyntiin!
Aina kevään tullen innostun taas beigen ja valkoisen sävyistä. Trenssi on ikuinen kevät klassikko ja onneksi kaapissa lymyää se täydellinen yksilö, jonka hankin melkein tasan vuosi sitten. Trenssi on yksi lempitakeistani, mutta nyt kun se täydellinen nahkatakki löytyy myös kaapistani niin nämä kaksi taitavat kilpailla keskenään. Löytyyhän sieltä kaapista myös muita takkeja, mutta ajattelin laittaa muutaman niistä myyntiin…Kunhan saan aikaiseksi kuvata tuotteet yms. niin infoan siitä täällä (toivottavasti ensi viikon aikana).
Nauttikaa (toivottavasti) aurinkoisesta sunnuntaista!
Spring, please hurry up! I'm so ready to leave my winter jackets in the storage and take out the trench coats and flats. The temperatures here are actually not that cold, but the wind makes it feel way worse.
After the winter (and all my grey and black outfits) I'm excited again about white and beige. For me these colors are so fresh for summer and this time of the year. I still tend to wear grey and black quite a lot, but I'll try to squeeze in some lighter tones. 
Have a relaxing Sunday!
*Commercial links/Mainoslinkkejä.