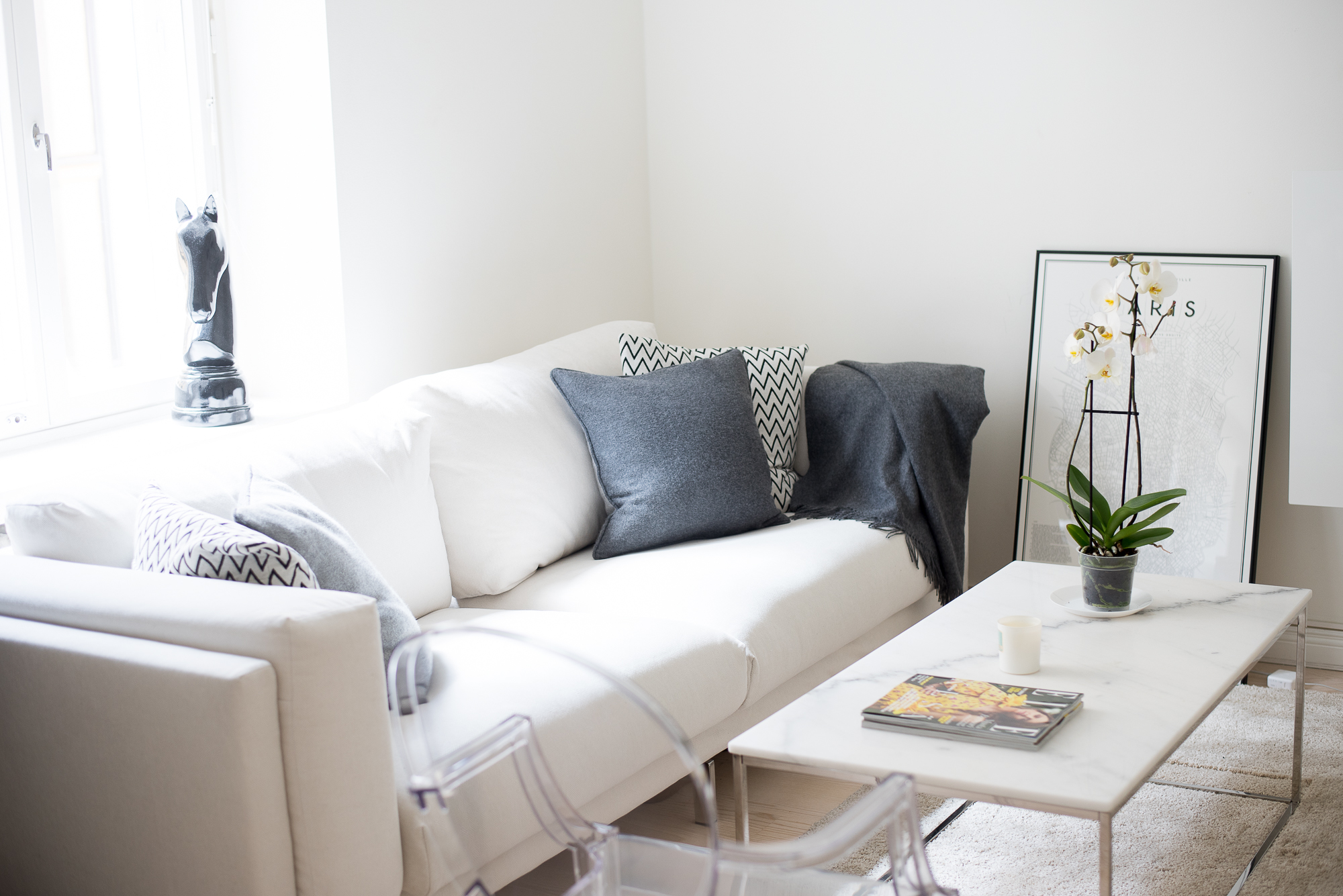 Asunnon sisustaminen on edennyt taas hieman eteenpäin. Sohvaa koristaa Balmuirin ihanat baby alpakka tyynyt*, sekä huopa* ja sohvan eteen on ilmestynyt marmoripöytä. Se oli löytö Trademaxin sivuilta (kyseessä tämä) ja se osottautui livenä vielä kivemmaksi kuin kuvissa. Balmuirin baby alpakka tuotteita voin lämmöllä suositella, sillä ne kestävät hyvin kulutusta. Sohvalla oli aikaisemmin kashmir-versio, mutta vein sen makuuhuoneeseen ja tilalle tuli tämä astetta kestävämpi vaihtoehto. Itse käperryn huopaan päivittäin, joten sen pitää olla sellainen jonka raaski heittää niskaan ilman, että pelkää sen kuluvan puhki.
Kuten näkyy niin saimme myös Pariisi-aiheisen taulun entisestä kodistamme. Samassa lähetyksessä oli myös poikaystäväni äidin maalaama iso taulu, jolla oli paljon tunnearvoa, mutta arvatkaa vain mitä sille kävi. Heti kun DHL toimitti pakkauksen niin näimme, että paketti oli erittäin kärsineen näköinen ja sitten pahin pelko toteutui, kun huomasimme ison viillon keskellä taulua. En tiedä mitä sille on käynyt, mutta arvaa harmittiko ja paljon. Nyt yritämme selvittää, että saisiko sitä mitenkään korjattua. Ainahan siinä joku jälki tulee näkymään,  mutta jos saisimme sen edes siihen kuntoon, että sen kehtaisi ripustaa makuuhuoneeseen.
Onneksi viikonloppu on kuitenkin täällä niin illalla voi juoda ison lasin viiniä ja unohtaa koko taulu-fiaskon, heh. Menen huomenna yökylään vanhempieni luokse ja nautimme äidin kanssa laatuajasta keskenämme kun muu perhe on landella. Vanhempani tosiaan ostivat uuden talon alkuvuodesta ja vaikka en ehtinyt asua siellä kahta kuukautta enempää, niin se silti tuntuu kodilta. Huomenna siis nokka kohti toista "kotia"! Ihanaa perjantaita kaikille!
Our living room is coming together slowly, but surely. We now have a marble table and some dark grey pillows and a blanket from Balmuir. As you can see, we also received our Paris-painting from France. My boyfriends parents sent us that and also the bigger painting we had in Orléans. Unfortunately the big painting got destroyed in delivery (DHL what the hell?) and we are so pissed off. The packaging was ruined and in the painting itself was a 15cm knife mark in the middle. I don't know what happened, but it's a shame since that painting was our favorite. Luckily it's Friday today, so after work I can have a big glass of wine and forget about the entire thing, heh. Cheers to the weekend everyone!
Save
Save
Save
Save
Save
Save
Save
Save
Save
Save
Save
Save
Save
Save
Save