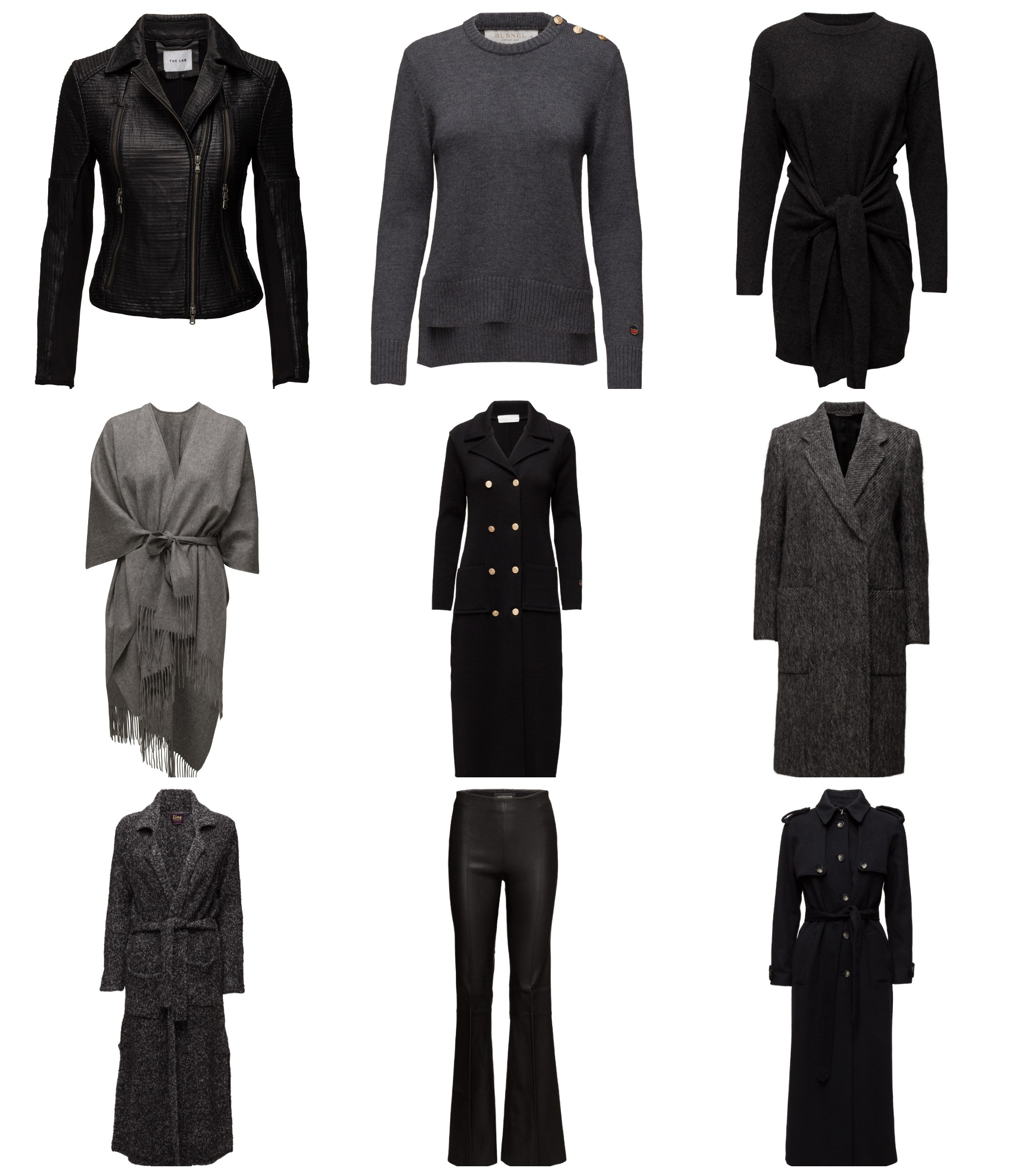 Leather jacket / The Lab   Knit / Busnel   Knit dress / Gant
Poncho / FWSS   Knit coat / Busnel   Coat / Filippa K
Cardigan / Line of Oslo   Leather pants / By Malene Birger   Wool trench / J. Lindeberg
Busnel on itselleni tuttu merkki lapsuudesta saakka, sillä muistan aina äitini neuletakin ja etenkin tuon heidän logonsa sen hihassa. Alunperin ranskalainen merkki on nykyään ruotsalaisessa omistuksessa ja se kyllä näkyy, sillä mallistoa on raikastettu ja tehty tähän päivään sopivaksi. Ajattomia vaatteita modernilla otteella. Etenkin tämä heidän syysmallistona kolahti minuun ja tuo kollaasissa näkyvä musta pitkä villatakki on aivan upea. Kannattaa seurata tätä merkkiä Instassa, sillä sieltä saa kivasti inspiraatiota!
Meidän viikonloppu on mennyt rauhallisesti ja uuteen koiraan tutustuessa. Tuo pieni karvapallo on kyllä suloinen kuin mikä ja hänen menoansa on huvittava katsoa. Tämä tapaus on kyllä hyvin reipas ja on pärjännyt hienosti ensimmäiset päivänsä uudessa kodissa uusien ihmisten ympäröimänä.
Alkuviikolle olen suunnitellut reissua Pariisiin, joten juttua sieltä ensi viikolla. Nyt toivotan kaikille aurinkoista sunnuntaita (siellä Suomessakin ilmat näyttävät hellivän – nauttikaa)!
I have known the brand Busnel since my childhood, as I remember my mom wearing their cardigans. Originally French, but now in Swedish ownership, they have made a great facelift, as the collections are modern, but still timeless. Especially this FW collection is beautiful and how great does that long cardigan look? 
Our weekend has been all about getting to know my boyfriends parents new Mikko dog. This little furball is so amusing to watch, as many things are new to him. But he has been a real trooper and done so well for his first days in a new house and family.
Next week I'll be going to Paris, so more from there later on. Have a relaxing Sunday everyone!
*Commercial links/Mainoslinkkejä.