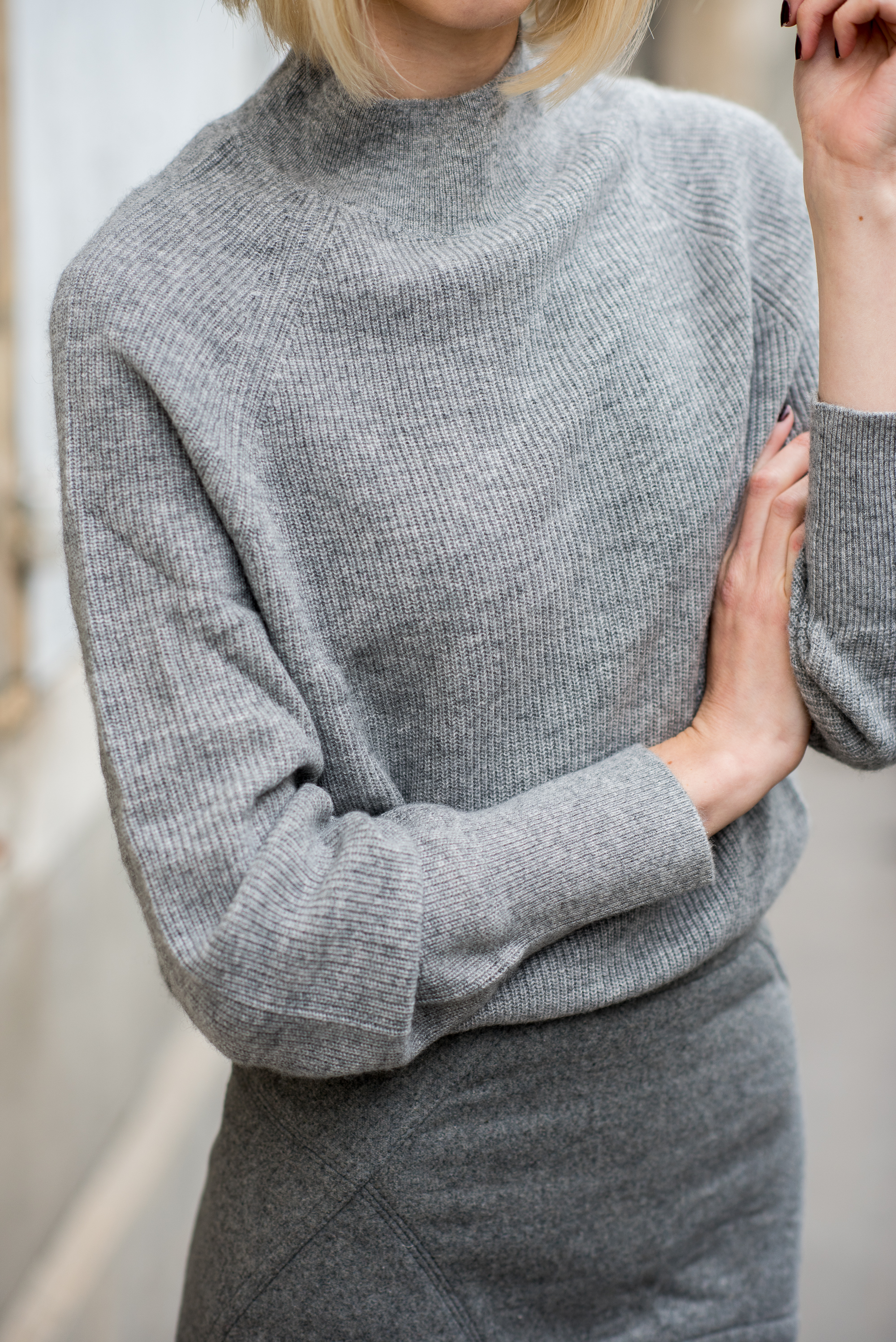 Tänään on ollut aivan ihana aurinkoinen syyspäivä ja sen kunniaksi nautin lounaan ulkona. Teen töitä kotoa käsin ja normaalisti teen itse aina ruoan, mutta nyt oli pakko ottaa ilo irti tästä upeasta ilmasta. Täällä lämpötilat taas nousivat ja viikonlopuksi on luvattu jopa +25 astetta, eli se siitä syysfiiliksestä, heh. Näistä viimeisistä kesäpäivistä osaa kyllä nyt nauttia ihan eri tavalla, sillä pian siirrymme lokakuuhun ja silloin ei tarvitse enää pelätä helteitä (onneksi). Viime vuonna syksy oli kyllä huomattavasti viileämpi (me jopa taistelimme tasan vuosi sitten lämmitysongelmien kanssa) ja nyt on vielä öisin sen verran lämmintä, että pelkästään pattereista puhuminen saa hien nousemaan otsalle.
Vaikka ilmat ovatkin vielä lämpimiä, niin olen silti raivannut neuleet vaatekaappini eturiviin. Uusin tulokas (harmaat neuleet koituvat aina kohtalokseni) on tämä H&M:n premium quality-malliston kashmirneule. Tykkään tästä rennosta leikkauksesta ja etenkin tuosta korkeammasta kauluksesta. Vielä eilen neuletta näytti olevan H&M:n nettisivuilla, mutta nyt en enää löytänyt sitä. Kannattaa kuitenkin tarkistaa säännöllisesti valikoimaa, sillä olen huomannut, että täydennyksiä tulee usein. Vielä kun saan käsiini Lidl:n kashmirneuleen, niin neuleostokseni ovat tehty tältä kaudelta.
Today the weather was really beautiful and for that reason we had lunch outside. I work from home, so it was nice to leave the house and enjoy the sun and warm weather. It actually looks like summer is back here this weekend, as it's going to be really warm. Completely different to last year, when we were struggling with the heating at our place. Now I couldn't imagine needing any heaters, as it's almost too warm to sleep even with the windows open. 
Even though the temperatures are up again, it hasn't stopped me from wearing my Fall knits. The newest member of my crew is this cashmere knit from H&M. I love the loose shape and higher collar. Perfect indeed! I still need to get my hands on a cashmere knit from Lidl (yes, you heard that right) and then I'll be set for Fall.
Save
Save
Save
Save
Save
Save