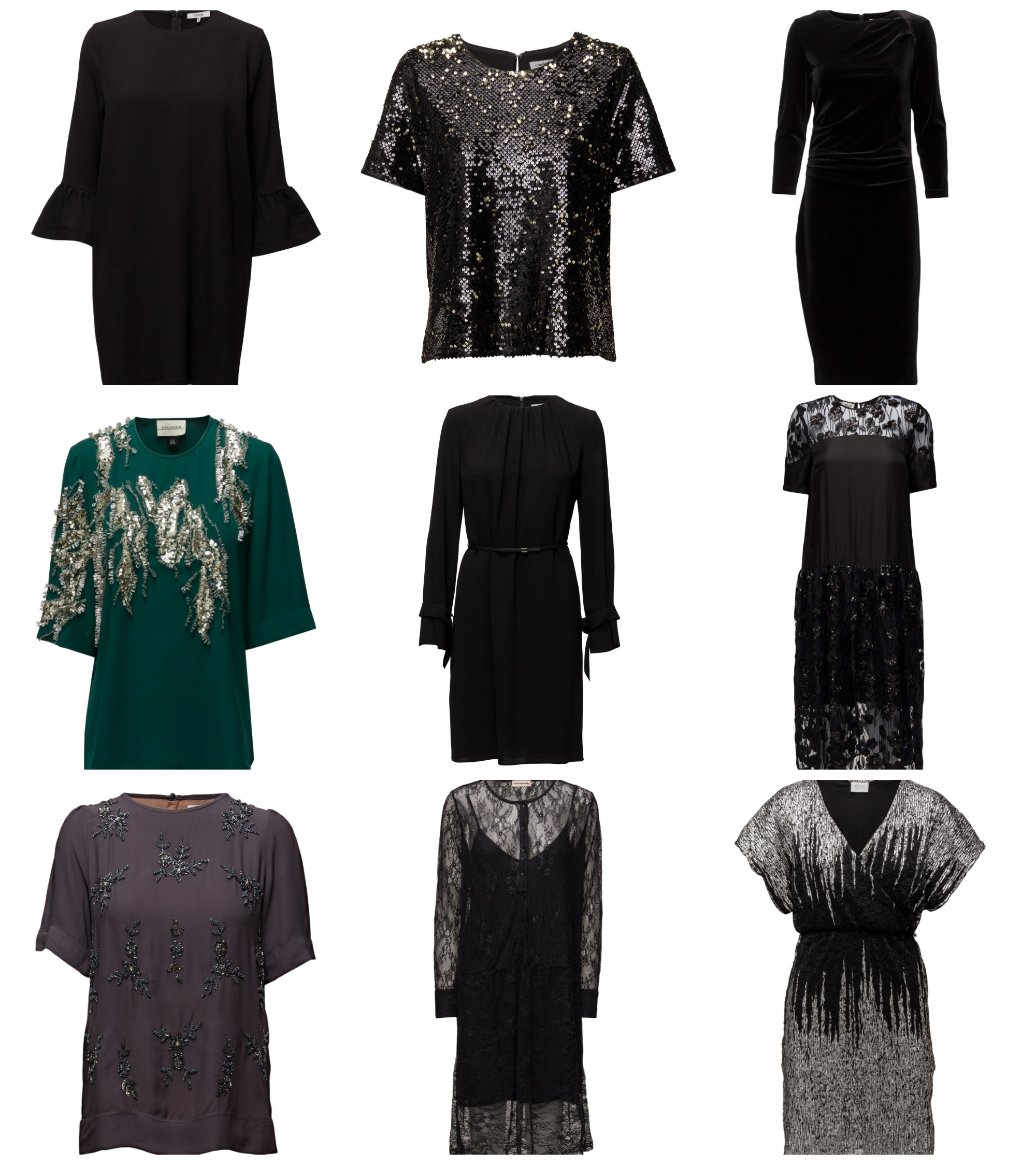 Dress / Ganni   Shirt / J. Lindeberg   Dress / InWear
Shirt / By Malene Birger   Dress / Hugo Boss   Dress / Baum und Pferdgarten
Shirt / Noa Noa   Dress / Custommade   Dress / Vila
Suomessa taitaa olla pikkujoulukausi alkamaisillaan, joten tämän päivän valinnat ovat hieman juhlavampia. Ensi viikon asut ovat myös valittu tätä tulevaa sesonkia ajatellen, eli jos kaipaatte juhlavampaa asuinspiraatiota, niin pysykäähän kuulolla! Kuten tiedätte, niin kaapissani ei ole montaakaan juhlavaa asua ja hyvä niin. Niitä kun tulee käytettyä sen verran harvemmin, että en niitä (ainakaan tällä hetkellä) enempää tarvitsekaan. Ymmärrän kuitenkin hyvin, että moni haluaa satsata tähän aikaan vuodesta uuteen asuun, joka päällä voi sitten juhlia niin pikkujoulut, joulun, kuin uuden vuodenkin.
Itse löysin Andiatalta muutaman ihanan mekon, joista etenkin toista voi käyttää niin tulevan kauden juhlissa, kuin myös töissä tai arjessa juhlien jälkeenkin. Sellaiset juhlavaatteet ovat mieleeni. Paljetit sopivat myös kivasti tähän pimeään vuodenaikaan ja ne tuovat heti juhlan tuntua. Hyvä puoli paljettitopissa on se, että se riittää pelkkien mustien suorien housujen pariksi (tai vaikka nahkahousujen kanssa). Mekoista taas suosin mustaa pitsiä, samettia tai ihan vain trikookangasta, jota on helppo käyttää sitten myös juhlien jälkeen.
Eilen sain lisättyä valot meidän minikuuseen, joten tämä päivä menee fiilistellessä joulua – ihanaa, pian se on taas täällä!
In Finland the pre-Christmas parties are starting at full swing, which is why this weeks picks are more festive. The outfits of next week are also planned to give you outfit inspiration for the parties ahead, so stay tuned if you are interested in that. As you know, I don't have that many party looks in my closet (simply because I don't have too many occasions to wear them) and for this reason, I usually tend to pick something old from my closet. I however got a chance to try two new party dresses from Andiata, which you'll see more of next week.
Have a great (and sparkly) Sunday everyone!
*Commercial links/Mainoslinkkejä.
Save
Save
Save
Save
Save
Save
Save
Save
Save
Save
Save