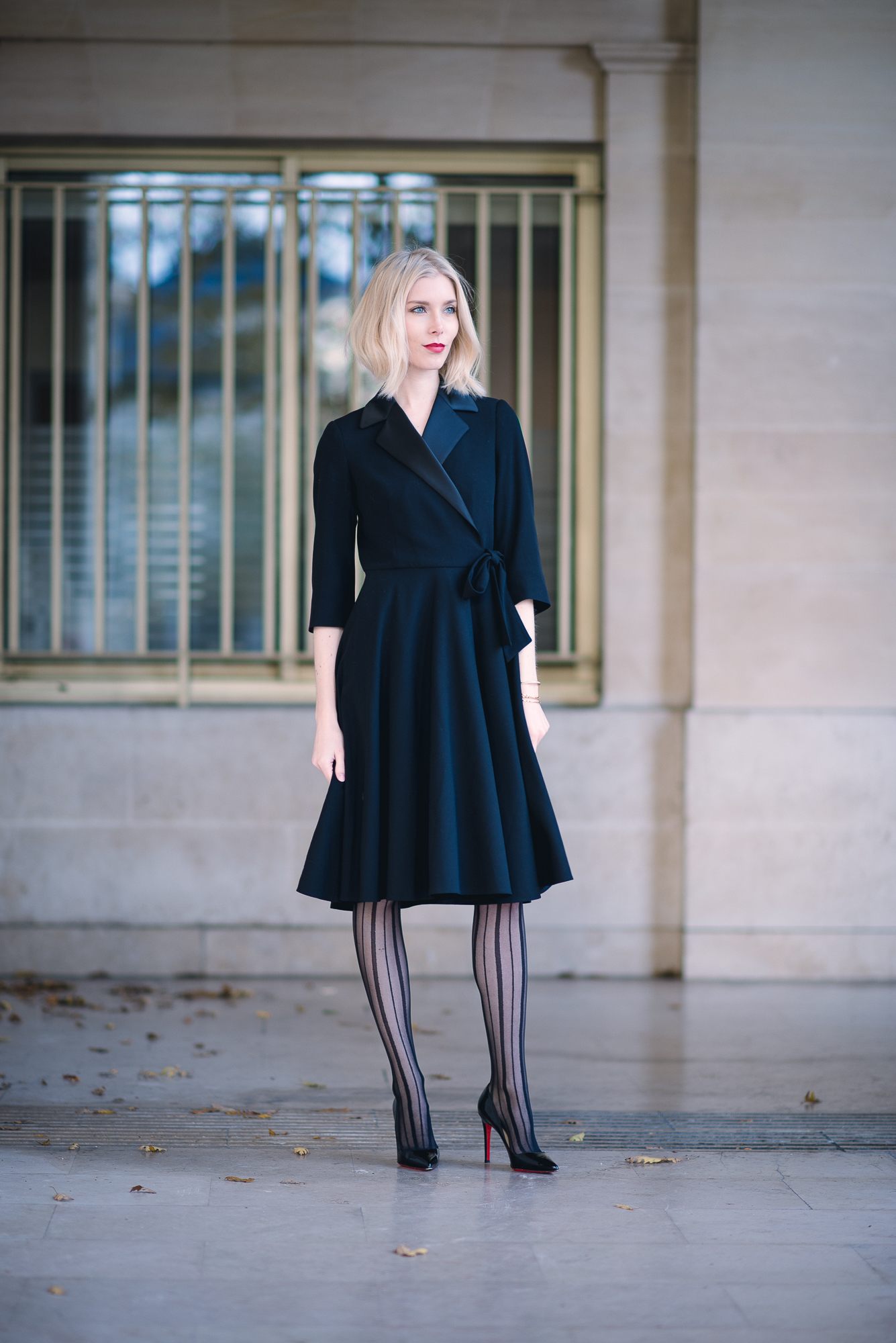 Tällä viikolla esittelen muutamia pikkujoulu-kelpoisia asuja ja aloitetaan tällä ihanalla mustalla smokkimekolla. Kaapistanihan löytyy jo se täydellinen smokkipuku, jonka nähneet tässä ja tässä postauksessa. Tämän idea on sama, mutta vain mekon muodossa. Kun helma on hieman kellomaisempi, niin asusta tulee heti paljon naisellisempi. Oma tyylini ei ole kovinkaan naisellinen, joten tämä päällä oli jotenkin ekstra juhlallinen olo. Olisinkin mielelläni siirtynyt suoraan joulupöytään näiden kuvausten jälkeen, heh.  Mekko itsessään on hyvin kaunis, eikä tarvitsisi näitä kuviollisia sukkahousuja, mutta halusin kokeilla jotain erilaista vaihteeksi.
Huomenna on sitten luvassa arkisemmista vaatekappaleista koottu asu, jonka pukisin senkin mielelläni pikkujouluihin. Lisää siitä siis huomenna! Hyvää viikon alkua kaikille.
This week I'll show you some Christmas party outfits and let's start with this beautiful smoking dress. I already have the perfect smoking pantsuit in my closet, so this is basically just a more feminine version of that. I love the bell hem and the longer sleeves. My style is not very feminine, so it's great to switch it up every now and then. What do you think of this look?
Tomorrow I'll show you something more relaxed, but yet party proof. Enjoy this new week everyone!
Dress / Andiata
Tights / H&M (similar here*)
Heels / Christian Louboutin (similar here*)
*Commercial links.
Save
Save
Save
Save
Save
Save
Save
Save
Save
Save