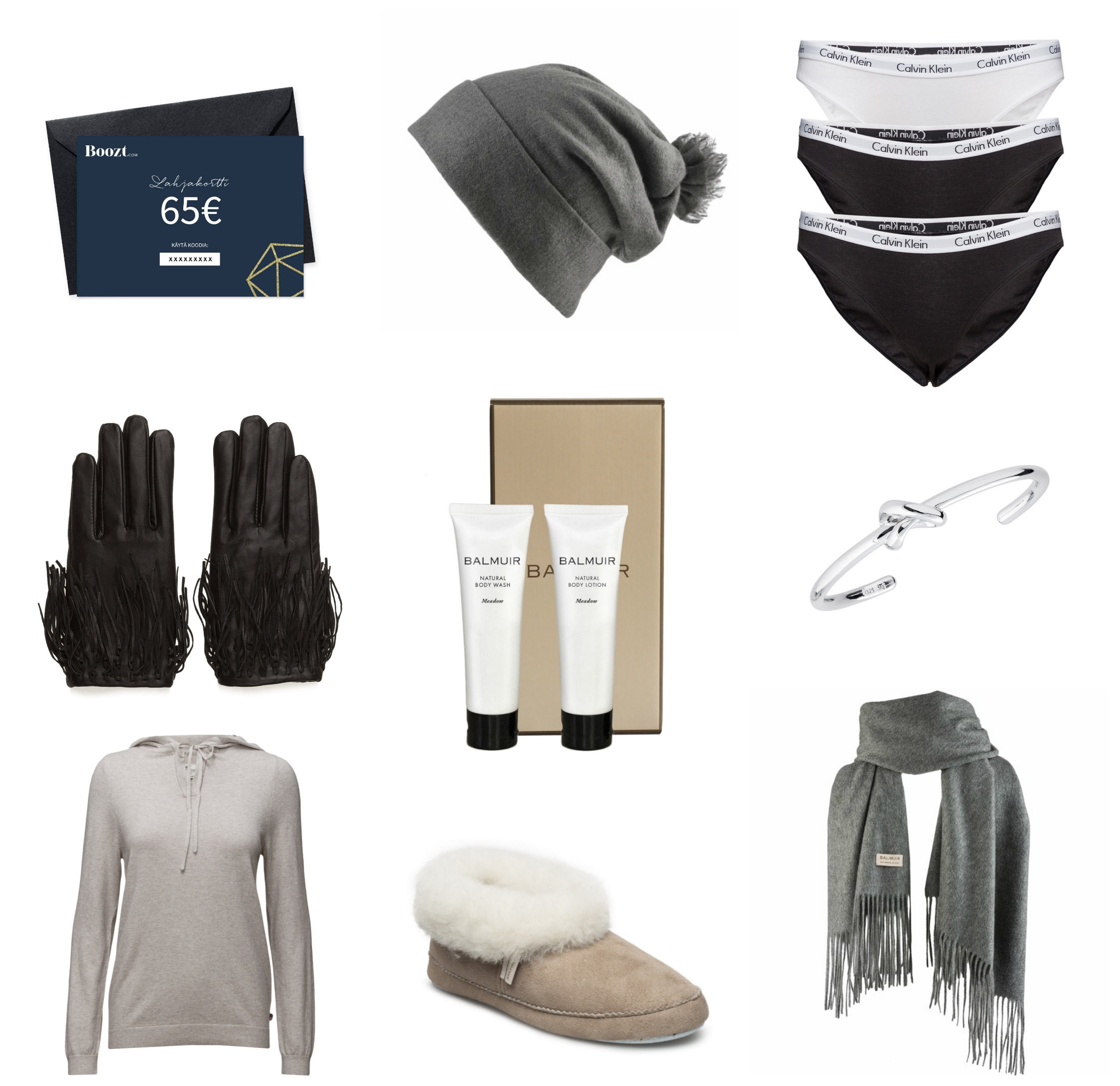 Gift Card / Boozt   Beanie / Balmuir   Underwear / Calvin Klein
Gloves / UNMADE Copenhagen   Gift set / Balmuir   Bracelet / Sophie by Sophie
Hoodie / Lexington   Slippers / Shepherd   Scarf / Balmuir
Keräsin tähän joululahjavinkkejä niin naiselle, miehelle, kuin kotiinkin. Mielestäni parhaita joululahjoja ovat sellaiset, joita saaja erikseen toivoo, koska silloin tietää, että ne tulevat tarpeeseen ja ilahduttavat lahjansaajaa pidemmän aikaa. Luonnollisesti varsinaista yllätystä ei näin ollen tule, mutta ehkä aikuisille sitä ei nyt tarvitse tullakaan. Rakastan antaa lahjoja ja perheeni tunnen niin hyvin, että tiedän aika tarkkaan mistä he pitävät. Itse taidan olla meistä se vaikein tapaus. Olen nimittäin sitä mieltä, että mieluummin otan vaikka pussin vihreää teetä, kun jotain mitä en tarvitse. Siksi nykyään tee ja suklaa ovat enemmän, kuin mieluisia lahjoja meikäläiselle. Siinä on myös toimiva lahjavinkki jos haluaa muistaa pienen lahjan muodossa ystävää tai perheenjäsentä!
Joulu on mielestäni ihanaa aikaa nauttia perheen seurasta ja vain olla, mutta se on myös sellaista aikaa, että on ihana laittaa hyvää kiertämään. Itse osallistun aina joulun alla Joulupuu keräykseen, josta olenkin kirjoittanut erillisen postauksen joka vuosi. Lisätietoja löydätte täältä. Toinen hyvä lahjaidea on ostaa jotain esim. hyväntekeväisyysjärjestöltä, jolloin tukee samalla tärkeää työtä ja saa kivan joululahjan (itselleen tai toiselle). Itse tilasin juuri Mert Otsamon suunnitteleman Piikki-rintaneulan Invaliidiliitolta (se sama, joka nähtiin kiinnitettynä Robinin pukuun linnan juhlissa) ja mielestäni se on oiva lahjaidea kenelle tahansa. Saaja takuuvarmasti ilahtuu ja samalla voi tukea hienoa järjestöä.
Onko teillä muuten vinkkejä muista hyväntekeväisyyskeräyksistä näin joulun alla? Rentouttavaa sunnuntaita kaikille!
Have you bought all your Christmas gifts yet? Here are some ideas for women, men and for the home. Hope these help, if you're running out of ideas. Enjoy your Sunday!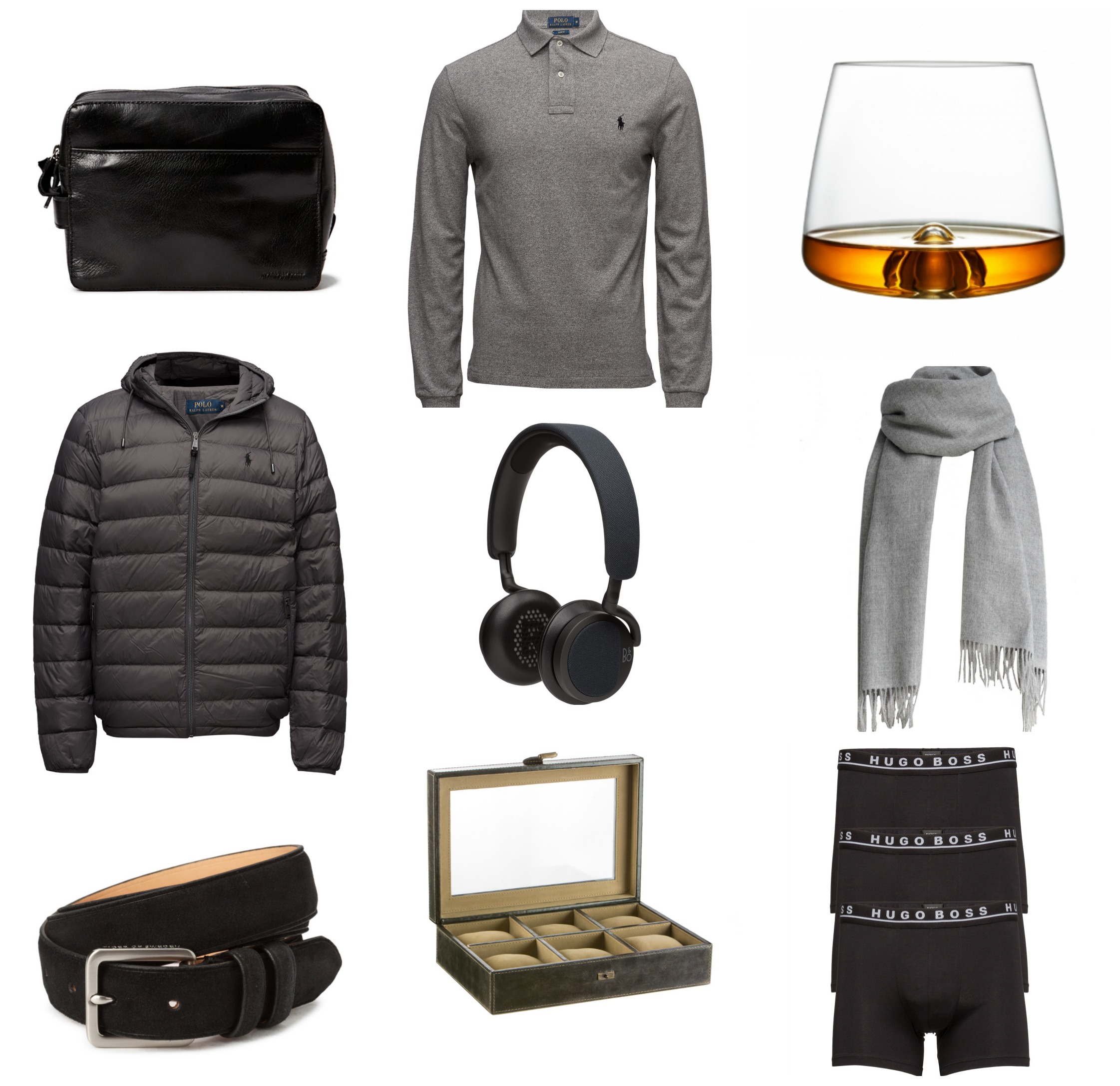 Toiletry bag / Royal Republiq   Shirt / Ralph Lauren   Whisky glass / Normann Copenhagen
Coat / Ralph Lauren   Headphones / B&O Play   Scarf / Balmuir
Belt / Tiger of Sweden   Watch case / Balmuir   Underwear / Hugo Boss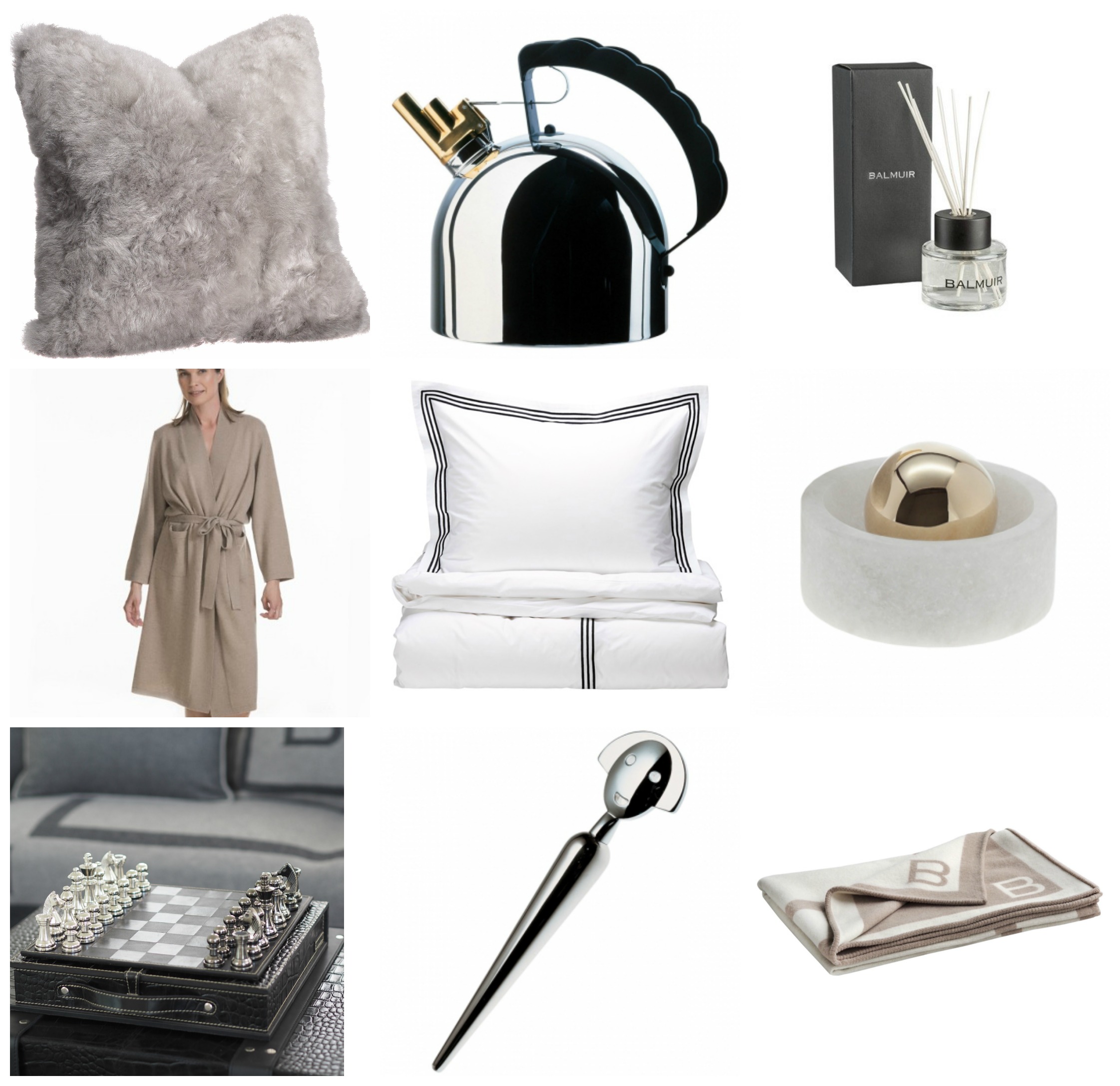 Pillow / Balmuir   Kettle / Alessi   Room scent / Balmuir
Cashmere robe / Balmuir   Sheets / Ellos   Spice mill / Tom Dixon
Chess table / Balmuir   Wine stopper / Alessi   Throw / Balmuir
*Commercial links/Mainoslinkkejä.
Save
Save
Save
Save
Save
Save
Save
Save
Save
Save
Save
Save