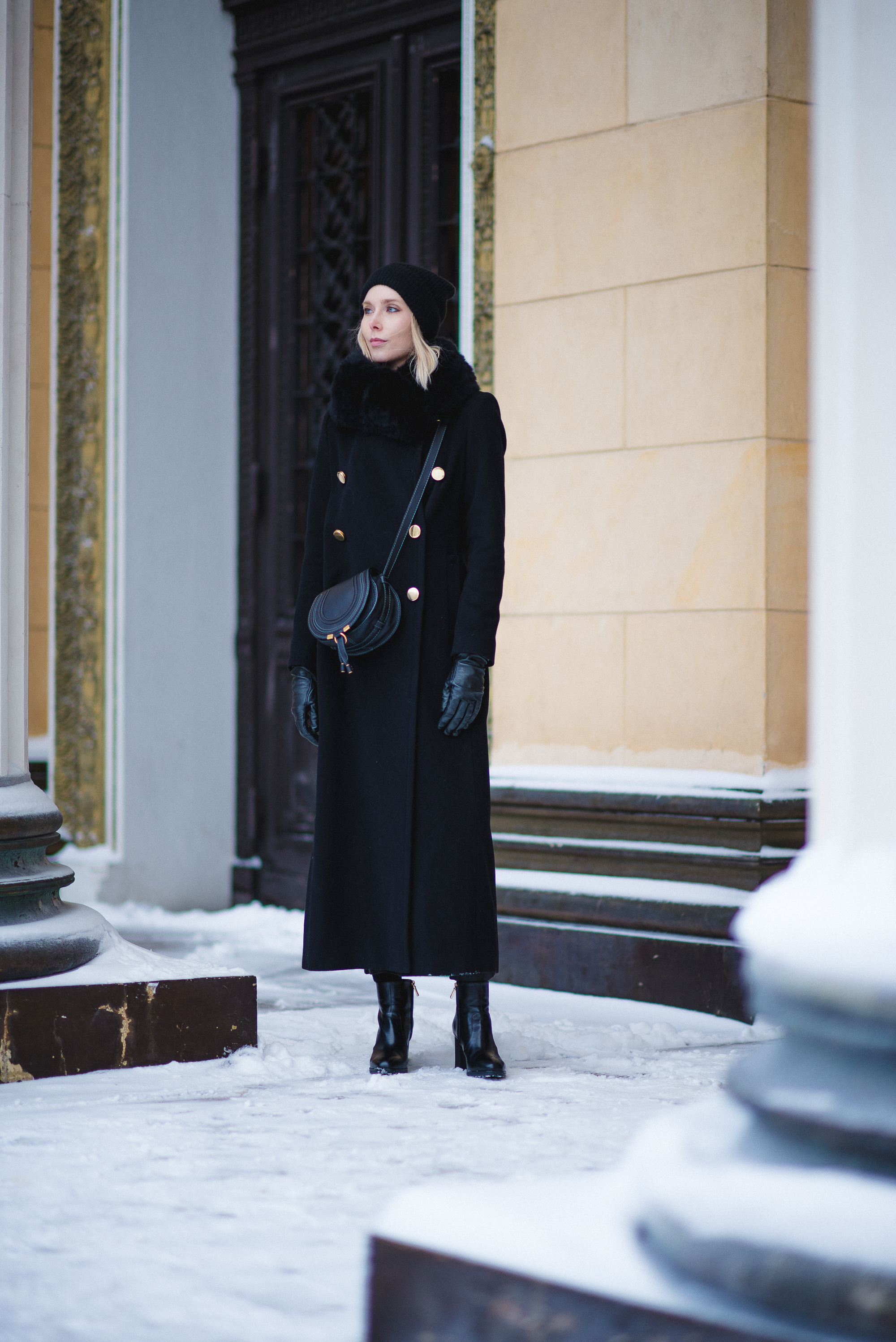 Nyt vasta osaan arvostaa tätä lempitakkiani kunnolla, kun olen päässyt sen kanssa tänne Suomen talveen. Ranskassa ilmat ovat kuitenkin sen verran leudommat verrattuna tänne pohjolaan, että talvitakkien merkitystä ei täysin ymmärrä, ennen kuin pakkaset ja viima koettelee oikein kunnolla. Olen myös iloinen siitä, että paksumpia takkeja on jo valmiiksi kaapissa lähes joka lähtöön, joten uuteen ei tarvitse investoida. Tällä takkiarsenaalilla pärjäisin varmasti loppuelämäni, mutta…Kuten olen jo aikaisemmin sanonut, niin takit ja neuleet ovat niitä vaatekappaleita, joiden kohdalla järkeni katoaa jonnekin ulottumattomiin. Talvella elän kylläkin lähes täysin näiden kahden varassa, joten onhan se kiva, että kaapista löytyy valinnanvaraa! Bongasin muuten tämän takin Stockan alesta ja rekillä oli vielä muutama koko jäljellä. Kannattaa siis kipin kapin käydä sovittamassa, jos olette ihastuneet tähän itseni lailla!
Tällä viikolla meillä on suunnitelmissa käydä muutamissa asuntonäytöissä keskustassa. Etsimme hyväkuntoista kaksiota ja muutama varteenotettava vaihtoehto on löytynyt. Jos teillä on tiedossa keskustasta vapautuva kaksio (helmi-maaliskuussa), niin laittakaa ihmeessä sähköpostia – kaikki vinkit otetaan kiitollisena vastaan! Hyvää alkanutta viikkoa kaikille!
Now I can appreciate this long wool coat more than ever, as the long length is perfect for the Finnish winters. The long length is great for the freezing temperatures and cold wind. Luckily I already have quite a lot of proper winter coats, so I'm all set for the next few months. Even if I'm waiting for Spring the truth is that winter is not over yet.

This week we are visiting some apartments in the center of Helsinki and hopefully we'll find something soon enough. After we find a home we can properly begin our life here!

Coat & Scarf / Andiata*
Beanie / & Other Stories (similar here*)
Boots / Tod's (similar here*)
Bag / Chloé
*Commercial links/Gifted.
Save
Save
Save
Save
Save
Save
Save
Save
Save
Save
Save
Save
Save
Save
Save
Save
Save
Save
Save
Save
Save
Save
Save
Save
Save